Arklow Defends Title In Kentucky Turf Cup Repeat
Author: Clint Goodman
Published: Thursday September 05, 2019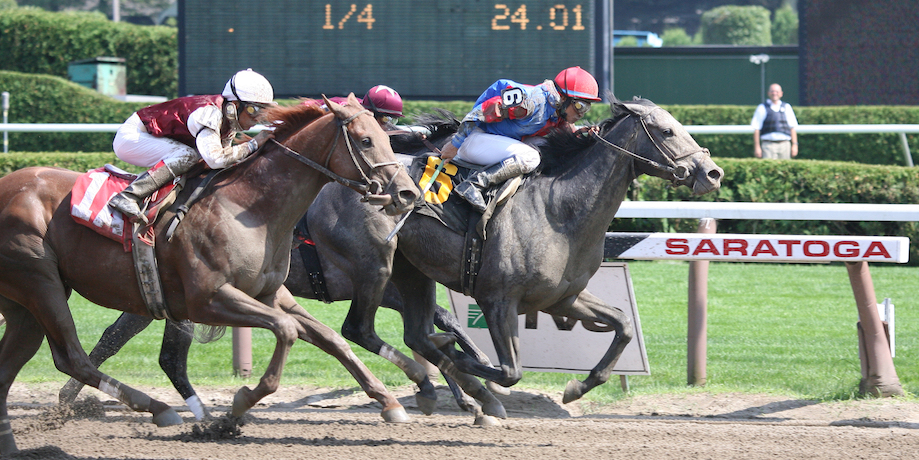 It was one year ago when Arklow won by a half-length at Kentucky Downs, and this year he'll be defending that title in the $1 million Calumet Farm Kentucky Derby Stakes (G3T) on Saturday. The race is for 3-year-olds and older going 1 1/2 miles.
If Arklow wins the Kentucky Turf again, he will be only the third horse to win the event two straight years. The other two were Da Big Hoss in 2015-16 and Rochester in 2002-03.

Arklow's Year
Arklow has started in four races this year, but he hasn't made it into the winner's circle in any of them. However, it hasn't been a bad season, and he'll get a break from the New York Turf racing.
His first start of the year was on April 5, where he lost jockey Florent Geroux in a Keeneland allowance. He followed with a pair of strong performances but lost both the May 11 Man o' War Stakes (G1T) and the June 7 Belmont Gold Cup Invitational (G2T) at Belmont Park by a neck. Arklow then finished third, after being beaten by half a length, in the Bowling Green Stakes (G2T) at Saratoga Race Course on July 27.
Trainer Brad Cox spoke about the horse's year.
"He showed up every time this year," Cox said. "If he can run one of those races, he should be right there. He has experience over the track, so we're excited about it. Florent has ridden him all year, and he does well down there. So I feel we have a strong hand in that race."
The 5-year-old son of Arch has made over $1.3 million for Donegal Racing, Joseph Bulger, and Peter Coneway.
"We wanted to go from Keeneland to the grade 1 turf stakes at Churchill on Derby Day (the Old Forester Turf Classic), but we couldn't without the prep race," said Donegal's Jerry Crawford. "So we held off. Then we got the neck, neck, half a length trilogy, which was about a half-million dollars worth of not much real estate in terms of the purse differential. So that was very frustrating. But it certainly doesn't take away from the fact that the horse has been performing at a very high level."

Competition in the Field
Arklow is set to be the 5-2 morning-line favorite, and he will be breaking from post 10 with jockey Georux.
He will be running against Campaign, who will ship from John Sadler's Southern California Stable. Campaign will be trying to keep a perfect Kentucky Downs record. Last year, the Steve Asmussen-trained colt broke his maiden going 1 1/2 miles, and he won a week later in a 1 5/16-mile allowance.
Campaign has won two races on dirt this year at the same distance as the Turf Cup. He won the Tokyo City Cup (G3) at Santa Anita Park on April 14 and the Cougar II Handicap (G3) at Del Mar on July 24. His previous start was the TVG Pacific Classic (G1) on Aug. 17, a race where he finished fifth but it was a quarter-of-a-mile shorter.
Campaign will be breaking from post 11 with Joel Roasario as the jockey for the first time. He will likely be the strongest competition in the race for Arklow.
The field also includes Michael Hui's Zulu Alpha, who has won three graded stakes since last year, including the W. L. McKnight Stakes (G3T) and Mac Diarmida Stakes (G2T).
The Three Diamonds Farm-owned Bigger Picture will be looking to score a victory. The 8-year-old defeated Zulu Alpha back in the April 20 Elkhorn Stakes (G2T) at Keeneland.
The top three horses from the Aug. 4 Kentucky Downs Preview Kentucky Turf Cup at Ellis Park will be running as well. They are Factor This, Botswana, and My Boy Jack.
Arklow will have some tough competition at the Turf Cup as he looks to defend his title and win in back-to-back years.