Astra Gives Ms Peintour First Stakes Win
Author: Clint Goodman
Published: Monday January 20, 2020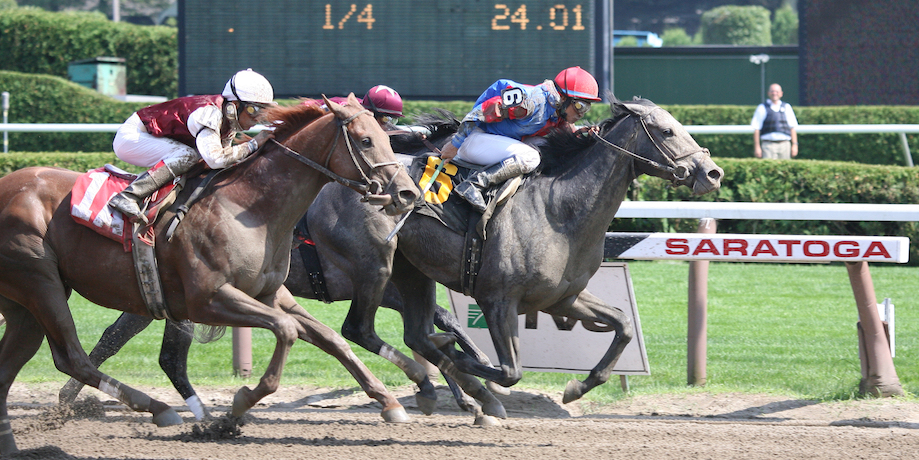 Jay Emm Ess Stable's Ms Peintour got her first stakes win on Sunday after pulling forward in the stretch and winning the $101,000 Astra Stakes (G3T) for older fillies and mares at Santa Anita Park.
She stalked the pace throughout the 1 1/2-mile run. In the top of the stretch, the 5-year-old Payneter mare, who is trained by Brian Koriner, distanced herself from the trailing Tiny Tina. With jockey Brice Blanc on top, she won by two lengths.
"She's always loped out strong. She doesn't have that turn of foot, but she's acted like she wants to go and go," Koriner said. "We thought if Brice could get the jump on them today, we wouldn't have horses finishing like they do at the shorter distances.
"She ran a really big race today, and I told (Samantha Siegel of Jay Emm Ess Stable) that even though we've had offers on her as a broodmare, let's try her in a few more (races), and it worked out."

Lostintranzlation and Tiny Tina
Lostintranzlation, trained by Richard Baltas, was in the lead through most of the race after breaking from the rail. She registered :24,48, :48.20, and 1:12.96 for six furlongs, while Tiny Tina, Ms Peintour, and Heathers Grey ran in a tight grouping behind her.
The mile went in 1:35.95, and the field mostly stayed in their places. At the top of the turn, the runners began to move forward, and Lostintranzlation had to push harder to maintain the lead.
When the field made it to the top of the stretch, Ms Peintour ran to the outside and was able to move ahead little by little. She then shot forward to finish in 2:26.71 on firm turf.
The 7-5 favorite, Tiny Tina, finished one length in front of Siberian Iris to take second. The winner paid $28.40, 9.60, and $4. Tiny Tina returned $3 and $2.20 to place, and Siberian Iris paid $2.40 to show.
"After her last race, I told Brian, 'I think she wants to run further,'" Blanc said. "She stays very steady, and even though she doesn't have big turn of foot, she keeps trying. This race came up at a mile and one half, and it was perfect. I'm very happy to be right, and I'm glad to have this opportunity with Brian and Samantha."

Seventh Last Time Out
Ms Peintour took seventh last time out in the Dec. 28 Robert J. Frankel Stakes (G3T) at the Southern California track, and she had not won another race since April 2018. Back then, she took a 2 1/4-length victory in a one-mile turf test at Santa Anita.
Ms Peintour is the first stakes winner for her dam, which is the stakes-winning Dynaformer mare Dyna's Destiny.
"The big excuse is that she hates that turf down at Del Mar. She just won't pick up her feet on it at all, no matter how good she trains," Siegel said. "She likes the track at Los Alamitos, so Brian trains her there, keeps her quiet, and ships her over when she runs. Brice said she might really like a mile and a half so she can get to relax. The plan came together, and it actually worked.
"At about the half-mile pole, I was like, 'OK, it's time to go.' She moved up on the turn like she did last time (Dec. 28), but she had a little more in the tank today, and once she got moving, it was home free."
Ms Peintour's record is 3-1-2 from 13 starts, and her earnings are at $166,534.