Authentic, Thousand Words Coming Out of Derby in Solid Shape
Author: Clint Goodman
Published: Monday September 07, 2020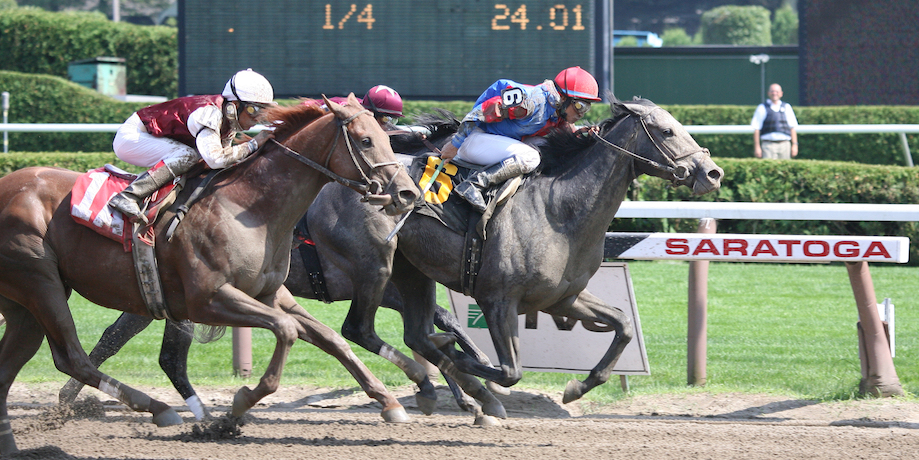 The 146th Kentucky Derby Presented by Woodford Reserve (G1) ran on Sept. 5 at Churchill Downs and saw Authentic beat the favored Tiz the Law, and the runner is now aiming toward the Preakness Stakes (G1) at Pimlico Race Course. Authentic is trained by Hall of Famer Bob Baffert.
After the date change of the 2020 Preakness, it will run four weeks away on Oct. 3, which is twice the normal amount of time away from the Derby. The 1 3/16-mile race traditionally runs on the third Saturday in May, two weeks following the Derby.
Baffert still thinks that Authentic should stay and train at Churchill Downs rather than shipping back to his home base in California. The runner will do just that, while Baffert will clear out most of the other horses in his stable that he brought to Churchill Downs for the event.
The colt will move over to trainer D. Wayne Lukas' barn, who will stable Authentic for Baffert.
Baffert will keep watch on the horse, and he will stay in Kentucky for two weeks in order to participate in the upcoming horse sales in Lexington.
Thousand Words
Thousand Words, another one of Bob Baffert's runners, will also head over to Lukas' barn. He was scratched in the paddock from the Derby after rearing and flipping while being saddled.
Thousand Words is also pointed for the Preakness, and on-site veterinarians have given him the green-light. His scratch was a precautionary action, which is normal when a horse flips.
Baffert's longtime assistant, Jimmy Barnes, was injured when he was saddling Thousand Words. When the colt reared, Barnes lost his balance and fell, which ended in him landing on his right wrist and breaking it. Barnes went to Norton Audubon Hospital in Louisville as the Derby was being run, and he will have screws inserted in his wrist during a surgery.
Barnes has been working with Baffert for more than 20 years, and he was at Churchill Downs to look after the horses before heading to California. While he was on his way to the hospital, he watched the Derby on his cell phone.
"When it happened, I wasn't going to say anything," he said. "I was going to say I was OK. I knew it kind of hurt. Then I pulled my sleeve up and saw it was pointing a different direction. So I pulled it back down and said, 'I better say something.'"
"I mean, he's a trooper. So I joke he's earned his second Purple Heart with me—you know, he broke his pelvis (previously)," Baffert said. "I was so emotional yesterday. I wanted him to be there. He worked so hard."
Baffert was close to facing an injury as well when Authentic wheeled after being agitated by the ribbons on the garland of roses draped on the colt. Baffert fell in the Kentucky Derby winner's circle, just inside the turf course.
"It was more embarrassing than anything else 'cause I knew I was going to become a Twitter sensation," he said.
Baffert scored his record-tying sixth Derby.
Spendthrift Farm
Mark Toothaker, who is the stallion sales manager for Spendthrift Farm, was also at the track with other Spendthrift representatives. Among those representatives was president Eric Gustavson, who injured his ankle in the winner's circle.
Spendthrift is part owner in Thousand Words with Albaugh Family Stables, as well as Authentic with MyRaceHorse Stable, Madaket Stables, and Starlight Racing.
The connections witnessed an exciting victory with the son of the prized Spendthrift stallion Into Mischief, following their disappointment from the scratch.