Authentic Will Train Up to Kentucky Derby Following Haskell Victory
Author: Clint Goodman
Published: Monday July 20, 2020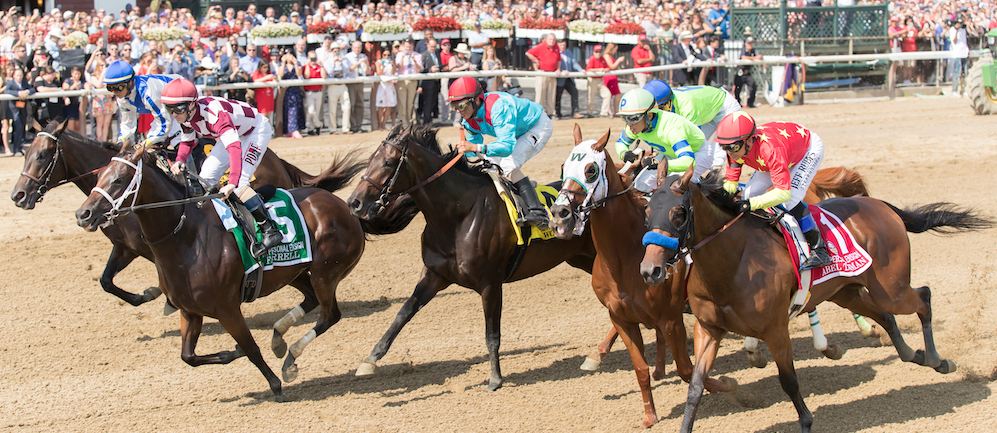 Authentic is set to train into the Sept. 5 Kentucky Derby Presented by Woodford Reserve (G1) at Churchill Downs. The Into Mischief colt is coming off a victory on Saturday in the TVG.com Haskell Stakes (G1) at Monmouth Park.

The Haskell Stakes
Trained by Bob Baffert and owned by Spendthrift Farm, MyRaceHorse Stable, Madaket Stables, and Starlight Racing, he exited the Haskell in great shape. He will stay in Lexington for a week before shipping out to his Southern California Base.
In his victory, Authentic had a solid lead in the stretch as he and jockey Mike Smith held off Ny Traffic, who was closing fast.
The pair ended up winning by a nose, which was the fourth time in history that the Haskell resulted in that margin of victory.
"We're going to work on him a little until (the Derby)," Baffert said. "I was pretty proud of him. He ran well. I might have to put a little blinker on him because he went to idling on me. Turning for home, I kept waiting for him to turn it on, but he was doing some looking around and idling there. Mike saw (Ny Traffic) coming at the last minute."
Hall of Famer Baffert now has nine Haskell victories.
With the victory, Authentic reached millionaire status from the purse. He now has four wins in five starts.
"He's a late foal. He's maturing, but he's a quirky little guy," Baffert said. "I think that it's impressive that he shipped, he got on a plane, he went all the way over there, and he handled it well. He didn't get hot in the paddock. He handled it all well, and that's what you want to see. I'm happy with him. But he still has a lot of improving to do."
According to Baffert, a loss by Authentic would have been a "horrible beat."
"It was funny," Baffert said. "I told Mike, 'You know, you've got to stay busy on him.' And Mike said, 'Well, we turned for home, and he cut, and I thought he was OK, and I was smooching to him. I said, 'Um, Mike, he had earplugs in.'
"It was pretty funny. But it worked out right. It worked out good. But Mike said when that horse came to him, he could feel it. He wasn't going to let him get by him. He just took off. I'm proud of him."

Ny Traffic
Baffert also spoke about the impressive Ny Traffic.
"I have to give credit to the horse who ran second. The track wasn't that fast yesterday," he said. "That Ny Traffic is a nice horse. He's right there. He gets beat by the good horses, so you have to give him credit, too."
Ny Traffic is still looking for his first stakes race. He has finished second in graded stakes in his last three starts.
"I hope when he does (break through), it's not my door that he knocks down," Baffert said.
Ny Traffic is trained by Saffie Joseph Jr.
"That was a tough beat, but to be honest, it really didn't hurt that much because I am just so proud of this horse," he said.
"He ran an amazing race. At the quarter pole, it looked like he was all done, and (Authentic) was going to win easily.
"But he got going again, and I'm very proud of him. He showed he's got a lot of guts, a lot of heart, and a lot of fight in him. Most definitely."
His next race will be the Kentucky Derby, where he will get to go up against Authentic once again.
"I thought we already had enough Derby points going in, so the important thing was to just get a good race into him," he said. "Now it's about who is moving forward, not who has peaked or is going backward. Going forward is the most important thing right now, and that's why that tough beat can't really hurt me.
"I was just really happy to see him take that major step forward. That's the most important thing. Most definitely, there is a lot to be excited about with him. I just want him to stay sound and healthy, and then we're on to the Derby."