Belmont Park Opener Set With Beaugay Stakes
Author: Don Mckee
Published: Tuesday June 02, 2020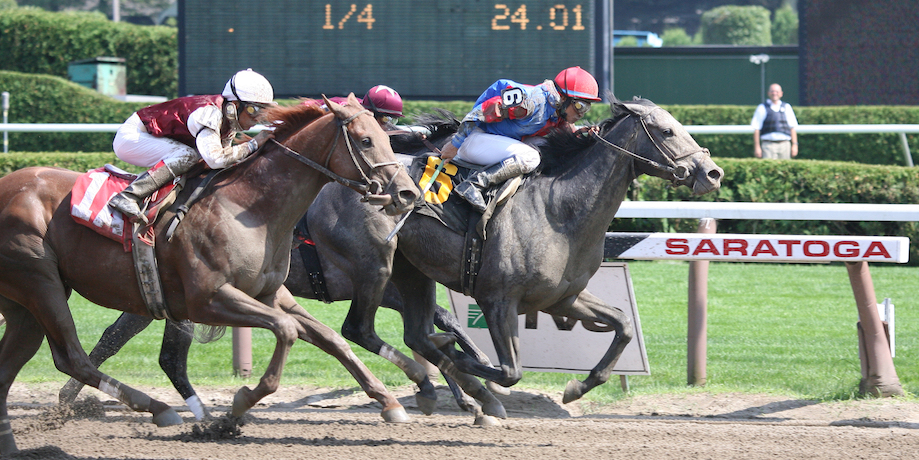 The $100,000 Beauguy Stakes (G3T) is set to be highlighted at Belmont Park's opener on June 3.
The race will feature Call Me Love's United States debut.
Trainer Christophe Clement would have preferred any other venue for the debut, but there are limited options due to the COVID-19 pandemic. However, he is happy for the chance to run the horse.
"It's a very tough race, but there's no complaints from me," Clement said. "None whatsoever."

Belmont Opener
The June 3 card at Belmont marks the resumption of racing in New York, with the last race being held on March 15. After 2 1/2 months of no racing, the fields are loaded with competition as tracks begin to open up.
The Beaugay only has six starters, but it is a highly talented field of fillies and mares.
Two of those top-level entrants are multiple grade 1 winners Got Stormy and Rushing Fall. Normally participating in grade 1 stakes, the limited options brought them to the Beaugay.
"Thankfully, we're back racing. I know the management at (the New York Racing Association) has worked extremely hard to get racing back going, which I know myself and the rest of the horsemen are really appreciative for," said Chad Brown, Rushing Fall's trainer.
"I've been back in New York now for a couple of weeks, and I feel they're really doing a great job of keeping the backside safe. I feel very comfortable training here. There's a lot of people doing a lot of hard work to get racing up and going again, and I'm really looking forward to it."

Rushing Fall
Rushing Fall was a grade 1 winner at 2, 3, and 4 last year. She has a record of eight wins and two seconds in 11 career starts, but the end of her 2019 season was disappointing.
She finished second to Sistercharlie in the Diana Stakes (G1T) at Saratoga. Rushing Fall went off form and missed out on the rest of the Spa meet, but she eventually returned in the First Lady Stakes Presented by UK Healthcare (G1T) at Keeneland. In that race, she finished back in fourth.
The daughter of More Than Ready spent some time freshening at Stonestreet Farm throughout the winter before coming back in better form.
Bob Edwards purchased Rushing Fall through agent Mike Ryan for $320,000 from the Taylor Made Sales Agency consignment at the 2016 Saratoga Sale, Fasig-Tipton's select yearling sale.
"She's a Hall of Famer at this level, and it looks like she's grown into herself," said Edwards. "The First Lady was a bad race all around. She was running against the best of the best, and it took a lot out of her to constantly run against Breeders' Cup caliber horses. It caught up with her, but she looks great, and she's always won after a layoff."
Rushing Fall kicked off her 3- and 4-year-old campaigns with victories, including the 2019 Coolmore Jenny Wiley Stakes (G1T) at Keeneland, where she went against Got Stormy in what was their second meeting. Got Stormy finished third in that outing.
The pair also went up against each other in the 2018 Edgewood Stakes Presented by Forcht Bank (G3T). Rushing Fall finished second as the 6-5 favorite while Got Stormy, at 22-1 odds, finished a length back in fourth.
Rushing Fall will break from the rail with jockey Javier Castellano, and Got Stormy will break from post 3 with jockey Tyler Gaffalione.

Got Stormy
Gary Barber's Got Stormy has become one of the best turf milers. She beat males in the Fourstardave Stakes (G1T) at Saratoga and finished second in the TVG Breeders' Cup Mile (G1T).
Got Stormy also finished second in her most recent outing, which was the Frank E. Kilroe Mile Stakes (G1T) at Santa Anita Park.
Her other start at five came in the Lambholm South Endeavour Stakes (G3T), which ran at the same 1 1/16-mile distance as the Beaugay. She finished back in fourth place.
Among her four starts at 8 1/2-furlongs, Got Stormy's best performance was her third-place finish in the 2019 Jenny Wiley.