Breeders' Cup Classic Futures
Author: Clint Goodman
Published: Wednesday October 14, 2020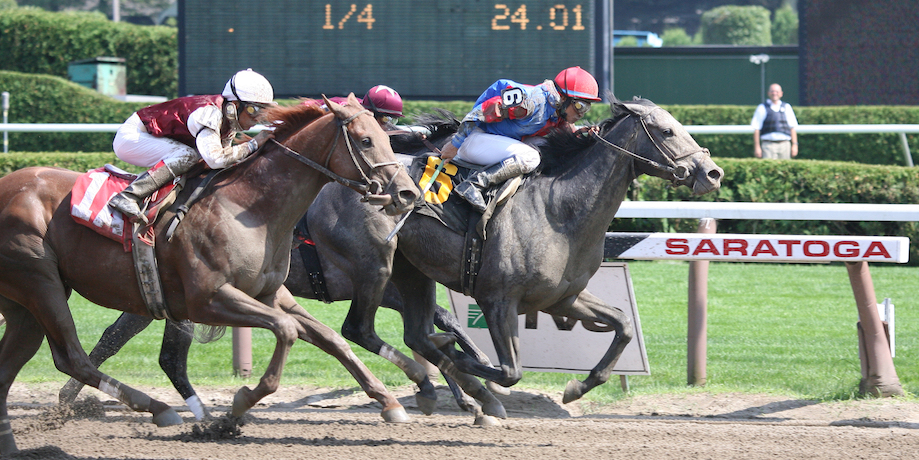 North America's richest race, the Breeders' Cup Classic, is set to run on November 7th at Keeneland. The event is a Grade 1 Weight for Age thoroughbred horse race for 3-year-olds and older. It covers a distance of 1 1/4 miles on dirt and offers a purse of $6 million. The Breeders' Cup Classic is considered one of the most prestigious races of the year in the U.S.
The 2020 Breeders' Cup Classic is set to include some of horse racing's top names, such as Improbable and Tiz the Law.
Let's take a look at the 2020 Breeders' Cup odds.
Odds to Win the 2020 Breeders' Cup Classic
Improbable: 4-1
Tiz the Law: 9-2
Authentic: 8-1
Maximum Security: 8-1
Tom's d'Etat: 10-1
Swiss Skydiver: 11-1
Global Campaign: 20-1
Happy Saver: 25-1
By My Standards: 33-1
Tacitus: 33-1
Midcourt 33-1
Higher Power: 66-1
The top two clear choices are the 4-1 Improbable and 9-2 Tiz the Law. However, Swiss Skydiver has been gaining attention recently, especially after her victory in the Preakness Stakes. She now joins the likes of Authentic, Maximum Security, and Tom's d'Etat in the Breeders' Cup futures.
However, there are some reasons for concern around Swiss Skydiver. Now at 11-1, she moved up from 8-1 early last week. That change resulted from the news coming out about owner Peter Callahan's preference to run Swiss Skydiver in the Breeders' Cup Distaff rather than the Classic. That is when she was passed up by Tom's d'Etat, who was shortened to 10-1 from 12-1.
There were some other changes over the past weekend involving Happy Saver, following his 1 1/4-mile victory over Mystic Guide in the Jockey Club Gold Cup. He improved his record to 4-for-4 under Hall of Fame trainer Todd Pletcher, putting him at 25-1 after having previously not being quoted. According to Pletcher, Happy Saver exited the Jockey Club Gold Cup in good shape, which runs the same mile and a quarter distance as the Classic.
"That's what we're going to think about," Pletcher said. "We'll see how he bounces out of this and let him take us there when he wants to."
The third-place finisher of that Jockey Club Gold Cup race, Tacitus, is still among the potential mix of runners. He set a moderate pace in the event before being passed up by Happy Saver and Mystic Guide. The verdict is still out on whether trainer Bill Mott will run him in the Classic, but his odds moved to 33-1 from 40-1 last week.
Anyone who has been following the Breeders' Cup futures will notice a missing name on the current board: Code of Honor. On October 11, trainer Claude McGaughey announced that the 4-year-old colt would skip over the Classic. Instead, he will aim for either the Grade 1 Clark at Churchill Downs on Nov. 27 or the Grade 1 Cigar Mile at Aqueduct on Dec. 5.
The Favorites
Now that we went over the list of potential runners for the 2020 Breeders' Cup Classic, let's take a look at the two current favorites: Improbable and Tiz the Law.
Improbable is trained by Hall of Famer Bob Baffert, and he is considered by many to be the best older horse in North America. He has won three straight Grade 1 races, including a victory over stablemate Maximum Security in the Awesome Again Stakes at Santa Anita Park in September.
In the Awesome Again Stakes, he registered an impressive 120 Speed Figure. He did the same in the race prior, which was a victory in the Aug. 1 Whitney Stakes at Saratoga. His other Grade 1 victory was the June 6 Hollywood Gold Cup Stakes at Santa Anita.
The 4-year-old son of City Zip is owned by WinStar Farm, China Horse Club International, and SF Racing. He has a career record of 7-3-0 from 14 starts and earnings of $1,709,520.
Turning to Tiz the Law, trainer Barclay Tagg is extremely happy with his decision to skip over the Preakness and target the Breeders' Cup Classic.
"He's moving perfectly," Tagg said. "I think he's moving beautifully, really."
Back on October 10th, the Constitution colt recorded his third work since losing to Authentic by a length and a quarter in the Kentucky Derby. That was his only defeat of the season, and the work saw him cover five furlongs in 1:01.54 at Belmont Park.
Some of Tiz the Law's biggest wins came in the Florida Derby, Belmont Stakes, and Travers. Owned by Sackatoga Stable, he has a career record of 6-1-1 from eight starts and earnings of $2,615,300.
The 2020 Breeders' Cup Classic is setting up to be an exciting event, living up to its name as one of the top horse races of the year. With two strong favorites in Improbable and Tiz the Law, as well as other impressive runners among the field like Swiss Skydiver, the race could go many different ways.