Bricks and Mortar Takes the Arlington Million
Author: Don Mckee
Published: Monday August 12, 2019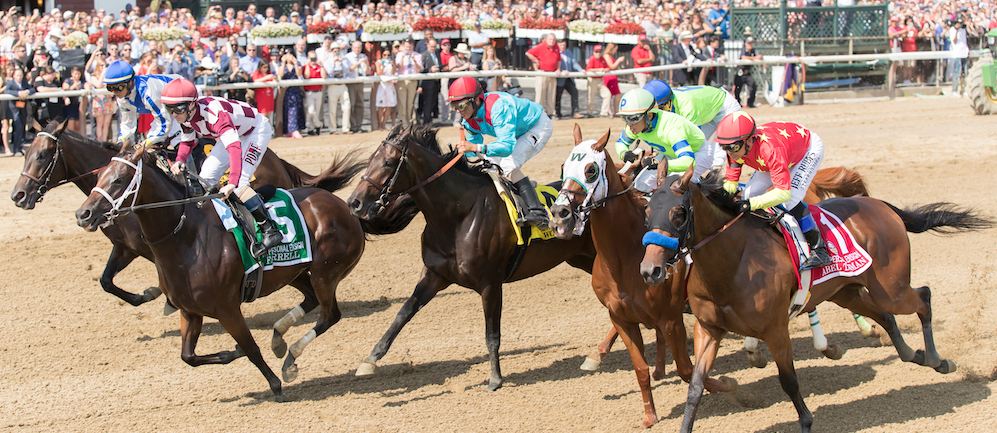 Bricks and Mortar increased his chances of becoming Horse of the Year after winning the $1 million Arlington Million XXVII Stakes on Saturday at Arlington Park. He is out of Klaravich Stables and owned by William Lawrence.
Bricks and Mortar received an automatic berth in the Longines Turf at Santa Anita Park in November. The Arlington Million was a Breeders' Cup "Win and You're In" event that guaranteed a spot.
He broke from post 3 under Irad Ortiz, Jr. as the 1/2 favorite in the running. At the beginning of the race, he settled into sixth place as other horses in the field moved up front. Bandua was in the lead with an opening pace of :24.45, :48.65, 1:12.94, and 1:36.80 in the first mile.
As the field moved around the far turn, Bricks and Mortar was in the back, stuck with no room to move. At the top of the stretch, the field straightened out, and there was an opening for the horse. He took his shot and moved through it.
Bricks and Mortar, with a furlong left in the race, moved ahead of Bandua and Magic Wand. He crossed the line first and won the 1 1/4-mile race over a firm turf course. His final time was 1:59.44.
Seth Klarman of Klaravich Stables spoke about what's next for Bricks and Mortar.
"(Trainer) Chad (Brown) has a lot of people behind him that are all very special, and this horse is really special too," he said. "What's next is up to Chad, but I think the Breeders' Cup is obviously on the horizon. It's been an amazing experience so far."
Brown was the first to win all of the day's three Grade 1 events. They included the Beverly D. Stakes and the Secretariat Stakes.
The Rest of the Field
Magic Wand finished the race second. The European horse was scratched from the Beverly D. He was looking to take his fourth straight win on American soil. One of those wins was the Pegasus World Cup Turf Invitational Stakes (G1) in January where he finished second to Bricks and Mortar.
Bandua held on to finish third by a length over Robert Bruce, the winner of last year's race. Pivoting finished farther back in fifth, while Intellogent finished sixth ahead of Captivating Moon. The rest of the order was completed by Hunting Horn and Catcho En Die.
The Great Day was scratched.
Horse of the Year Prospect
Bricks and Mortar is now on an undefeated six-win streak. His first win of that streak was an allowance victory back in December. That was his first start in 14 months.
Bricks and Mortar, the 5-year-old son of Giant's Causeway, now has a career record of 12-10-0-2. His earnings are now at $4,885,650 with $3,941,650 coming just from this year.
"He's just a great horse," said Ortiz, Jr. "That makes six in a row for me and him. The first time I got on him, we won by a neck, but I knew how much he had left and how special he was. The rest has been history. I never worry about anyone else in the race with this horse; I just concentrate on him and let him take me where he wants. When I ask him, he's there for me every time."
The return for Bricks and Mortar was $3.00 to win, $2.40 to place, and $2.10 to show. Magic Wand returned $6.40 to place and $4.80 to show. Bandua paid $5.20 to show.
With his winning of the Arlington Million, Bricks and Mortar is moving up the list of horses looking to be Horse of the Year.