Code of Honor Impresses at Dwyer
Author: Don Mckee
Published: Monday July 08, 2019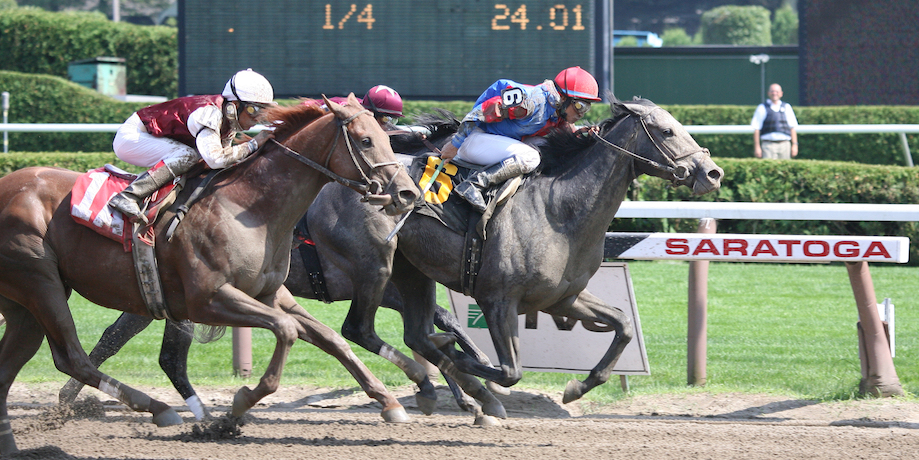 Code of Honor impressed many during his crushing return as he won the $250,000 Dwyer Stakes (G3) at Belmont Park. He improved his record to 7-3-2-1, and his earnings are now sitting at $1,215,820. This was his third victory in seven starts.
In the mile-long event, Code of Honor broke from post 3 under John Velazquez as the favorite. Out of the field of six, he was in last place and stayed behind Majid and Whiskey Echo as they fought for the lead through the opening fractions. In the far turn, Velazquez and Code of Honor aimed for the front, but that was soon foiled as Mihos blocked them. After maneuvering, Code of Honor moved back to the inside.
As Final Jeopardy moved up to the front, he stayed until Code of Honor eventually passed him after the final furlong marker. This took place even as Velasquez dropped his whip.
Trainer Shug McGaughey added, "It might be good that he dropped the whip. We have to get to the next one."
Code of Honor continued to extend his lead after the whip fell, and he won by 3 1/4 lengths at 1:35.81. After the race, Velazquez commented about the horse's performance and how everything went as planned.
"He ran as expected…I was behind the horse I expected to be. I went to go to the outside, and Jose (Ortiz) went to the outside, so I went back to the inside and he responded right away. Today, he put it all together the way we expected out of him. Hopefully, he can continue doing that going forward."
As for the rest of the field, Final Jeopardy held on to second and finished 1 length ahead of Rowayton who had to change course multiple times. Mihos ended up in fourth while Majid and Whiskey Echo, after battling for first fell to the last two spots respectively.
Code of Honor was off for two months after placing second in the Kentucky Derby Presented by Woodford Reserve (G1). He is set to race at the $600,000 Jim Dandy Stakes (G2) at Saratoga Race Course on July 27. It could lead to the $1.25 million Runhappy Travers Stakes (G1) at the Spa.
Trainer Shug McGaughey has not left out the possibility of training straight up to the Travers.
"We'd like to make the Jim Dandy and the Travers…That has been our goal since the Derby, but if it looks like he needs a little more time, we'll give it to him. We'll get him up to Saratoga and see what happens. He's a pretty classy horse."
Code of Honor is the 3-year-old homebred son of Noble Mission owned and bred by Bill Farish. McGaughey believed that Code of Honor is set to be a big competitor for the 3-year-old title, and he is becoming a more mature and mentally prepared horse.
"This showed some maturity and where he's going…Physically, I think he's bigger and mentally better than he was in the Kentucky Derby. In the Derby, I think he was immature mentally. Today he was eating dirt, but when he found a hole, he was there. Hopefully, we can go through the summer and make our mark." McGaughey remarked.
The returns were $4.30 to win, $3.20 to place, and $2.60 to show. Final Jeopardy, finishing in second, paid $5.70 to place and $3.20 to show. Finishing in third, Rowayton paid $2.60 to show.