Donna Veloce Morning-Line Favorite for BC Juvenile Fillies
Author: Don Mckee
Published: Thursday October 31, 2019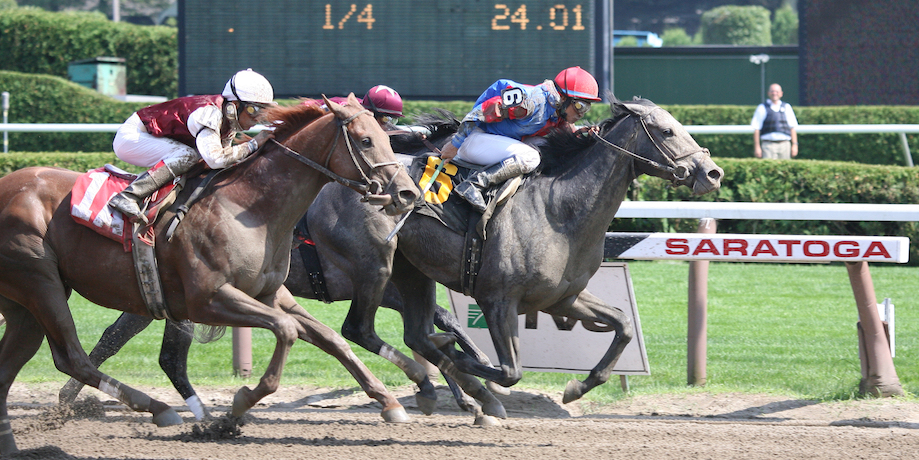 Kaleem Shah's Donna Veloce had a couple of impressive weeks that have placed her as the 3-1 morning-line favorite for the Nov. 1 Breeders' Cup Juvenile Fillies (G1). She is ahead of three other juveniles who also have grade 1 wins. In Donna Veloce's Sept. 28 debut at Santa Anita Park, she took a 9 1/4-length victory as the 3-5 choice, and she completed the 6 1/2 furlongs in 1:16.22.
Donna Veloce is trained by the Santa Anita-based Simon Callaghan, and she was purchased for $800,000 at the Gulfstream Sale, Fasig-Tipton's Florida sale of 2-year-olds in training. She is out of the Montjeu mare Coin Broker, and she was bred in Kentucky by Coin Broker Syndicate. Donna Veloce was in the 2018 Keeneland September Yearling Sale as part of the HIll' n' Dale Sales Agency consignment.
"When we saw her, Randy (Hartley) and I thought we couldn't go home without her, but we were hoping we could afford her," remembered Dean DeRenzo. "Hill' n' Dale said she had been pretty popular, so we were ecstatic when we got her. She was a picture of elegance.
"When we broke her, she was a good-minded filly, and as she started breezing, we knew she'd do well," he said. "We were so excited about her, we brought clients to the farm to take a look at her. Then at the sale, she put in the fastest breeze ever by a filly at Gulfstream Park (:09 4/5)."
Shah's team wasn't so sure about the high price.
"I was the underbidder at the yearling sale," McElroy confirmed. "We followed her along, and she showed up at Gulfstream, where she put in a bullet breeze. She's an outstanding physical, and we've always liked her. She's very well-balanced, has great angles, and is a great mover and has an excellent disposition. She's everything you'd like."

Other Purchases
Shah also paid the same amount for Bellafina at the 2018 Fasig-Tipton Sale. Bellafina was a two-time grade 1 winner last summer, and she was the favorite for last year's Juvenile Fillies, where she finished fourth. The daughter of Quality Road added the Santa Anita Oaks (G1) this spring, and she is a contender for the Nov. 2 Breeders' Cup Filly & Mare Sprint (G1).
In 2017, Moonshine Memories was a $650,000 purchase at The Saratoga Sale. It was Callaghan's first high-priced, low-odds Juvenile FIllies runner, and she was a 2-1 favorite in 2017 at Del Mar.
Callaghan was already impressed with Donna Veloce before her debut.
"Ben told me the back story about how much he liked her as a yearling," Callaghan said. "When she did the breeze at the 2-year-old sale and galloped out beautifully, we had high aspirations for her. She's like all of the good ones. When they come through that breeze-up scene, which is quite rigorous on them, you can see she is still very calm, relaxed and unfazed by everything.
"We loved her going into the race, but you have to see it on the track in the afternoon. Her debut was an exciting performance."

High Speed Figures
Donna Veloce earned a 108 Equibase Speed Figure and a 91 Beyer Speed Figure in her debut. Both of those numbers were the highest set by any other horse in the field.
"There was a big buzz about her prior to her maiden race, and what she did was like, 'Whoa,'" said trainer Doug O'Neill. "It's a pretty tall order to ask for her to do, but you just don't see many fillies win the way she did. I can see why they are making her the favorite."
The other top choices in the field are grade 1 winners British Idiom, Bast, and Wicked Whisper, all 7-2 on the morning line.
"It's a tall order; it's all pretty tight," O'Neill said. "We know it's a tough ask going from a 6 1/2-furlong maiden race to a 1 1/16-mile Breeders' Cup race. I've seen the other local horses train. It's not an easy race. The two East Coast fillies will be tough, but that's what you'd expect when you get to this level race."