Fasig-Tipton Midlantic Sale Closes Out Strong
Author: Clint Goodman
Published: Wednesday July 01, 2020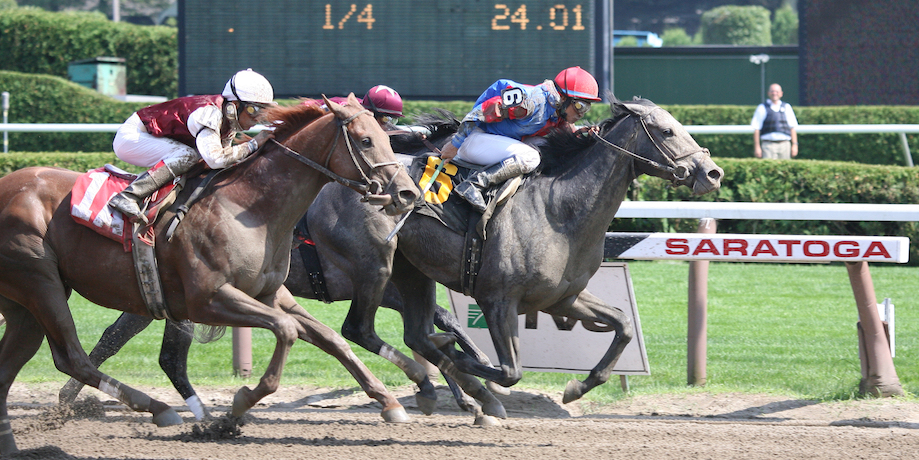 Despite all of the chaos and disruptions within the sport of horse racing due to the COVID-19 pandemic, the Fasig-Tipton Midlantic 2-Year-Olds in Training Sale still managed to close out strong. The June 30 second-day was highlighted by the $875,000 purchase of a Candy Ride colt.
The auction lasted for two days at the Maryland State Fairgrounds in Timonium, and this year's numbers closely matched last year's, specifically when it came to the record sale.
The event is traditionally held in the middle of May, along with the Preakness Stakes (G1), but both of those were delayed this year due to the pandemic. The Preakness will now run on Oct. 3.
There were a total of 563 head cataloged, and Fasig-Tipton reported that 303 horses were sold for a gross of $23,572,500. The average was $77,797, with a median of $40,000. There were a total of 72 horses that went unsold for an RNA rate of 19.2%.
Due to this year's changes, the sales company did not make comparisons with last year's sale.
In 2019, the auction produced record receipts of $29,374,000 for 326 horses sold. There was a record average of $90,104, and the median price was the second-highest it had ever been at $43,000.

New Protocols
Some of the changes at the sale included the seating in the sales pavilion being limited to 50% capacity.
There were also social distancing measures in place, and the use of masks was required.
Fasig-Tipton president Boyd Browning spoke about the way everything unfolded.
"Overall, we're just thrilled with the activity we've observed the last two days," he said. "It was a really good horse sale. I think it restores some confidence among both buyers and sellers that with one sales company — us — there remains a legitimate, viable marketplace out there.
"I have to take my hat off to our team in the Maryland office. There were days when they didn't know what they were going to do in a geographic area impacted more severely by COVID-19 than those of us in Kentucky."

The Lead Up
The lead up to the sale was stressful for many of the sellers who were unsure of how everything would go.
"Fear has been transformed into relief," Browning said. "It's probably not going to be the most lucrative year financially for many pinhookers, but I think the survival rate at the end of the day will be dramatically higher than many would have assumed 60 days ago."
The company will also have a Yearling Showcase in Lexington Sept. 9-10. It will provide the opportunity for horses to be resold as juveniles.
"I can look yearling consignors in the eye and say, 'We've damn sure seen a legitimate marketplace in our 2-year-old sale,'" he said. "We don't know what will happen in the world between June 30 and Sept. 9-10, but assuming there are no dramatic changes, there will be a legitimate marketplace. It's not going to be the irrational exuberance we've all experienced before, but it's not going to be disastrous either."

Candy Ride Colt
The second day of the sale was highlighted by the purchase of a Candy Ride colt. According to Wavertree Stables' Ciaran Dunne, he was one of the best horses in his care this year.
The colt was cataloged as Hip 443 and was purchased by agent Gary Young for an undisclosed client.
Hip 443 was bred in Kentucky by Brian Kahn and purchased by Ron Fine's Superfine Farms from consignor Woods Edge Farm for $175,000 at last year's Fasig-Tipton Kentucky October Yearlings Sale. The Candy Ride colt is out of the winning Giant's Causeway mare Causara, a daughter of the grade 3-winning Boundary mare Lady Belsara.