Fasig-Tipton Midlantic Sale Set for June 29-30
Author: Don Mckee
Published: Monday June 29, 2020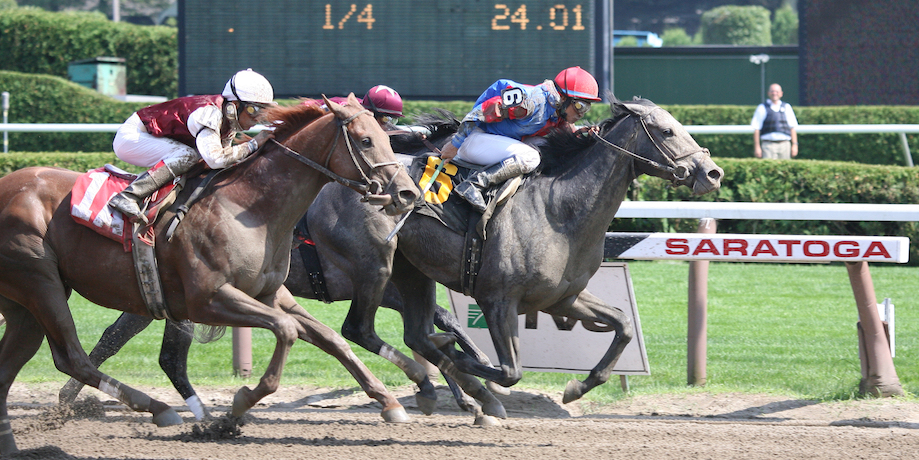 Sunday saw the barn area at the Maryland State Fairgrounds in Timonium full of interested buyers. They were there to inspect horses that will be offered during the Fasig-Tipton Midatlantic 2-Year-Olds in Training Sale on Monday and Tuesday.
The sale was originally scheduled for mid-May along with the Preakness Stakes (G1) at Pimlico Race Course, but it was postponed due to the COVID-19 pandemic. The Preakness was also delayed until Oct. 5.

Producer of Grade 1 Winners
Between January 2019 and May 1, the Midatlantic auction has resulted in the most grade 1 winners of any U.S. 2-year-olds in training sale. The 2019 auction alone had record receipts of $29.37 million and a total of 326 horses sold. The sale also saw a record average of $90,104 and the second-highest median price ever at $43,000.
The filly Gamine led last year's edition after being bought by agent Donato Lanni on behalf of Michael Lund Pererson. Sold for a record $1.8 million, she went on to win the Longines Acorn Stakes (G1) by 18 3/4 lengths while setting a stakes-record time.

2020 Changes and Protocols
This year's sale will take place under several new safety protocols as a result of the pandemic, including only 50% capacity permitted in the sale pavilion. There will also be temperature checks and health questioning for those entering, as well as the requirement of face coverings.
Another new aspect is the recently added online bidding, and Fasig-Tipton also expanded its phone bidding so that those not attending the sale can still participate.
Besides the online and phone bidding, the sales company and consignors have also enhanced the video presentation of the horses, and more information is now available electronically.
Prior to the sale, there was a three-day under tack show where horses entered into the sale could demonstrate their abilities on the Timonium dirt track.
Boyd Browning Jr. is the president of Fasig-Tipton.
"We've been very pleased with the amount of activity on the sale grounds, with a broad representation of owners and trainers from around the U.S.," he said. "The location here is very accessible for a lot of folks to be able to drive here.
"I think the quality of horses on display during the under tack show provided some encouragement to buyers as they watched videos of the sale horses. Certainly, the success of sale graduates over the last five years has made it a must-attend event for buyers."
According to Brown, there was a strong presale interest.
"The resiliency and passion people have for Thoroughbred racing was on display this weekend and, hopefully, translates to a lot of buying activity Monday and Tuesday," Browning continued. "Resumption of racing in most parts of the United States has provided people more confidence and reestablished a need for horses."
Even with the excitement and new protocols put in place, there is still some hesitation during this time.
"If you're not apprehensive this year, you're not looking at reality," said consignor Joe Pickerrell of Pick View. "We're just trying to salvage what we have from this year so we can do it again next year. Overall, good horses still stand out, and with the others, it's a little tricky to find a spot for them, but that's the market and what we're living with."
"A big issue this year was that a lot of the big horses were overpaid for as yearlings, and that left the margins pretty small," he continued. "It should correct the yearling market quite a bit. We try to buy yearlings for under $100,000 as a rule. A couple exceeded that this year, but we try to buy in a spot where we can make some money."