Final Derby and Oaks Preparations Underway as Raceday Approaches
Author: Don Mckee
Published: Friday April 26, 2019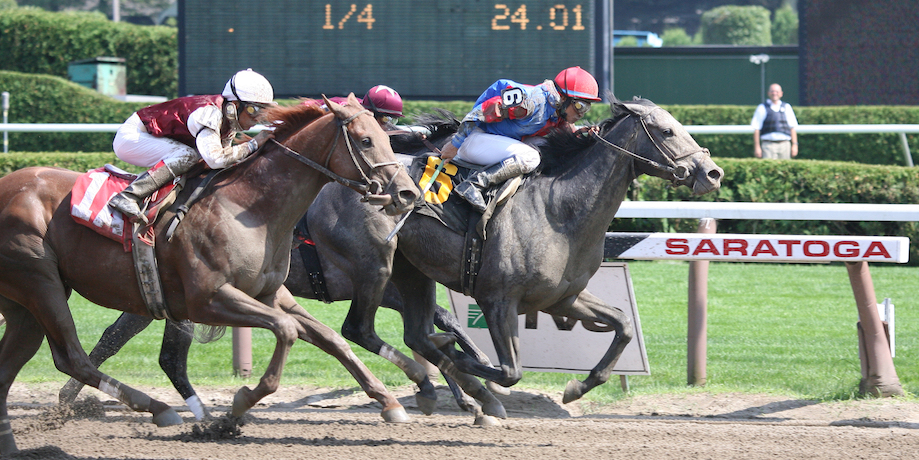 New York, New York
As is somewhat customary for horses based in the Big Apple, Derby contenders Haikal and Tax did most of their workouts at Belmont Park prior to shipping south to Churchill Downs. Gotham Stakes winner Haikal and Tax, victor of the Withers, both had strong moves to complete their training in the Empire State.
Shadwell Stable's homebred Haikal pleased trainer Kiaran McLaughlin, who is seeking his first Derby win, Thursday morning with his work on Belmont's main track. The son of Daaher posted a bullet breeze April 19 in 47.59 at Belmont, was in hand under exercise rider Luis Perlaya while traveling outside of unraced 3-year-old stablemate Taamer. The pair traveled together from the top of the lane with Haikal taking control at the wire and galloping out well in front.
"I loved what I saw this morning. He kept going out and finished strong. It was excellent work," McLaughlin told NYRA publicity. "He went a little fast last week, but it was probably the track. This week was really nice. The way he galloped out and the way he worked, he looked really good. In hand. I really like this work better this week."
Also putting the final touches on his Derby preparations, Tax recorded the second-fastest of 48 works on the surface at the four-furlong distance. The 3-year-old gelded son of Arch impressed trainer Danny Gargan when he breezed in company with assistant trainer Rolando Quevedo aboard.
"I thought he worked really tremendous," Gargan told NYRA publicity. "We put a target in front of him because he likes to run at something, and :47 and change is fast today. I worked a few horses earlier today, and no one worked that fast. The gallop out was impressive, and he's training really well. Obviously, he's bred to go longer, and we train our horses to gallop out big. When you're going a mile and a quarter, you want to have a fit horse."
Jaywalk Figures Heavily in Oaks
Success under the Twin Spires is something trainer John Servis is somewhat used to as he witnessed his star colt Smarty Jones cross the wire first 15 years ago to win the Kentucky Derby. In 2016, he saw his star filly Cathryn Sophia prevail in the Oaks. Servis is back on the scene in search of his own personal triple crown in the Oaks with Breeder's Cup 2-juvenile filly champ Jaywalk, considered by many to take a great deal of wagering action and figure prominently in the outcome of the proceedings. On Thursday, Jaywalk worked five furlongs in 59:20 over the fast Keeneland strip.
"That was exactly what we wanted," Tyler Servis, John Servis' son, told Keeneland publicity. "She left (the five-furlong marker) like a bear. She left there running. I had her in 11 3/5 for the first eighth. She looked like she wanted to do it. She galloped out really well."
From the first crop of the Unbridled's Song stallion Cross Traffic, Jaywalk arrived at Keeneland March 26 and has been following a schedule similar to Cathryn Sophia. The two fillies share several similarities: Cathryn Sophia raced for Cash is King, was trained by Servis, was third in the Central Bank Ashland and resided at Keeneland for several weeks prior to moving to Churchill for the Oaks.
"We stuck to the same plan, and it seems to be working," Tyler Servis told Keeneland publicity. "This has been very beneficial to get out of that South Florida heat (at Palm Meadows training center.)"