Ghaiyyath's Full Brother Headlines Goffs November Day 3
Author: Don Mckee
Published: Thursday November 21, 2019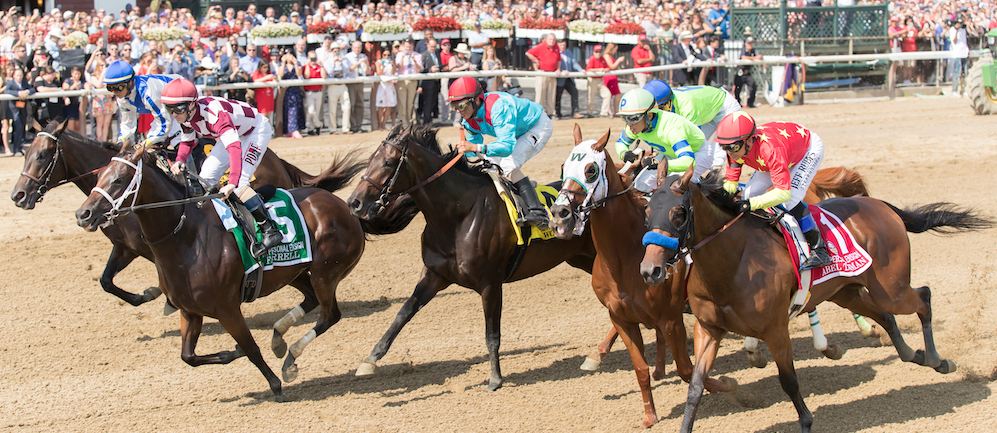 A full brother to Ghaiyyath topped the Goffs November Foal Sale. On Nov. 20, Godolphin scored the son of Dubawi for $1,329,400.
Anthony Stroud took up the bidding duties and was able to land the top-tier horse. He spoke about it afterwards.
"He's a very attractive foal," Stroud said. "Dubawi is the most wonderful stallion, and, obviously, we have this colt's full brother, Ghaiyyath, by him. He'll be a good addition to Godolphin's homebred program. That was our last bid. We weren't going to go any further, but we're very happy to get him."
The colt is out of Nightime, and she is the first offspring of Galileo to score at the highest level. She took the Boylesports Irish One Thousand Guineas (G1) in 2006.

Godolphin's Inventory
Ghaiyyath is not the first member of her brood to become a part of Godolphin's team. The operation run by Sheikh Mohammed also owns Ghaiyyath, the Longines Grosser Preis von Baden (G1) winner. Ghaiyyath topped the 2015 November Sale at $1,180,850. Godolphin also has the Man O' War (G1T) winner Zhukova, who was purchased as a broodmare prospect for $5,236,203, the $723,776 Midnight Fair, and Nightime's yearling colt by Dubawi, who took $939,918 last year.
The colt was offered by The Castlebridge Consignment on behalf of Dermont Weld's Springbank Way Stud as Lot 745.
Weld was the trainer of Nightime on behalf of his mother, Marguerite.
"She's been a wonderful mare," Weld said. "Most important of all to me was the enjoyment and pleasure she gave my mother when we won the Irish One Thousand Guineas with her."
According to the trainer, it was his mother who wanted to send Caumshinaun to Galileo for mating, which produced Nightime.
"It was my mother who decided to breed Caumshinaun to Galileo during his first year at stud -- she really believed in Galileo," Weld said. "We raced Caumshinaun together, too. She was a champion at 4 and is from such a great family. Nightime has been a wonderful producer for us."
More to Come
The family is not done producing. According to Weld, Nightime's 2-year-old Golden Horn half-sister, Syke, has been impressive in her work lately. The blue hen is in foal to Kingman.
"She's in wonderful condition, and she's got a place of honor at Springbank Way," he said of Nightime. "We just keep five mares at the stud nowadays, but they're all group or listed performers, so it's a very select band."
On top of these moves, Weld also sold Lot 558, a Dark Angel colt out of Nightime's daughter, Sleeping Beauty, to McMahon and Hill Bloodstock for $144,019.
In the November Sale, Weld became the buyer two times. First, he scored a Profitable filly out of Kasanka for €55,000. He also secured a Free Eagle filly for €10,000, a purchase made for his grandchildren.

Second-Highest Lot
The second-highest lot was secured by Sheikh Hamdan bin Rashid Al Maktoum's Shadwell operation, with Stephen Collins, manager of Derrinstown Stud. They put up $637,004 to get the Dark Angel half-sister (Lot 658) to Just The Judge offered by Ballylinch Stud.
"I'm delighted to get her, as Sheikh Hamdan was very keen on her pedigree," Collins said. "She's a very well-bred filly, and he has had a huge amount of success with Dark Angel. To me, she was arguably the nicest filly in the entire sale. She's very athletic-looking and obviously has enormous residual value as a broodmare for further on in time."
The filly is out of Faraday Light, and she was bred by Joan Keaney Dempsey.