Independence Hall Takes Jerome Stakes
Author: Clint Goodman
Published: Friday January 03, 2020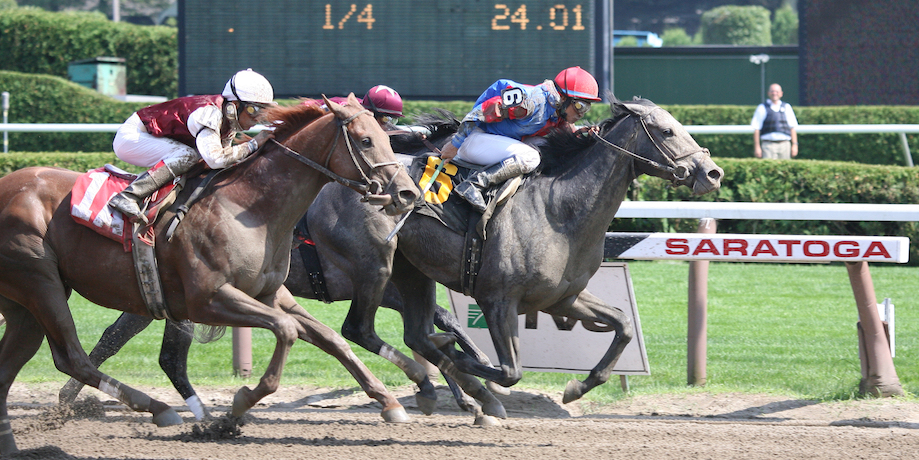 Independence Hall proved to be a somewhat complicated horse when he took the $150,000 Jerome Stakes for 3-year-olds at Aqueduct Racetrack on Wednesday.
In the paddock, the newly turned 3-year-old was said to be hard to control and handle before the race.
"He's a racehorse, not a play horse," said Randy Gullatt of Twin Creeks Racing Stables. "That's where that energy comes from."
Once the race began, however, he gained focus and turned into an impressive runner.
The undefeated son of Constitution is now at three wins in as many tries with his four-length win to start the new year. The Jerome Stakes increased his combined margin of victory to an impressive 21 lengths.
"He was a wild man in here (before the race), but we'll work on that, and hopefully he'll give us a break next time. He gets to bouncing around on the brick and gets all excited," trainer Michael Trombetta said. "I'm happy to get the win."
Independence Hall was bet down to 13-1 in the initial Kentucky Derby Presented by Woodford Reserve (G1) future book wagering.
The 3-year-old is owned by Eclipse Thoroughbred Partners, Twin Creeks, and Kathleen and Robert Verratti. He was sent off as a 1-10 favorite over five other rivals, and it was his first start since scoring a 12 1/4-length victory at Aqueduct in the Nov. 3 Nashua Stakes (G3).
In that race, he set a stakes record of 1:34.66, and it was the same one-turn, one-mile distance as his 2020 debut on Wednesday.
Road to the Kentucky Derby
By winning the 150th edition of the Jerome Stakes, the son of the Cape Town mare Kalahari Cat received 10 qualifying points in the Road to the Kentucky Derby series.
"I rode him like I had the best horse," jockey Jose Ortiz said. "I didn't want to be a hero and get stuck behind horses. I rode him like the best horse, and he was."
While the victory in 1:37.27 was not the same as the Nashua, it was expected after two months have gone by since his big win.
"He didn't look like he did the last time," Ortiz said, "but the track was very tiring. I thought he did a good job for not running in two months. I'm sure he can be better than he was today, but we're very pleased with the effort."

What's Next for Independence Hall
Independence Hall will now look towards Tampa Bay Downs to begin preparing for his first test around two turns, as well as the Triple Crown preps.
"We were sitting on him for two months. It's hard to keep an improving and energetic 2-year-old-turning-3-year-old on the ground for that long, but Mike Trombetta did an incredible job," Eclipse Thoroughbred Partners founder Aron Wellman said. "Everything worked out well between the Nashua and today, and we're just glad to see him take care of business.
"We definitely have some things to work on. His behavior in the paddock — his head was completely turned to the side when they sprung the latch. We have to make sure he's standing still in the gate. Little things like that that hopefully will come with maturation. That's also why we wanted to get him going so early in the year, so we had flexibility to work on those things.
"There's no doubt the talent is there. He's a very smart horse. He knows the difference between school and game time. You saw that today. We hope he keeps maturing and improving."

The Starting Gate
According to Ortiz, Independence Hall was problematic in the starting gate but got better once he entered the racetrack.
"He was like that last time. He had a lot of energy in the paddock, and I'm sure he wasted some today. The last time, he was even like that on the racetrack, but today when he got the pony, he was nice," Ortiz said. "In the gate, he wasn't turned the right way, and I asked the starter to help me, so he was moving when the gates opened. That's why he broke slowly."
By the time he reached the quarter pole, Independence Hall was ahead by 1 1/2 lengths. He was unchallenged in the stretch, while Prince of Pharaohs and Bourbon Bay finished in a dead heat for second.
Independence Hall will now go south, and his next test will be the Feb. 8, two-turn, 1 1/16-mile Sam F. Davis Stakes (G3) at Tampa Bay.