Jockeys Are Stirring Things Up
Author: Don Mckee
Published: Thursday April 25, 2019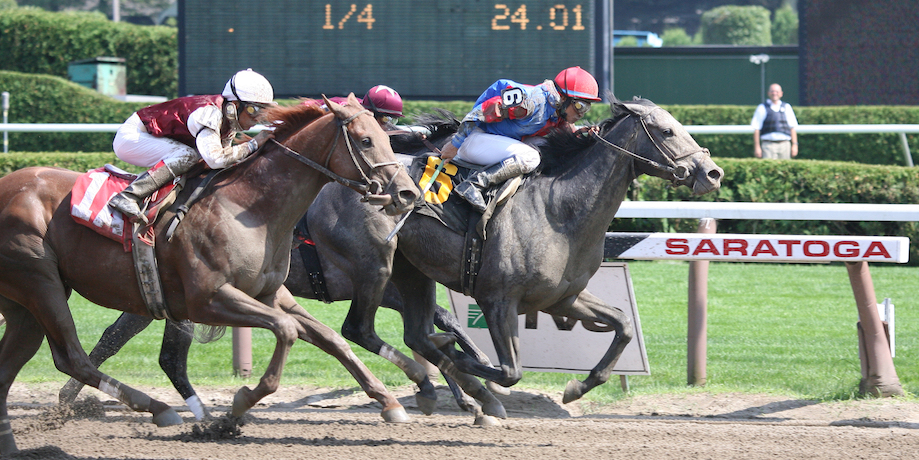 Safety First
During his riding career in Maryland, jockey Ramon Dominguez took home countless jockey titles and rode first call for all of the region's top conditioners. His success in the mid-Atlantic ultimately served as a springboard for Dominguez to go onto a Hall of Fame career in New York and Florida. However, the now-retired native of Venezuela's greatest contribution to Maryland racing–and racing in general–may be a new softer whip he was instrumental in creating.
With horse safety more on the minds of those in the industry and the general public as well, Dominguez created The 360GT (gentle touch) cropRamon, which has larger, cushioned padding at the end designed to have less impact on horses. The whip, which is already in use at the soon-to-be-completed Keeneland meet, will be used to riders at Maryland's Laurel Park. The son of legendary Mid-Atlantic jockey Michael McCarthy who competed year in and year out with Dominguez, Trevor McCarthy, is a fan of the new product.
"It looks almost like a big cattail. It's got a big cushion on the end of it. It's almost like a very spongy material," McCarthy, Maryland's winningest rider in 2014 and 2016, told bloodhorse.com. "To me, it's different. It's something new. I like it. I think it's very good for the horses. This is something very important for our game, for the protection of our horses and the jockeys, so I'm pretty excited to start using it."
Soft Landing
Southern California jockey Flavien Prat gave up the mount of presumptive Derby favorite Omaha Beach prior to the horse's start in the Rebel Stakes, opting for Jerry Hollendorfer's Galilean. The decision, made by Prat and his agent Derek Lawson was somewhat of a calculated risk, a risk that is an annual rite of spring and always adds to the allure of the Derby. As it turned out, Galilean is now off the Derby trail, and Omaha Beach, with new rider Mike Smith, has established himself as the horse to beat come the first Saturday in May.
All isn't lost though for Prat as he recently was named to ride Country House for Hall of Famer Bill Mott. Country House finished in the money in both the Louisiana and Arkansas Derby.
"He's a horse that's obviously not going to be on or near the lead, so he'll have to come from off the pace," Lawson told horseracingnatnion.com. "It'll be dependent on how fast the pace is. But he's seemed to be coming into his own, and with the distance I don't think there will be any problem."
The mount on Country House could continue a big weekend for Prat, one of Southern California's top jockeys who also rides Kentucky Oaks favorite Bellafina. Should Hollendorfer's Instagrand go as planned in the Pat Day Mile (G3), he will be on board as well. This will mark Prat's third straight Derby after finishing third on the late Battle of Midway in 2017 and 10th aboard Solomini in 2018.
Big Money
Success in the breeding shed and sales ring doesn't always translate into wins and dollars on the racetrack, but for the owners of one high-priced filly, they sure hope it does. The action was lively at Wednesday's second session of the Ocala Breeders' Sales Company's April Sale of 2-Year-Olds in Training, with bidding fast and furious both in the pavilion and back walking ring throughout the day, and a filly by Quality Road bringing the top price of $1 million. Bloodstock agent Emmanuel de Seroux made the winning seven-figure bid on the classy filly, who was consigned by de Meric sales.