Key Jockey Change, Another Defection and Wet Weather
Author: Don Mckee
Published: Saturday May 04, 2019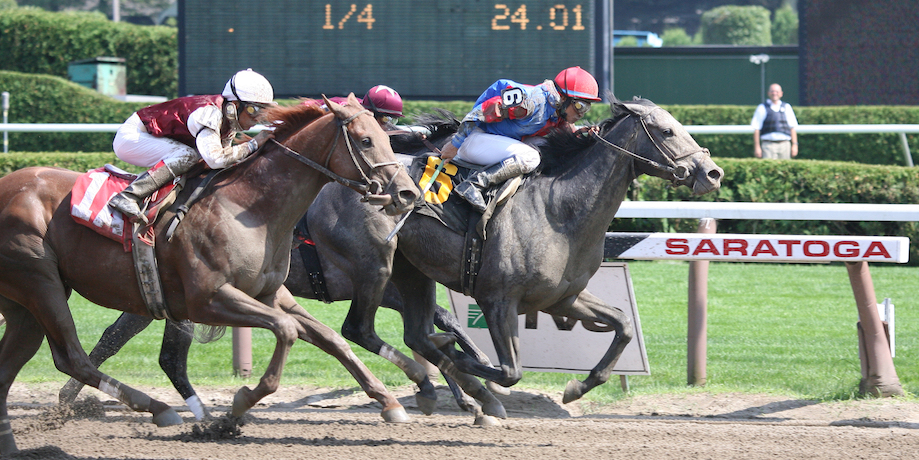 Smith Finds a New Spot
When word came down late Wednesday that Richard Mandella's presumptive Derby favorite Omaha Beach would scratch due to a throat issues, speculation began as to the fate of his jockey, Mike Smith. Regarded as one of the sports premier riders, especially in its biggest moments, many thought that Smith would reunite with Bob Baffert's Roadster, a horse he had ridden in all four of his previous starts.
Baffert, who named jockey Florent Geroux to ride the son of Quality Road, remained committed to the Frenchman when many opined he would award the mount to Smith given their past success.
"No, Flo (Geroux) is on," Baffert told bloodhorse.com. "I never thought of that. I actually called Flo up last night and it was so funny. He was like 'Are you taking me off horse?' I was like 'No, I'm all in.' I could never do that."
With that option off the table and post time rapidly approaching, it looked like Smith might be relegated to a jockey's room bench and not a horse's back when the Derby gates sprung open. However, things changes in a hurry as trainer Todd Pletcher relieved Corey Lanerie of his riding duties and acquired the services of Smith aboard longshot Cutting Humor. Smith and Lanerie will each receive 10% of the Sunland Derby winner's earnings and Pletcher needed to pay $100 to Lanerie.
Field Down to 19
Trainer Kiaran McLaughlin scratched Haikal Friday morning after the horse was unable to recover quickly enough from a foot abscess in time to make it to the starting gate. Since also eligible Bodexpress already drew in following the defection of Omaha Beach, the Derby field will include 19 horses and betting interests.
"Just bad timing," McLaughlin told bloodhorse.com. "We got shoes on him this morning but he was just off jogging on the road."
The announcement wasn't completely unexpected as McLaughlin had reported the abscess May 2 and said then that a final decision would be made Friday morning on the Derby status of the Gotham Stakes (G3) winner. Haikal had drawn post 11 for Saturday's Derby. McLaughlin said he feels bad for owner-breeder Sheikh Hamdan and all of the Shadwell team and others connected with the horse. He said no race plans are yet in place for Haikal, who will return to New York to resume training after the issue is resolved.
More Sad News
Multiple stakes winner Limousine Liberal has retired from racing after fracturing a bone in his front ankle during a Wednesday gallop at Keeneland, trainer Ben Colebrook said. The 7-year-old gelding was preparing for the Churchill Downs Stakes(G1) on Saturday's Kentucky Derby undercard.
After breaking his maiden under the Twin Spires in 2015, the son of Successful Appeal went on to win eight more races in 27 career starts, including back-to-back Churchill Downs Stakes victories in 2017 and 2018.
"To be honest, he was training better than ever," Colebrook told racingnation.com. "I thought we had a good shot at winning that race for a third year in a row, but it just didn't work out. The main thing is that he's going to be OK, hopefully. That's the most important thing here now (is) that he gets through this."
The recovery process for the career $1.8 million earner is now the top priority for Colebrook who, as of Thursday morning, was with his horse at the clinic. Limousine Liberal figures to retire to the farm owned by Katherine and Mike Ball, who campaigned the multiple graded stakes winner.
Bring Your Umbrella
After a record 3.15" of rain fell on Derby Day in 2018, weathermen are expecting much of the same this time around. Historically speaking, three of the last six run for the roses have been contested on off tracks. Saturday's forecast calls for scattered showers and the track conditions figure to be listed as muddy or sloppy.