Math Wizard Pulls Upset At Pennsylvania Derby
Author: Don Mckee
Published: Tuesday September 24, 2019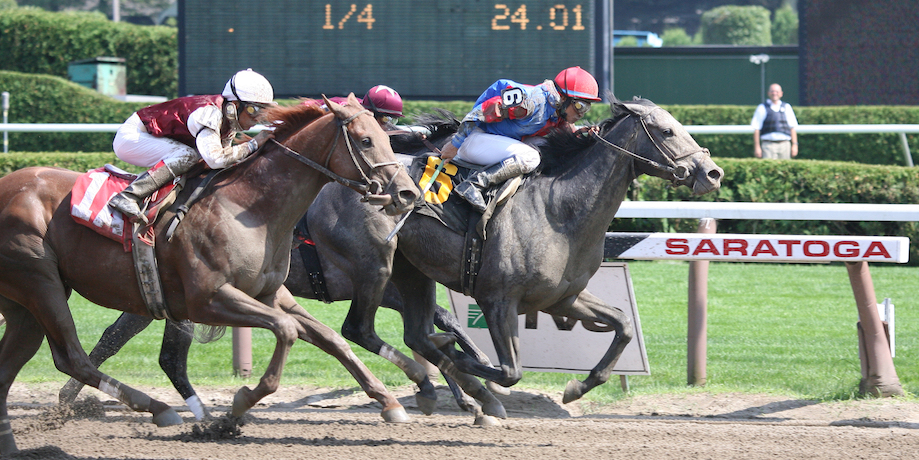 Math Wizard upset the rest of the field on Saturday when he took the $1 million Pennsylvania Derby (G1) at Parx. He moved up in the stretch to bring home the win for co-owners John Fanelli and the Collamele Vitelli Stable.
Math Wizard entered the race at 31/1 odds, and he broke from the rail under jockey Irad Ortiz, Jr. He settled in the back and trailed behind as Mr. Money took the early lead in what he was hoping would be his fifth win in a row.
War of Will, winner of the Preakness Stakes (G1), and Spun to Run, who took the local Smarty Jones Stakes (G3), were following behind Mr. Money as the closest competitors. Improbable, the 6/5 favorite, broke a little slow from the gate, but he moved ahead of Math Wizard and the maiden Shanghai Superfly.
As the field made its way into the far turn, War of Will and Spun to Run made a three-wide wall as they ran along the outside of Mr. Money. Math Wizard started to pick up ground and moved forward to a four-wide challenge. Improbable kept along the rail and trailed closely.
Heading out of the turn, Mr. Money moved forward again and kept a slim lead, but he started to drift as he straightened out for home. At this point, Math Wizard took his shot.
He ran down the middle of the lane and strongly pushed forward to move up to the pacesetter. In the last moments of the race, he kept pushing to move ahead and cross the wire first.
Math Wizard, trained by Saffie Joseph, Jr., finished in a final time of 1:50.80 for the 1 1/8-mile event over the fast main track.
Ortiz, Jr., spoke about Math Wizard's performance after the race.
"It was great," said Ortiz, Jr. "I got a perfect trip, to be honest. He broke, put me in a good position. I saw the favorite didn't break and I didn't panic. I just said, 'He's going to come from somewhere, he's just not forwardly placed in front of me.' He got through inside of me, and from there, I just tried to follow him.
"Then, on the backside, my horse jumped on the bridle. When I put my hands down, he jumped on the bridle, and I said, 'Whoa, wait a little longer.' He was coming little by little, but when he turned for home, and he switched leads, then he took off. He ran hard. When I turned for home, and I opened the reins, and he started taking off, I said, 'I'm going to get there.'"

The Rest of the Field
Mr. Money finished in second ahead of War of Will, who moved past Improbable and Spun to Run. Shanghai Superfly, fell back when the field went into the far turn and finished last to complete the order.
Maximum Security, the Multiple Grade 1 winner and morning-line favorite who had high hopes for this race, was scratched earlier in the week after developing colic.
The Pennsylvania Derby was Math Wizard's first victory since being claimed for $25,000 after a win at Gulfstream Park on Jan. 31. He is the 3-year-old son of Algorithms, and his record is now at 13-3-2-3. His total earnings are $860,623.
"He's made some moves that never materialized (in the past)," said Joseph, Jr. "I had to look twice to make sure that he got there. When we claimed him, we were just hoping to get a horse that could probably win in three or four weeks for us. Sometimes, you just have to claim horses at the right time. The horse has never let us down. It all worked out today."
Math Wizard brought back $64.20 to win, $12 to place, and $4.80 to show. Mr. Money returned $3.60 to place and $2.60 to show, while War of WIll paid $4 to show.