Max Player Aims For Wood Memorial
Author: Clint Goodman
Published: Monday February 03, 2020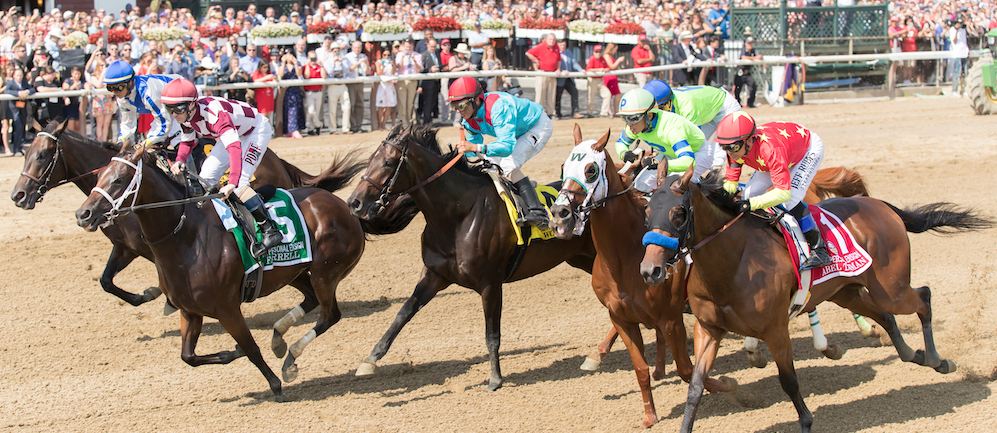 George Hall's Max Player, trained by Linda Rice and piloted by Dylan Davis, scored the Feb. 1 Withers Stakes (G3) at Aqueduct Racetrack after some difficulties.
"He's not seasoned enough to handle the kickback yet. He hasn't handled it well, but Dylan did a good job of keeping him close enough to contention and getting him outside to where he could get comfortable," Rice said.

Wood Memorial
According to Rice, the colt was in good shape on Sunday morning and will aim for the Wood Memorial (G2) on April 4. The race runs nine furlongs at Aqueduct, and the points awarded count towards a spot in the May 2 Kentucky Derby Presented by Woodford Reserve (G1).
The top four finishers will be awarded points on a 100-40-20-10 scale.
"He looks good this morning," Rice said. "He came out of the race great and looks happy and playful. We'll head on to the Wood Memorial."
The next race on the New York path to the Kentucky Derby is the Gotham Stakes (G3) on March 7. It is a one-turn mile run that awards Derby points on a 50-20-10-5 scale. Rice said that she would rather keep the distance for Max Player.
"I really don't want to shorten him up in the Gotham. I don't think that serves our purposes," she said. "We're happier to stay here and train into the Wood and go from there."
Max Player's first two starts were at Parx Racing, and he finished second in his Nov. 12 debut before scoring a 4 1/4-length score Dec. 17.
Rice said that the colt looked improved on Saturday.
"I've seen a lot of improvement in him in the last 60 days. In the 60 days before that, he was moving forward by leaps and bounds, and (Saturday) was a great experience for him," she said. "Hopefully, he'll continue to improve in the next 60 days prior to the Wood, because he's certainly going to have to be at the top of his game in that caliber of race."

Shotski, Others In Good Order
According to trainer Jeremiah O'Dwyer, the Withers runner-up and favorite Shotski looked good on Sunday as well. He is owned by Gary Barber, Wachtel Stable, Pantofel Stable, and Howling Pigeon Farms.
"He came out of the race good. I'm very happy with him, and we'll give him a couple of easy days before heading back to the track," O'Dwyer said.
O'Dwyer revealed that the Gotham and Feb. 29 Fasig-Tipton Fountain of Youth Stakes (G2), which run at 1 1/16 miles at Gulfstream Park, are being considered as Shotski's next start.
Trainer Michael Pino spoke about Daniel Ryan's Vanzzy and how the horse was also in good order Sunday.
"He cooled out good, scoped good, and jogged on down the road good," Pino said. "He's fine this morning. (Junior Alvarado) said he felt a bit of a short stride and grabbed him.
"He's a funny horse. When (New Commission) came outside him, he might have come out of the bit, and his stride felt funny, so he grabbed him. But at one point, I thought we were looking good. He seemed very comfortable."
Pino will watch how Vanzzy trains before figuring out the colt's next start.
"The main thing is to see that he is good in his training, and right now, I'm confident that he is," he said. "For now, I'm just trying to get over the whole deal. It's not an easy game."
Owner and trainer Rudy Rodriguez spoke about Mr. Shortandsimple after the Withers.
"He looks good. (Jockey) Reylu (Gutierrez) said he got pretty tired, and he was trying to protect him," Rodriguez said. "But he came back good and looked good this morning. Probably the distance was a little too much for him right now."
Rodriguez has not indicated the next race for Mr. Shortandsimple, but he plans on training War Stopper to the Gotham.