McKinzie Wins the Highly-Anticipated Whitney Stakes
Author: Don Mckee
Published: Monday August 05, 2019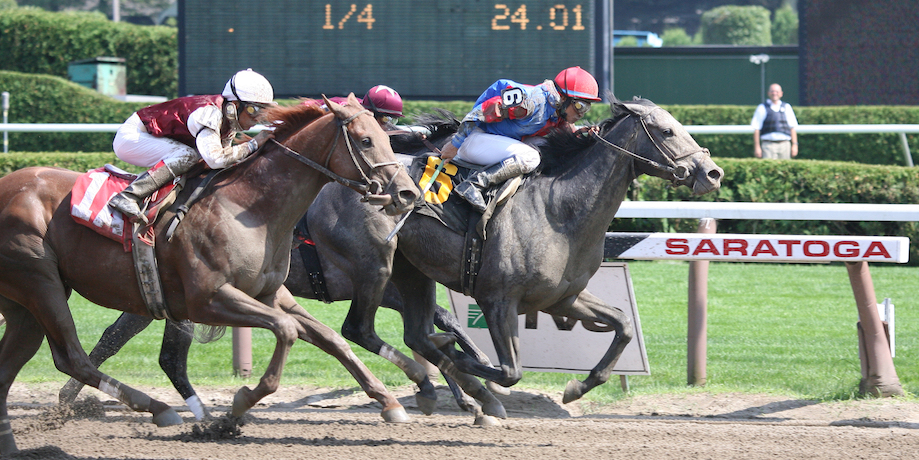 McKinzie won the highly-anticipated $1 million Whitney Stakes (G1) at Saratoga on Saturday. The race was a Breeders' Cup "Win and You're In" event that gave McKinzie an automatic berth in the Classic at Santa Anita Park in November.
McKinzie, the 4/5 favorite and Bob Baffert trainee, broke from post 6 under jockey Mike Smith in a field of seven horses. At the beginning of the race, Imperative moved out front as they went into the clubhouse turn. As the field moved through the turn, there were four horses fighting for the lead.
Preservationist moved in front of McKinzie while Monongahela and Imperative followed in the back. As Preservationist tried to extend the lead, Smith repositioned McKinzie to get on Preservationist's outside.
As the horses moved into the far turn, McKinzie fell two lengths behind. Vino Rosso, Monongahela, and Yoshida began to move up until there was an eventual field of five up front. Monongahela was on the rail, Preservationist was close by, and McKinzie, Vino Rosso, and Yoshida were following.
McKinzie and Preservationist moved up front at the top of the stretch. Preservationist started to fall behind, and McKinzie was able to move ahead mid-stretch and finish the 1 1/8-mile race over the fast track in 1:47.10.
Jockey Mike Smith spoke about the horse's impressive performance.
"That was incredible," Smith said. "He ran big. There were some good horses in there, so he had to run, but he ran. That's the important thing. He had to work at it, but he got away from them, and the best part of it was at the end of the race. That gives me confidence going a mile and 1/4 down the road. The break was huge. Today, he felt better than he ever had. I knew he was going to jump well today."
The Rest of the Field
The rest of the field followed with Yoshida finishing second 1 3/4 lengths behind McKinzie. He is normally one to make it up from the rear, but not this time in the Whitney Stakes. Vino Rosso finished third after falling back in the stretch.
Preservationist finished in fourth, while the rest of the order was completed with Forewarned, Monongahela, and Imperative. Thunder Snow, the two-time Dubai World Cup (G1) winner, was scratched after suffering from a fever.
Emotional Day for Baffert
The Whitney Stakes was McKinzie's second victory of the year. He also won the Alysheba Stakes (G2). It was his fourth career Grade 1 win, and he now has a career record of 12-7-4-0 with earnings at $2,238,560.
"This win is very emotional for me," Baffert said. "I was telling John (Hendrickson, husband of the late Marylou Whitney, who passed recently and whose family name crests the race), this horse was named after a close friend of ours (Brad McKinzie) that passed away a few years ago.
"I got very emotional after he won. I was hoping that when I was thinking about running here, I'd never won this race and wanted to see (Marylou) here, so it's kind of sad. It's a great honor to win the Whitney. I've never won the Whitney, so this is a huge moment for me."
McKinzie is the 4-year-old son of Street Sense and is owned by Karl Watson, Mike Pegram, and Paul Weitman.
He returned $3.70 to win, $2.70 to place, and $2.10 to show. Yoshida returned $5.20 to place and $3.60 to show. Vino Rosso returned $2.90 to show.