Midatlantic Opener Highlighted by $1.1 Million Uncle Mo Colt
Author: Clint Goodman
Published: Tuesday June 30, 2020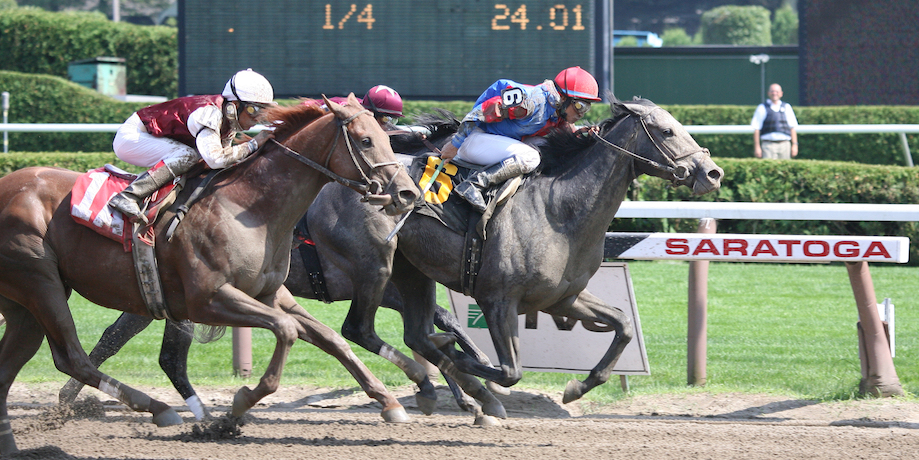 The Fasig-Tipton Midatlantic 2-Year-Olds in Training Sale had another big day despite the changes due to the COVID-19 pandemic. Rescheduled to Monday, the opening day was highlighted by an Uncle Mo colt purchased for $1.1 million by Michael Lund Peterson.

Midatlantic Sale Numbers
There were 274 horses cataloged for the session, and according to Fasig-Tipton, there were 152 moves for a total of $12,632,500. The average price was $83,109, with a median of $40,000. With a total of 38 unsold horses, the RNA rate was at 20%.
There are not any comparisons with 2019 by the sales company due to the pandemic, but the numbers this year were over the $73,093 average for 156 horses sold last year, which resulted in a gross $11,402,500. The opening day of last year had a median of $43,000 with an RNA rate of 25.7%.
Compared to last year's first session that saw 33 horses sold for $100,000 or more, this year had a total of 39.
Boyd Browning Jr. is the president of Fasig-Tipton.
"I don't believe anybody knew what to expect," said Boyd Browning Jr. "We had positive vibes throughout the under tack show, and there was good activity on the sales grounds this weekend. I thought today was tremendous, exceptional, and reassuring.
"If you didn't observe the activity in the pavilion with masks, seats marked off, and signage on the floors saying social distancing, and so forth, it seemed very similar to what we experienced in 2019 and in past years.
"There was very competitive bidding, and I'm astonished at the 20% RNA rate, and we hope and pray it's in that range tomorrow. The middle was stronger than I would have anticipated coming into the sale. The resiliency of the participants in the Thoroughbred industry on the sales side and racing side never ceases to amaze me, and today was an example of that."
According to Browning, the incorporation of online and telephone bidding went well. There were seven horses sold through the online network and internet bidding on 40-50 horses.

Hip 118
With the purchase of the Uncle Mo colt, Peterson made it two consecutive years that he purchased a seven-figure horse at the Fasig-Tipton Midatlantic sale.
The Uncle Mo colt was consigned as Hip 118 by Pike Racing, and he shared the fastest eighth-mile workout time of :10 during the under track show.
Donato Lanni was the agent for the purchase of the colt.
"I'm happy for Michael because this is his sale. It's only a 10-minute drive for him to come here. I saw there was a bunch of outs and told him, 'You better hurry up,'" said Lanni. "He (Hip 118) looks very similar to a horse we have now called Uncle Chuck," Lanni continued. "He's a similar-looking Uncle Mo, and he's a horse that we will take our time with. Bob (Baffert) will take his time.
"He's a good horse, everybody saw that, and that's what they cost. I'm never surprised for horses like that because they are so hard to find. It's very rare, and you have to stretch a bit more to get them."
The colt was bred in Virginia by the William M. Backer Revocable Trust. He is the sixth foal out of the Mineshaft mare Miss Ocean City, who produced the graded stakes winner Azar.
Hip 118's second dam is Madam Lagonza, the dam of multiple grade 3 winner Woodlander and stakes winner Admiral Alex. She is also the granddam of Coal Front, a multiple graded stakes-winning son of Stay Thirsty who became part of the Spendthrift Farm stallion roster this year.