Midnight Bisou and McKinzie Could Face Off in Saudi Arabia
Author: Don Mckee
Published: Tuesday November 05, 2019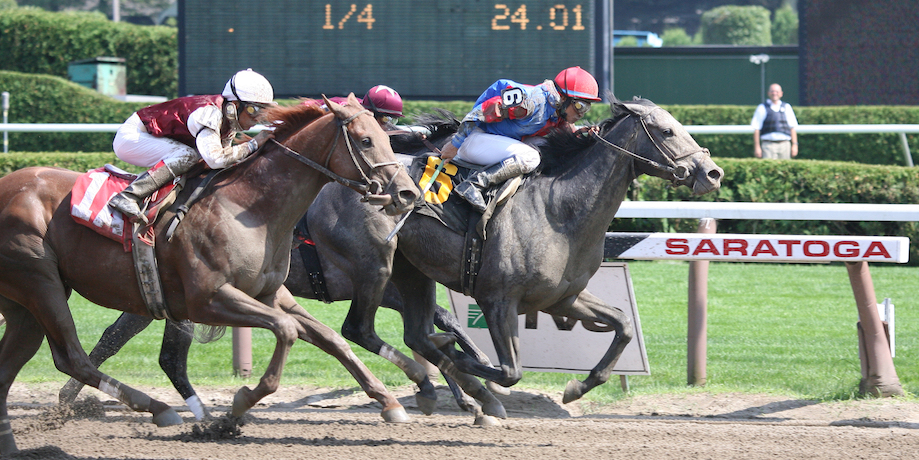 As the 36th Breeders' Cup has come and gone, many of the big stars are taking their next steps after the Nov. 2 Championships at Santa Anita.
The $6 million Longines Breeders' Cup Classic (G1) winner Vino Rosso will be heading to Kentucky. The son of Curlin will join the other stallions at Spendthrift Farm on Nov. 5.
Bricks and Mortar finished out his career by taking the $4 million Longines Breeders' Cup Turf (G1T). The Chad Brown-trained son of Giant's Causeway has a good shot at becoming Horse of the Year. He will now head to Japan to have a life at stud at Shadai Farm.
William and Corinne Heiligbrodt's Mitole will also go to Spendthrift Farm. He took the $2 million Breeders' Cup Sprint (G1) to secure his fourth grade 1 win of the year.
Some of the beaten favorites from the Breeders' Cup stakes will return in 2020 with new optimism. They will be looking to get back to the Breeders' Cup.

Midnight Bisou and McKinzie
Midnight Bisou lost at even-money odds in the $2 million Longines Breeders' Cup Distaff (G1), which took her out of contention for Horse of the Year. McKinzie lost as the 5-2 favorite in the Classic. Both of the horses will look to score next year's Horse of the Year race, and they might meet up in Saudi Arabia.
Bob Baffert, training the son of Street Sense for Mike Pegram, Karl Watson, and Paul Weitman, said that McKinzie will run again next year at the age of 5. He will likely take part in the $20 million Saudi Cup on Feb. 29 in Riyadh. According to Baffert, it is "The Big Ass Cup."
Baffert, a two-time Triple Crown-winning trainer, said that McKinzie might stay in the Middle East following the Saudi Cup. He would be waiting for the March 28 Dubai World Cup Sponsored by Emirates Airline (G1). That race has a purse of $12 million.
"I think (the Jan. 25 grade 1 Pegasus World Cup at Gulfstream Park) is a little too quick, though you never know," Baffert said on Sunday. "If we don't go there, we can go to Saudi Arabia and then stay there and go to Dubai."
McKinzie finished 4 1/4 lengths behind Vino Rosso in the Classic, and he now has two wins and five second-place finishes in seven starts this year.
"He showed up, and I thought he ran a great race," Baffert said. "He had to deal with all the heavy lifting early, and that took the starch out of him. Vino Rosso is a true mile-and-a-quarter horse, and he got the better of us at the end.
"It's a frustrating year because all of his races were good. He was much the best in the (Runhappy Metropolitan Handicap, G1), and the Awesome Again was frustrating. I wanted him to be the champion older horse."
Midnight Bisou was set to be sold at The November Sale, Fasig-Tipton's breeding stock sale in Lexington. Bloom Racing, Madaket Stables, and Allen Racing decided to keep training her with Jeff Bloom.
"Will she run against the boys? Yes," Bloom said. "We'll look at the Pegasus and the Saudi Cup. She's been consistently happy and sound and thrives on her job, so as long as she wants to do it, we'll let her run. We'll work out a plan to get back to the Breeders' Cup."
Bloom thought that the racetrack was against her. She was eighth after six furlongs and was not able to move ahead. The daughter of Midnight Lute finished second, 1 1/2 lengths behind.
"She had too much work to do. She was covered with dirt and not getting first run on (Blue Prize). She ran huge considering what she was up against," Bloom said. "I thought it was an extraordinarily deep track, and it seemed to compromise some horses' chances.
"First and foremost, you want safety, but to overcompensate and change the track, there's a fine line. It was clearly a tough track for a lot of horses to run over, and, to me, that made our filly's performance that much more impressive. She got the worst of it from where she was. She was loaded up with a lot of dirt and weight. She was almost blinded; she had that much dirt on her.
"It's heartbreaking for us. To miss by that much and not have the best chance to showcase what she could have done was unfortunate."