Midnight Bisou Takes First in Molly Pitcher Stakes
Author: Don Mckee
Published: Monday July 22, 2019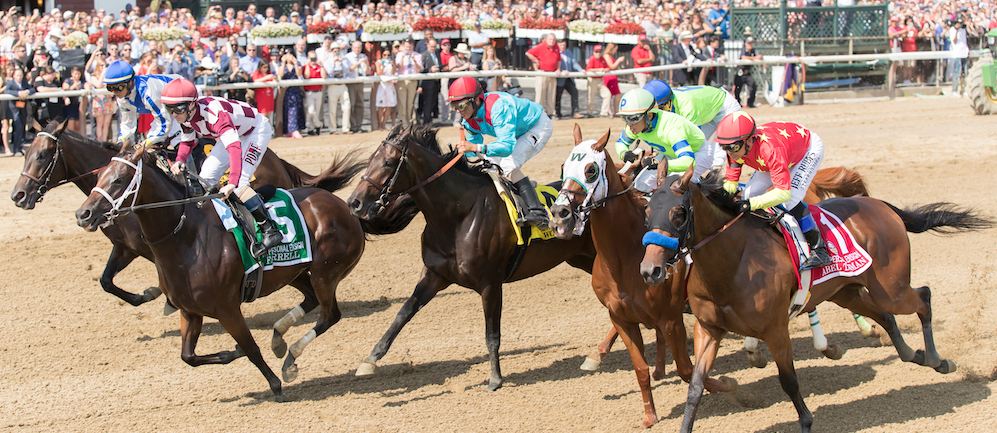 Midnight Bisou finished first in the $150,000 Molly Pitcher Stakes (G3) at Monmouth Park on Saturday. The 4-year-old filly finished a length ahead of the field to improve her record to 5-5 this year. Hall of Fame jockey Mike Smith was on top, and she is trained by Steve Asmussen.
Trainer Steve Asmussen spoke about the race and the team.
"She's just a true blessing, and I just so much appreciate the team and how they feel about her, and how Mike Smith handles her, and the confidence that everybody is showing in her. She is a very special filly," Asmussen said.
"Her race today was beautiful. The hard part was us showing patience. We were very anxious. She's a very special filly, and you want everything to go well. But she was great in the post parade, beautiful in the gate, and she traveled very well under Mike the whole way and finished very well. Pure professionals overcome obstacles. She's better equipped to handle them than the people."
The Race
At the start of the race, Coach Rocks broke from the post and moved up to first quickly with Cosmic Burst behind in second. Midnight Bisou, the 1/9 favorite, was sitting in third with Smith keeping her steady. Breaking Bread settled into fourth, and Sun Studio was behind as they crossed the opening fractions.
As they headed for the stretch, Midnight Bisou continued to sit behind the leader, waiting until she found an opening on the rail. Smith and the filly made their way to the gap, and she moved fast to pass up Coach Rocks and cross the line in first.
As Midnight Bisou finished a length ahead, Cosmic Burst came in third with Breaking Bread in fourth.
Smith spoke on the horse's performance after the race.
"She was a little aggressive early on, and that's probably because of the slow pace," said Smith. "I thought about pulling out from behind early, but I didn't want her to take off early. There was still plenty of race to go, so I decided to wait. When I saw my opening (along the rail), she really responded."
Midnight Bisou was bred in Kentucky by Woodford Thoroughbreds. The filly was an $80,000 OBS April purchase as a 2-year-old, and as a sophomore, she competed for top honors. Now, she won all five of her starts in 2019, and she was ranked No. 3 in the latest National Thoroughbred Racing Association Poll.
Some of her impressive wins included the G1 Ogden Phipps and the G1 Apple Blossom. Her total record is now at 10 wins from 16 starts, and her lifetime earnings are currently sitting at over $2.8 million. The horse and her team are prepping for the $700,000 Personal Ensign Stakes Presented by Lia Infiniti (G1) on August 24 at Saratoga Race Course.
Changes in the Schedule
The Molly Pitcher was originally the eighth of 14 races on Monmouth Park's Haskell Day Card. After two races were completed and the non-stakes were canceled, the remaining six races were moved to 6 pm ET. The post time for the Molly Pitcher was at 6:27 pm instead of 3:27 pm.
Owner Jeff Bloom said they were never thinking of scratching Midnight Bisou.
"I had not pondered scratching," Bloom said. "It comes down to me talking to Steve and (assistant trainer Scott Blasi). They're in charge of what we should be doing. They look after the filly, and they made it very clear they were confident in the situation, they were confident in the filly, and that it was not necessary to think about scratching her. It was never even a second thought to me."
Midnight Bisou finished in 1:43.55 and paid $2.10.