Mongolian Groom Finishes Final Work Before Breeders' Cup
Author: Don Mckee
Published: Monday October 28, 2019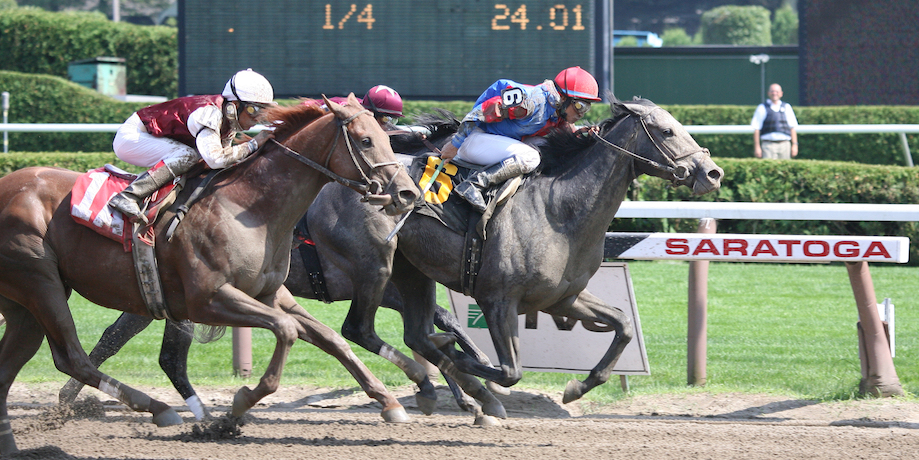 Mongolian Stable's Mongolian Groom, one of the contenders set to run in the Breeders' Cup, breezed five furlongs for trainer Enebish Ganabat at Santa Anita Park on Sunday.
The 4-year-old son of Hightail worked solo in his final breeze before the Nov. 2 Longines Breeders' Cup Classic (G1), and he finished in 1:02. Mongolia Groom didn't perform as expected; he was 17th out of 42 horses at the distance.
Ganbat spoke about the disappointing work.
"I am not very happy," Ganbat said. "He was much slower today. I don't (think it was the track) because Improbable breezed five-eighths in :59.20. If the track was slow, (Improbable) shouldn't have been able to go so fast."
The breeze was the fourth work from Mongolian Groom in the past two months. He went five furlongs in 1:00 4/5 on Sept. 22, and Ganbat is not sure as to why Mongolian Groom went slower on Sunday.
Mongolian Groom was bred in Kentucky by Calumet Farm. His upset win over McKinzie in the Sept. 28 Awesome Stakes Again (G1) awarded him a fees-paid berth to the Classic. He was not Breeders' Cup-nominated as a foal, so his connections spent $200,000 to make him eligible as a horse of racing age.
The Awesome Again was Mongolian Groom's second victory in 10 starts this season, but he finished on the board in three other stakes races. He crossed the line third in the $1 Million TVG Pacific Classic Stakes (G1), as well as the Santa Anita Handicap Presented by San Manuel Indian Bingo Casino (G1). He also finished second in the San Diego Handicap (G2).
"I'm trying to understand why he ran slower today, but I can't say anything about how he will run in the Breeders' Cup," Ganbat said. "No one knows what will happen tomorrow."

Paradise Woods
The 5-year-old Union Rags mare Paradise Woods, working towards the Longines Breeders' Cup Distaff (G1) for trainer John Shirreffs, breezed five furlongs in 1:00 on Sunday at Santa Anita. It was the second-fastest time at the distance, and she worked with jockey Abel Cedillo.
"I thought she worked very nicely this morning," Shirreffs said.
Paradise Woods is owned by HS Stable, Martin Wygod, and Pam Wygod. She has six starts this season, and she took graded stakes wins in the Santa Margarita Stakes (G2) and the Zenyatta Stakes (G2) at Santa Anita.
"I think the big thing is getting her not to want to run through the bit," Shirreffs said. "Just doing a lot of, not slow gallops, but just gallops where she is comfortable. She's never going to really relax, but we try and work with her in a way that doesn't get her too excited."

Fair Maiden
Fair Maiden, looking towards the Breeders' Cup Juvenile Fillies Turf (G1T), breezed in the first set of the day for trainer Eoin Harty. She went five furlongs on the dirt in 1:01 2/5.
"She worked great. I was very happy," Harty said. "The track is very deep and tiring. None of them looked super over it, but she looked good, and she's not tired at all. She's plenty fit, and my rider was very happy."
WIth jockey Drayden Van Dyke, who will also be on board for the Juvenile Fillies Turf, Fair Maiden has had an impressive short career. She won a maiden special weight on the polytrack at Arlington International Racecourse, and she then went on to take Catch a Glimpse Stakes on the Woodbine Turf.
Fair Maiden is a Godolphin homebred, and she will enter the Nov. 1 Juvenile Fillies Turf after finishing third in the Sept. 15 Natalma Stakes (G1T) at Woodbine.
"She was at Arlington, and that's a synthetic track, and she broke her maiden in her second start, then I went looking for a stake with her," Harty said. "They had a stake at Woodbine on the turf. She won that impressively, so I decided I might as well come back in the Natalma.
"She got ready very quickly. Those good ones do. The only reason she's never been on dirt is because I've never been at a track where they had dirt with her until I came out here. I wouldn't hesitate to run her on the dirt in the future the way she runs on it. But this was her only serious work here, so now we just have to keep her happy."