Oaklawn Count Fleet Field Set To Be Loaded With Talent
Author: Don Mckee
Published: Friday April 17, 2020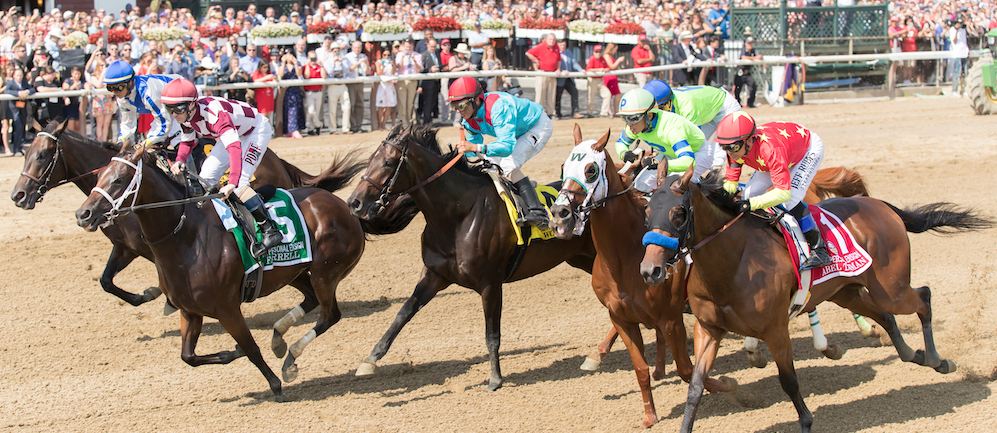 Due to the various cancellations and delays because of the ongoing COVID-19 pandemic, the April 18 Count Fleet at Oaklawn is set to be full of talent.
Traditionally, older male sprinters would be spread out between graded races, such as the Carter Handicap (G1) at Aqueduct Racetrack, the Commonwealth Stakes (G3) at Keeneland, the Kona Gold Stakes (G2) at Santa Anita Park, and the Count Fleet Sprint Handicap (G3) at Oaklawn Park.

Eleven-Horse Field
The six-furlong Count Fleet is set to see a field of 11 horses, coming in from Kentucky, California, Florida, and Louisiana. There are also Arkansas-based runners like Whitmore, winner of the 2017-18 Count Fleet races, as well as Mitole, winner of last year's edition.
"The bettors are getting something really cool. They're getting to see a condensed version of everybody who is anybody showing up for this race," said Whitmore's trainer and part-owner Ron Moquett.
Whitmore is not the top horse in the event, even though he has nine stake victories, including the Forego Stakes (G1) in 2018. He also finished on the board twice in the Breeders' Cup Sprint (G1).
Whitmore is coming in at 121 lbs, while Flagstaff, winner of the San Carlos Stakes (G2), is at 122. Next up is Bobby's Wicked One at 120, and Hog Creek Hustle, who took last year's Woody Stephens Stakes (G1), at 119.
Going up against some of the best sprinters in horse racing, Whitmore has victories at his winter/spring base at Oaklawn.
The 7-year-old Pleasantly Perfect gelding is coming off a victory in the Hot Spring Stakes March 7, which was his fourth straight win in that race.
Whitmore is owned by Robert LaPenta, Moquett's Southern Springs Stables, and Head of Plains Partners.
"He's doing great. We're really excited to see where we're at," said Moquett. "We know that the racing office has done their job. They've put together a very good group of horses that are going to run. We want to see how we're going to stack up. I know this year's race is going to be a key race for what's going to be an interesting year getting towards the Breeders' Cup."

Bobby's Wicked One, Mitole, Flagstaff
After preparing for the Nov. 2 Breeders' Cup Sprint at Keeneland, trainer Al Stall Jr. decided to run Bobby's Wicked One in the Count Fleet. He will be running for owners Autumn Hill Farms Racing Stables.
"I just wanted to keep him at that distance," he said. "I don't think he's as versatile as a horse like Mitole."
Mitole ran 6-for-7 during his championship season last year. He scored the Sprint at six furlongs, the Churchill Downs Stakes presented by Twinspires.com (G1) and Forego at seven-lengths, and the Runhappy Metropolitan Handicap (G1) at a mile.
Bobby's Wicked One took the Commonwealth last year at Keeneland, which was his only graded stakes win. He finished behind Mitole in second in the grade-1 Churchill Down Stakes during the Kentucky Derby Presented by Woodford Reserve (G1) last spring.
Flagstaff is coming in from California after winning the San Carlos at seven furlongs, which was his first graded stakes victory. Last fall, he scored the ungraded Damascus Stakes at seven furlongs, which was on the Breeders' Cup undercard at Santa Anita.
"We think he's good at six (furlongs) to a mile," said trainer John Sadler. "So it's a little bit shorter, but it's a good purse. And obviously, you want to run them."
Joal Rosario will be the jockey for 6-year-old Flagstaff, and they will be racing for owners Lanes End Racing and Hronis Racing.
The rest of the field includes Hidden Scroll, the second-place finisher in the Florida Derby and Fountain of Youth Stakes last year; and Share the Upside and Nitrous, both coming from trainer Steve Asmussen.