Ohio Derby On Tap, Mr. Money Has Options
Author: Don Mckee
Published: Wednesday June 19, 2019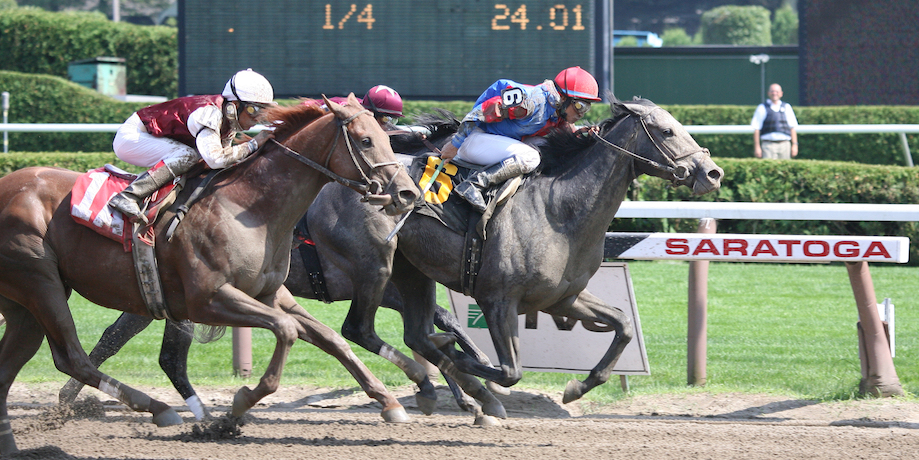 Long Range Toddy Bound for Thistle
Hall of Fame trainer Steve Asmussen is less concerned about the competition than he is about rain as Kentucky Derby contender Long Range Toddy makes his next start in Saturday's Grade 3, $500,000 Ohio Derby at Thistledown Racino.
After four wins and two placings in his previous six starts, Long Range Toddy finished well off the board in his most recent two outings, the Arkansas Derby and on the first Saturday in May. Both were contested over sloppy tracks.
Despite the drama that marked the Kentucky Derby — Long Range Toddy's jockey, Jon Court, was one of two riders who lodged objections that led to the disqualification of Maximum Security from first to 17th — Asmussen put the race down to mud.
"I blame it on the weather," Asmussen told horseracingnation.com of the last out effort at Churchill Downs. "We know he's better than that. If we don't see him at his best, then the circumstances are secondary."
Long Range Toddy won two stakes races at age 2, Remington Park's Clevor Trevor and Springboard Mile. He then annexed the first division of Oaklawn Park's Rebel Stakes, defeating eventual Derby and Preakness Stakes betting favorite Improbable.
Each of those scores came on dry dirt. And for what it's worth, the National Weather Service as of Tuesday calls for partly sunny skies on Saturday.
Asmussen wouldn't be surprised to see the Willis Horton Racing homebred son of Take Charge Indy near the lead in the Ohio Derby.
"He's a handy horse," the Hall of Fame trainer said. "He won a 7/8-mile stake (the Clever Trevor), and he's contested solid fractions against serious racehorses."
Long Range Toddy tuned up for the Ohio Derby with a four-furlong breeze Monday morning in :49.40 at Churchill Downs. He will arrive at Thistledown Thursday in the care of assistant Darren Fleming. Whether he takes a turn around the track Friday will depend on how he handles the trip from Churchill Downs.
Long Range Toddy, who drew Post 3 in the Ohio Derby field of seven, was assigned morning line odds of 5-2, making him the second race choice behind Preakness third-place finisher Owendale. The favorite, as well as third choice Global Campaign, at 3-1, are all based at Churchill as well.
Mr. Money May Head to Oceanport
Trainer Bret Calhoun and owner Chester Thomas, who campaign promising 3-year-old Mr. Money, were awaiting his Matt Winn Stakes (G3) run Saturday night to determine what could be ahead.
Then Mr. Money gave them even more to think about when he ran off to a 6 1/2-length win at Churchill Downs. Now, Calhoun told Churchill Downs publicity, "We've got a couple races in mind."
First is the Grade 3, $500,000 Indiana Derby at 1 1/16 miles on July 13. A week later, Monmouth Park hosts the Grade 1, $1 million Haskell Invitational — double the money, but also a tougher ship from Kentucky and the race 1/16th of a mile longer.
"Obviously there's some things to consider both ways, and they're both very good options," Calhoun continued. "We're just going to see what's going on with him and what everyone else is doing also and make up your mind from there. You'd like to win a Grade 1 with him, but the other side of that is, I want to keep him as fresh and healthy as I can for as long as I can.
"There's so much money to run at in this 3-year-old division. I'm trying to protect him as best I can."