Omaha Beach Works for Malibu
Author: Don Mckee
Published: Thursday December 19, 2019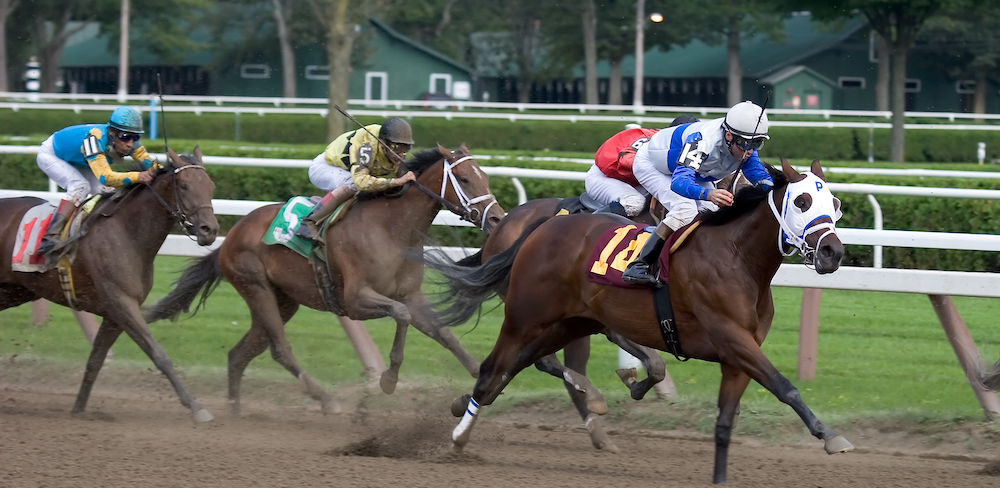 Fox Hill Farm's Omaha Beach completed his second straight bullet work at Santa Anita Park on Tuesday. Trainer Richard Mandella sent the 3-year-old out in company to drill six furlongs to prepare for the Dec. 26 Malibu Stakes (G1).
"This was the strong work for the race," Mandella said. "He went 1:12 flat, galloped out 1:25 and change. Couldn't look better."
Mike Smith, Omaha Beach's regular jockey, was aboard for the work.
"He worked brilliant, just cool and smooth as you want to go, just really, really good," Smith said. "He's doing really well. If the Lord's willing, we'll have a little racing going our way (in) a little bit. (If) all goes well he should fire his A-plus race.
"He broke off of another horse then sat back off him for a little bit. Then he just overwhelmed him and went on his way."
According to Smith, he never had to use his hands during the work.
"Literally not from the time I broke off to the time I pulled him up," Smith added. "He's gotten so professional. I don't really do a whole lot other than keep the weight on the back, which is very fine with me. I'm very blessed to be in this situation."

One More Work Possible
It is possible that Omaha Beach will have one more short work before the Malibu, Mandella said. However, it has not been fully decided yet.
If everything plays out in the Malibu, the War Front colt's final start will likely be in the Jan. 25 Pegasus World Cup Invitational Stakes (G1) at Gulfstream Park.
On Dec. 15, it was announced by track owner The Stronach Group that the purse for the race would be reduced to $3 million, compared to last year's $9 million, and the $500,000 entry fee will be waived. Contenders will have to run without the anti-bleeding medication Lasix.
Even with the new changes, Mandella and Fox Hill Farms owner Rick Porter did not rethink their plans. The Pegasus will be the last big race that Omaha Beach is able to run in before beginning stud duties at Spendthrift Farm. There, he will stand for $40,000.
"He's so much fun to watch, and we got nothing to lose to run him," Porter said.

Going Into The Malibu
Omaha Beach will go into the Malibu after finishing as the runner-up behind Spun to Run in the Nov. 2 Big Ass Fans Breeders' Cup Dirt Mile (G1). In that race, he made a five-wide bid from seventh after starting slowly.
"He wasn't ready. He wasn't even facing the right way, and he was nowhere near where their nose goes up into the triangle there," Porter said of the break from the gate. "His throat was just full of dirt. He's just not used to getting dirt kicked in his face."
Before the running of the Dirt Mile, Omaha Beach finished ahead of Shancelot by a neck in the six-furlong Santa Anita Sprint Championship (G1) on Oct. 5. It was his first start since being scratched from the Kentucky Derby Presented by Woodford Reserve (G1) due to an entrapped epiglottis. Before that, he took the April 13 Arkansas Derby (G1) at 1 1/8 miles.
Omaha Beach will go down to seven furlongs against 3-year-olds in the Malibu, and the Pegasus will bring him back out to 1 1/8 miles.
Porter dealt with almost the same scenario back in 2007 with Hard Spun, who finished second in the Kentucky Derby and Haskell Invitational Stakes (G1) before trainer Larry Jones dropped him down to seven furlongs to win the King Bishop's Stakes (G1).
Omaha Beach's sophomore campaign was shortened due to minor throat surgery and a virus, but his top scores at the two-turn and sprint races were impressive.
"There's not many horses that win a grade 1 at six furlongs and nine furlongs," Porter said. "Omaha Beach is special."