PETA Buys Stock in Horse Racing Industry in Hope of Enacting Change
Author: Clint Goodman
Published: Monday November 02, 2020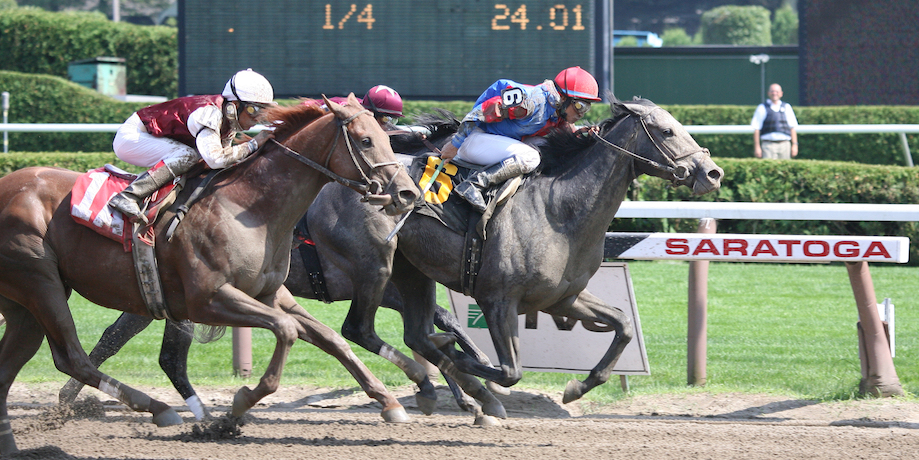 PETA now owns stock in the horse racing industry
PETA announced this week that they have purchased several shares in the horse racing industry and plan to use that to enact change in the sport. PETA already made waves this year by prompting California to implement a controversial riding crop rule, which reduced the number of times that the device could be used on the horse during a race. That was only the start, though.
Now they have bought shares of Penn National Gaming, Gaming and leisure properties LLC, and Vici properties. The organization states that the amount of stock they bought allows them to attend stockholder meetings and make recommendations. Although it's not known exactly how much pull the organization has with these businesses, its possible horse racing changes as result.
PETA's press release and recommendations
"PETA is eager to get inside the boardroom and push Penn National Racecourse to make simple changes that will make a world of difference for vulnerable horses," PETA senior vice president Kathy Guillermo said in a press release regarding their purchases. The animal rights group also already has a list of recommendations for the horse racing industry and will likely bring it up in their first meeting.
These recommendations include banning all medications two weeks before a race, giving horses enough time to rest from injury, banning the sale of a horse to any foreign entity that might want to slaughter them, do frequent unannounced testing on horses, make sure retired horses are taken care of and remove all dirt tracks in favor of synthetic turf.
While the argument that horses shouldn't be sold to the slaughter and need to be taken care of in retirement is a legitimate concern, their desire to remove dirt tracks and replace them with synthetic turf would cost a ton of money Keep in mind that the industry is still reeling from the effects of a global pandemic and you can start to see the problem with an idea like that.
Synthetic turf only slightly safer than dirt
Now, it is worth noting that a study conducted by the California Horse Racing board in 2004 found that running on synthetic turf reduced the number of horse deaths by 37%, but deaths still did occur on turf. A total of 1.95% of horses died after racing on turf tracks in the study, making the synthetic surface only slightly safer than that of dirt.
Who knows, though? Maybe the horse racing industry can implement more synthetic turf to keep the animals safe at some point, but doing it right now would be difficult financially. It would be the equivalent of spending a massive amount of money to appease a minority of your stockholders and could lead to a lot of problems for everyone involved.
For example, what if some tracks can't pay the absorbent fee to turn their facility into a synthetic turf track? Does that mean the facility has to become collateral damage to appease a group that will never be happy with the result? Think about it! What is the point of pleasing these people? They don't represent the majority, and their intentions seem somewhat nefarious.
That might seem ridiculous given the fact that they are supposedly looking out for the animals but look at their track record. The organization already lobbied California and several other states to reduce the number of times a riding crop could be used during a race and are now calling for the outright banning of the tool altogether.
Long-term effects of PETA stock ownership?
In all honesty, giving in to some of these demands could end up bankrupting parts of the horse racing industry in a time when they can't afford to spend money. Unfortunately for the industry, however, PETA has used shock value and damning investigations in the past to get their way on certain issues and will no doubt resort to these tactics again should they be opposed.
It will be interesting to see what PETA does going forward now that they own stock in the horse racing industry and if they are listened to. Furthermore, if PETA doesn't get their way in the boardroom, will they take to the internet to shame the industry into submission? What about the demands? Is their current list the only one, or will more be on the way in the name of safety?
In the end, PETA doesn't seem to be entering this situation with the best of intentions and it's going to likely result in a tug of war between the two sides. Whether other stockholders will listen to the ideas or stand their ground on what they believe is best for the industry remains to be seen, but it's a scary thought that PETA now has a say over horse racing.