Plenty of Servis Brothers News
Author: Don Mckee
Published: Friday May 24, 2019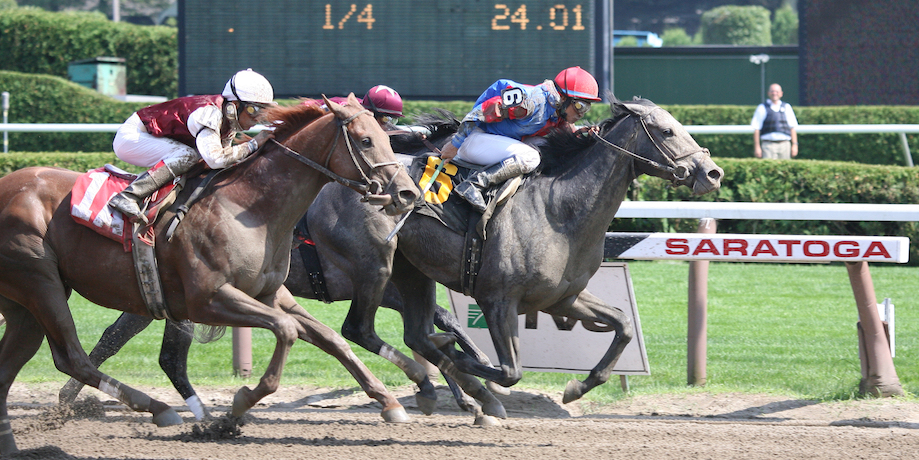 Family Affair in the Salvatore Mile
Brothers John and Jason Servis have both had success on the national stage, with John capturing a Kentucky Derby in 2004 with Smarty Jones and Jason establishing himself as one of America's best with Maximum Security crossing the wire first in this year's Derby before being disqualified.
The $150,000 Salvatore Mile Stakes (G3) could turn out to be a family affair as the race features horses from brothers Jason and John who figure to attract much of the wagering attention in the field of nine.
John will send out Diamond King, the runner-up in the Charles Town Classic Stakes (G2), while older brother Jason will be represented by Sunny Ridge, the 2018 New Jersey-bred of the year, in the two-turn, one-mile stakes for 3-year-olds and up.
"If I don't win," Jason Servis told bloodhorse.com, "I'd like to see my brother win."
Owned and bred by Dennis Drazin—the chairman and CEO of Darby Development, which operates Monmouth Park—Sunny Ridge has not been victorious in more than 10 months, but the gelded son of Holy Bull usually turns in a competitive effort, as reflected in career earnings of $1,233,577.
His most recent victory came in the State Dinner Stakes at Belmont Park July 6, but his six starts since then have included a second in the Kelso Handicap (G2) and a third in the Cigar Mile Handicap Presented by NYRA Bets (G1). He was third in last year's Salvatore Mile in his start prior to the State Dinner.
The 6-year-old's three 2019 starts feature a third in his most recent start, the Westchester Stakes (G3) at Belmont Park May 4, and a second in the Jazil Stakes at Aqueduct Racetrack to start the year.
"My horse is coming back quick. He usually gets six weeks, but he has a lot of class," Jason Servis told bloodhorse.com. "I'm just trying to support the Memorial Day weekend card, and maybe we can get (Dennis) Drazin some breeders' awards money since he's a Jersey-bred."
The Salvatore Mile field also features a familiar face for Monmouth Park fans in Just Call Kenny. The 8-year-old Jump Start horse, owned by ABL Stable, Dominic Bossone, James Cahill, and Peter Donnelly, was second in the 2017 edition of the Salvatore Mile and will make his first start since finishing third—a length behind winner General Downs—in the Native Dancer Stakes at Laurel Park Jan. 12.
Maximum Security Gets Back To Work
Maximum Security had his first serious exercise since the Kentucky Derby on Wednesday at Monmouth Park when trainer Jason Servis two-minute-licked him and then let him gallop out 1 1/8 miles. "He got beat up, cut up in the Derby," Servis told Monmouth Park publicity. "Now, he's starting to come back to himself."
Servis said Maximum Security went the mile in almost exactly two minutes – 2:00.02 – with his final seven furlongs in 1:47. Servis said he galloped out 1 1/8 miles in 2:13 under exercise rider Edelberto Rivas. Monmouth clockers credited Maximum Security with a half-mile breeze in 53.80 seconds, the same time he was given in his final workout prior to the Derby at the Palm Meadows Training Center in South Florida.
Following the Derby, Maximum Security was shipped to Monmouth Park. Servis said he trained him for one day and then realized the New Year's Day colt needed more time to recover from the race and that he backed off him for a week. "I'd like his color to be a little better but he's doing better," Servis told Monmouth publicity. "I'll pick it up with him a little bit next week."