Rashaan Takes First North American Victory
Author: Clint Goodman
Published: Friday August 21, 2020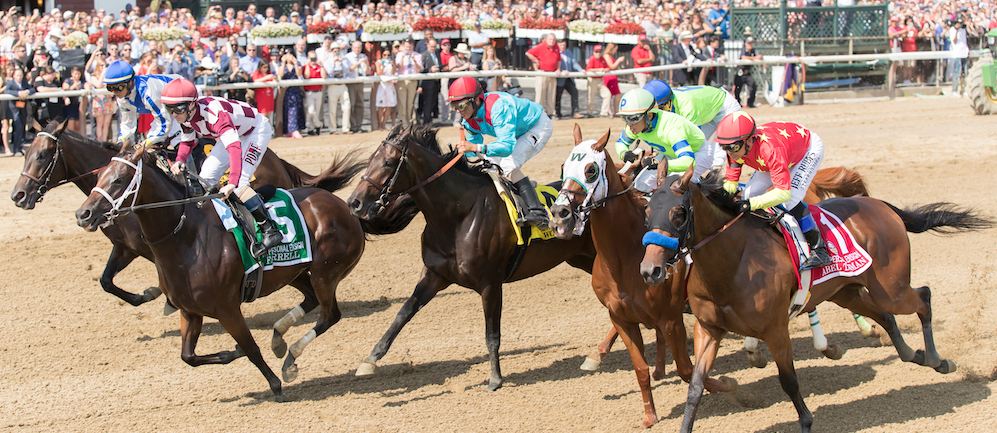 Rashaan arrived in the United States during his 7-year-old campaign in 2019, with his first score coming on Aug. 20. He led s six-horse field and was able to hold off stablemate Redicean, who pushed in the stretch, to take the $100,000 New York Turf Writers Cup (NSA-1) steeplechase in the opening card at Saratoga Race Course.
The race was just his fourth North American start, and it was his first graded stakes since shipping from his native Ireland home last year. He won by two lengths in the two 3/8-mile race on the firm inner turf course.
The Running
Pravalaguna was leading the field and in command as they went over the ninth and final hurdle. Rashaan stayed close behind in second under jockey Thomas Garner.
Rashaan, trained by Leslie Young, moved ahead into the flat portion of the race to take the lead, holding it as they entered the stretch.
Redicean, who is also trained by Young, tried to move forward as they straightened for home, but Garner kept strong. The two fought it out in the final sixteenth before Rashaan pulled away, posting a final time of 4:34.20.
Garner has now won the race for the second straight year. In 2019, he piloted the Jonathan Sheppard-trained Winston C to a victory. For this year's edition, he had a choice between riding Rashaan and Redicean.
"The plan was to be handy with him," Garner said. "He's a horse that's not easy at all. He has all the ability in the world, but it's only on his terms. Training him at home, if he doesn't want to train in the morning, he won't go anywhere. He's a real tricky one.
"The team did a great job with him. I ride him every day. He's a happy horse and he really enjoyed his work. I came here hopeful rather than confident, I actually thought the better horse was Redicean and I'd made the wrong choice, but he put his best foot forward. He's got so much ability, and when he wants to do it, there's not a lot that will get by him."
Coming Into the Race
Rashaan is owned by Bruton Street-US, and he has 13 victories in Europe since 2015. In his first U.S. start on Oct. 9, he did not finish the Grand National Hurdle (NSA-1) at Far Hills. He then went on seven days later to finish fifth in the David L. Ferguson Memorial Hurdle (NSA-2).
Coming off an eight-month break, Rashaan earned North American black type. He finished third in the June 13 Temple Gwathmey Hurdle (NSA-3) at Glenwood Park at Middleburg before making it into the winner's circle in his Saratoga debut.
"Rashaan has all of the ability. He's won 13 races in Ireland and he was bred by the Aga Khan and is related well to serious flat horses," Young said. "He had been training very well. We had a horse win last week and they all worked very well, but he was doing it very easily. I thought if he could just do this in a race without overthinking it."
Rashaan went off at 8-1 odds, and he returned $18 on a $2 win wager. His earnings are now at $363,687. Finally scoring his first North American victory, the 7-year-old will look to impress with similar performances.
The order was completed by Moscato in third (6/4), Gibralfaro in fourth (15/2), Pravalaguna in fifth (18/1), and Optimus Prime back in sixth (11/8). Belisarius and Zanjabeel did not run.