Report: Justify Failed Drug Test Before Winning Triple Crown
Author: Clint Goodman
Published: Friday September 13, 2019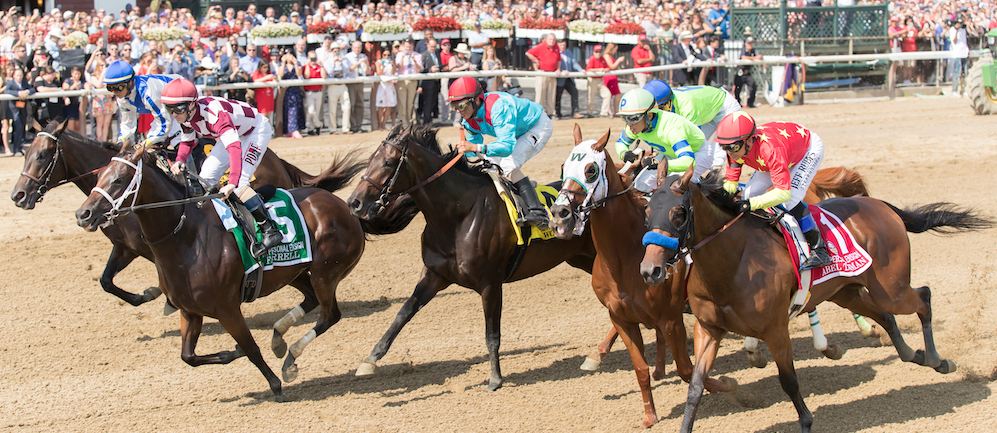 Many are reacting to the New York Times story that detailed how Justify, the Triple Crown winner, failed a post-race drug test after winning the 2018 Santa Anita Derby (G1). Trainer Bob Baffert and others are claiming that contamination was the cause of the positive test.
On Sept. 11, the New York Times reported that Justify tested positive for scopolamine after his victory in the Santa Anita Derby. Scopolamine is a prohibited substance. More problems arose with how the California Horse Racing Board handled the matter.
The California Horse Racing Board took over a month to confirm the results. On top of that, the regulator never filed a public complaint, and he had private meetings to discuss the matter and make decisions. Baffert initially didn't comment, but he broke his silence on Thursday, blaming the test results on contamination.
"I've never administered that drug or had it administered to one of my horses," Baffert said. "I wouldn't even know how it would come — what form it would come in."

2016 Warning
The CHRB issued a warning on Nov. 14, 2016, that jimson weed had been found in bedding straw. It is possible for jimson weed to contain scopolamine, and it could be responsible for positive drug test results.
"It is certainly not a crisis, but this weed can contain scopolamine, which is a prohibited substance," CHRB equine medical director Dr. Rick Arthur said.
The New York Times also reported on this warning.

Behind Closed Doors
The big controversy surrounding the matter is that this type of positive test result traditionally would've been reason for a disqualification of the horse. Four months after the test results, the board completely closed out the inquiry after conducting a closed-door meeting.
The executive director of the CHRB, Rick Baedeker, said that the reason the regulators ended the inquiry was because they believed it was likely from contamination since jimson weed can make its way into food supplies.
Baffert also holds this view and believes it was the reason for the positive test results after the Santa Anita Derby.
"We're always getting notices to be aware of that stuff, but looking for it is like looking for a needle in a haystack. It's tough, especially when you bed on straw," Baffert said. "I've been fortunate that I've never had one of these before, but I've seen it happen to other trainers out here. You're holding your breath that it doesn't happen to you, but we're sitting ducks. Contamination is hard to control.
"The general public has to be educated that we do have contamination. It's common sense that nobody would intentionally give their horses something like (scopolamine). I wouldn't do that. When it happened, it was like, 'Seriously? That's ridiculous.' I turned it over to my attorney because I was trying to win a Derby."

Scopolamine
According to a report done by Dr. Rick Sams, who was in charge of the drug testing lab for the Kentucky Horse Racing Commission from 2011-18, scopolamine acts as a bronchodilator that clears a horse's airway. This helps with the horse's heart rate and efficiency. Dr. Rick Sams also said that 300 nanograms per milliliter, the amount found in Justify, is excessive.
Baffert and Elliot Walden, president, CEO, and racing manager of WinStar Farm, which co-owned Justify, said that the post-race test results should not damage Justify's legacy. They pointed to the post-race tests that followed the Triple Crown.
"Let me say it this way: He competed in three jurisdictions after this issue and came back negative in all three jurisdictions and won the Triple Crown," Walden said. "His record speaks for itself."
"It's a damn shame it happened, especially to that horse," Baffert said. "It's not fair to the horse, the connections, or me. It's a damn shame. I don't feel it diminishes his accomplishments because he got tested before that and after that. He was under heavy scrutiny all the time, being a heavy favorite."