Rushing Fall Beats Talented Field in Diana Stakes
Author: Don Mckee
Published: Monday August 24, 2020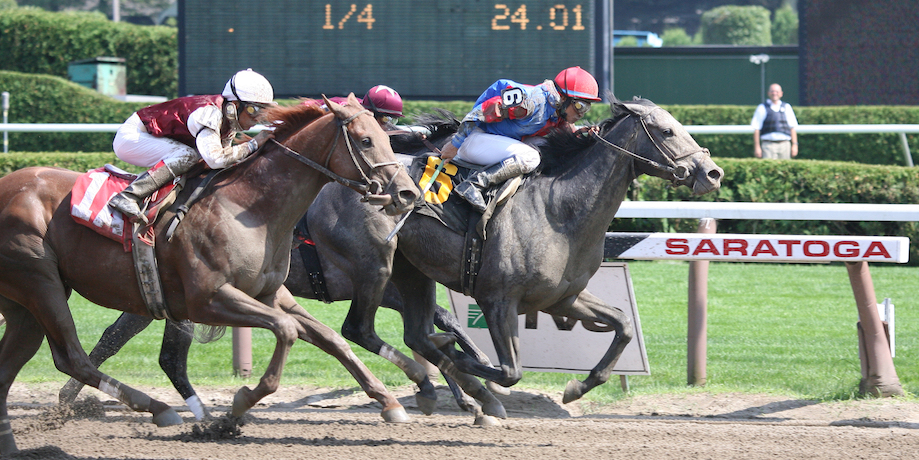 The 5-year-old mare Rushing Fall, who is owned by e Five Racing Thoroughbreds, proved herself one again in high-level turf racing. In the latest example, she pushed ahead and finished first in the $486,000 Diana Stakes (G1T) at Saratoga Race Course.
Rushing Fall finished second in last year's edition of the Diana, so she was looking to redeem herself this year. She performed much better than her opponents in the Aug. 23 race on the Spa's inner turf and beat Mean Mary after a battle in the stretch, crossing the wire a neck ahead.
"She knows how to win. She's a remarkable horse," trainer Chad Brown said. "This is a horse that has won grade 1s in four straight years. This is a very rare company to do this. She's a horse of a lifetime for anybody—for an owner, for a trainer, for racing. We're very fortunate that (owner) Bob Edwards put her back in training. Her last race of the year last year was not good, she's worth a lot of money, and they could easily have sold her and bred her.
"They gave her the time off, and we sent her down to Stonestreet in Ocala like we do every winter where they do a fantastic job and then my team got a hold of her and took it from there. They executed like they always have, and the filly really came through. She's special."
Problem in the Gate
Prior to the start of the 1 1/8-mile Diana, there was a problem in the gate after Secret Message began acting up in post 2. She ended up being scratched, and the remaining runners had to be backed out so the numbers could be readjusted.
Finally, the five-horse field broke cleanly with Rushing Fall doing well under jockey Javier Castellano. She took the early lead before Mean Mary moved up on the outside, eventually taking the lead as the field went into the clubhouse turn.
Mean Mary held on along the backstretch and increased her lead to 1 1/2 lengths before moving inward to the rails. Rushing Fall pressed the pace as the half-mile went in :48.38.
Canadian champion turf female Starship Jubilee kept in third, followed by Call Me Love in fourth. Sistercharlie was a half-length behind Call Me Love.
Battle to the Wire
As the field entered the final turn, Rushing Fall and Mean Mary were heads apart and battled it out to the wire. Rushing Fall held on and moved up to win by a neck in a final time of 1:45.88.
"The plan was to go to the lead. I broke out of the gate and tried to send to dictate the pace, but Mean Mary never took up and tried to take the lead," Castellano said. "I tried to ride smart—it's a mile and an eighth—and I thought it was smarter to save something for the end.
"Today, we were very fortunate. I rode her like she was the best filly in the race. She's very tactical. She doesn't have to be on the lead, she can come from behind also, but I didn't see much other speed in the race, so we tracked the other filly every single step of the way and when I asked her, she responded. She knows how to win. I'm so lucky to ride her because she's one of the best fillies I've rode in my life."
Mean Mary came into the race unbeaten in three starts for 2020, and she ended up finishing second. Sistercharlie took third after moving ahead in the final furlongs, while Starship Jubilee finished fourth. Call Me Love was 6 1/2 lengths behind in fifth.