Servis, Navarro, 25 Others Indicted on Doping-Related Charges
Author: Clint Goodman
Published: Tuesday March 10, 2020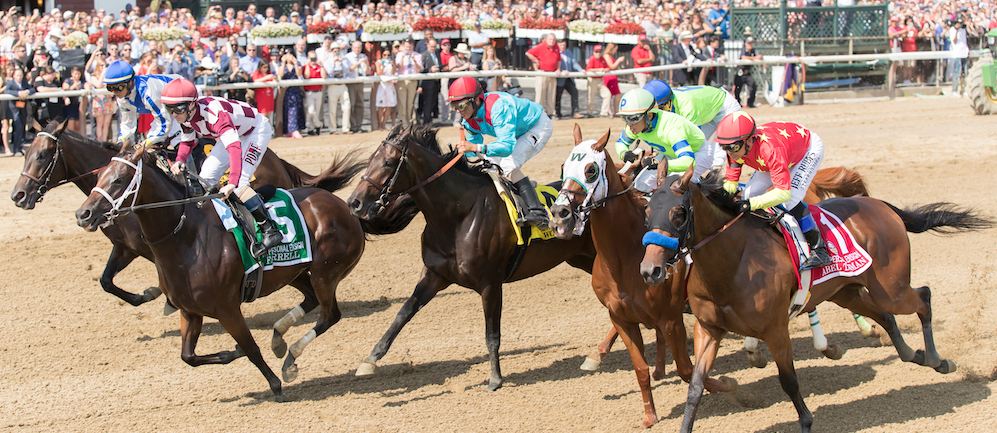 A March 9 announcement shook up the horse racing world once again. Jason Servis and Jorge Navarro were among the 27 trainers, veterinarians, and other individuals indicted in federal court on doping-related charges.
Servis recently saddled the infamous Maximum Security while Navarro has earned more than $37 million since 2008.
The indictment alleges that Maximum Security was administered a designer, performance-enhancing substance back in 2019. During that time, he was the champion 3-year-old male.
The 44-page indictment was released in the United States District Court, Southern District of New York. Seventeen other individuals were listed in that same indictment, and eight others were listed in three separate indictments on similar charges.
According to the indictment involving Servis and Navarro, there was a "widespread, corrupt scheme by racehorse trainers, veterinarians, PED (performance-enhancing drugs) distributors, and others to manufacture, distribute, and receive adulterated and misbranded PEDs and to secretly administer those PEDs to racehorses under the scheme's participants' control."
All of the individuals listed on the indictment are Servis, Navarro, trainer Nicholas Surick, veterinarians Erica Garcia, Seth Fishman, Gregory Skelton, and Kristian Rhein, and other individuals including Marcos Zulueta, Michael Tannuzzo, Ross Cohen, Lisa Giannelli, Jordan Fishman, Rick Dane Jr., Christopher Oakes, Michael Kegley Jr., Alexander Chan, Henry Argueta, Rebecca Linke, and Christopher Marino.
Servis and Navarro
Servis himself is alleged to have secretly obtained and administered adulterated and misbranded PEDs, including SGF-1000, to almost all of his racehorses. According to the indictment, Servis entered horses in approximately 1,082 races between 2018 and February 2020.
The administration of PEDs was concealed from federal and state government agencies, racing officials, and the betting public.
The indictment alleges that PEDs were being transported between barns by falsifying vet bills to conceal administration of SGF-1000, and fake prescriptions were used as well.
An assistant trainer of Servis, Henry Argueta, is accused of similar charges.
The indictment alleges that Navarro was "orchestrating a widespread scheme of covertly obtaining and administering various adulterated and misbranded PEDs to horses under his control."
Veterinarians Garcia, Fishman, and Skelton are accused of misbranding PEDs by illegal manufacturing the drugs and illegally administering them at Navarro's discretion. Oakes, Zulueta, Tannuzzo, and Surich are alleged to have assisted Navarro in obtaining, shipping, and administering misbranded and adulterated PEDs.
The FBI conducted raids on barns at Gulfstream Park West and Palm Meadows on March 9. The raids were confirmed in a statement released by The Stronach Group.

Maximum Security and X Y Jet
SGF-1000 is a custom PED intended to promote tissue repair and increase a horse's stamina and endurance beyond natural capabilities. Maximum Security is the biggest horse involved, and last year's 3-year-old champion male and winner of this year's $20 million Saudi Cup is alleged to have been administered the PED.
The indictment states that Maximum Security was tested for PEDs by New Jersey racing regulators on June 5, 2019, shortly after he received a shot of SGF-1000. The testing came prior to the TVG.com Pegasus Stakes, a race in which the son of New Year's Day finished second.
"On an intercepted (June 5) call between Jason Servis and (vet) Kristian Rhein, the defendants, after the drug test, Rhein counseled Servis and reassured him that Maximum Security would not test positive.
"They don't even have a test for it," Rhein said of SGF-1000. There's not a test for it in America." Rhein further stated that, if anything, the SGF-1000 may appear on a drug test as a false positive for a different substance "Dex." (Dexamethasone is commonly referred to as "Dex.")
Navarro is also accused of using blood-builders such as "BB3," a similar PED called "ITP Plus" or "ITPP," an adulterated PED referred to as "VO2 Max," and a pain-killing PED called a "Frozen Pain" shot.
Navarro-trained X Y Jet was specifically named in the indictment as well. The racehorse earned over $3 million and won the 2019 Dubai Golden Shaheen Sponsored by Gulf News (G1). He is alleged to have received a blood-building substance known as "Monkey."

Untestable on Drug Tests
The PEDs were designed in a way so that they would not show up on drug tests. Between 2018 through February 2020, the timeframe of accusations against Servis, he does not have a single failed post-race drug test. In Navarro's timeframe, he has just one.
"In many cases, the customized PEDs were designed to be untestable on drug tests in order to defraud and mislead federal and state regulators, racing officials, and the betting public," reads the indictment.
"In addition to developing his doping program around PEDs that are, by design, difficult or impossible for state regulators and racing officials to detect, Jorge Navarro, the defendant, and others known and unknown have tried to conceal the existence of the Navarro Doping Program," the indictment alleges.
The New York Racing Association reacted to the indictments through spokesperson Pat McKenna.
"There is absolutely no place in our sport for those who would administer illegal or banned substances to racehorses under their care. The New York Racing Association is committed to preserving and protecting the integrity of the sport and the safety of the equine and human athletes who compete at our tracks.
"We will continue to work closely with the New York State Gaming Commission and our industry partners across the country to advance meaningful reforms that protect the future of Thoroughbred horse racing."