Shancelot Wins Easily at Grade 2 Amsterdam Stakes
Author: Don Mckee
Published: Tuesday July 30, 2019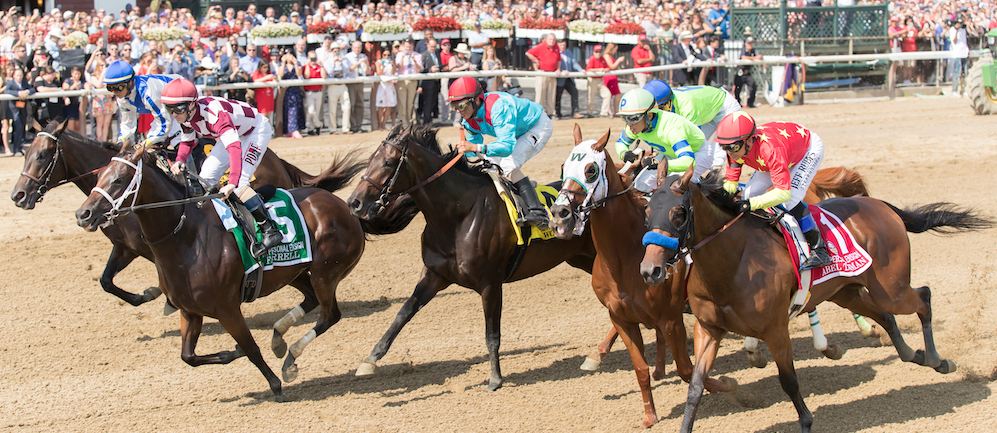 Shancelot entered Sunday's Grade 2 Amsterdam Stakes with 6-5 odds, and he lived up to it with his performance. The horse of Ivan Rodriguez and Albert and Michelle Crawford crossed the finish line 12 1/2 lengths ahead as he beat out 11 sophomore rivals.
The son of Shanghai Bobby almost broke a record at Saratoga's fast main track when he covered 6 1/2 furlongs in 1:14.01. It was just three-tenths of a second off of the current record.
Shancelot is trained by Jorge Navarro, and his jockey on top for the victory was Emisael Jaramillo. The impressive horse is now undefeated in three career starts.
Trainer Jorge Navarro spoke about Shancelot's skills and how he is the best horse that he has ever trained.
"Wow. To say what I said a month ago, that this is the best horse I've ever trained," said Navarro. "You know, Private Zone was good. Sharp Azteca was good. X Y Jet is still good – going into the race, I knew he was running against some horses, I thought, 'Am I going to be wrong?' I guess not.
"The jockey (Emisael Jaramillo) jumped off and said, 'Jorge, this was just a workout.' He said, 'I had so much in the bottom.' I've never seen anything like it in my life."
The Race
Shancelot was really quick as he broke from the starting gate. Jaramillo guided him straight over to the rail, and the horse immediately started to move out in front of his rivals to take the lead. At the beginning of the running, Classy John was the closest horse to him. Wendell Fong and Lemniscate tried to close the gap as they headed into the turn, but by that time Shancelot was already three lengths ahead at the half-mile pole.
When Shancelot turned towards the wire with a six-length lead, he set fractions of :21.79 and :43.94. As they were running in the stretch, Jaramillio continued to urge Shancelot until they expanded their lead even more. He eventually crossed the finish line to win by an outstanding 12 1/2 lengths.
Shancelot beat Imperial Hint's record-setting six-furlong split time of 1:07.92 on Saturday's card. Shancelot's was at 1:07.62. The final time of 1:14.01 was three-tenths of a second away from Quality Road's record of 1:13.74 in 2009.
"He was excellent today," Jaramillo said. "He did it easy. He was moving fast, but he did it like it was normal. That's him. He's that talented. This is probably the best horse I've ever ridden in my life next to X Y Jet."
The rest of the field was far behind Shancelot with Nitrous finishing in second after making up a lot of ground. Behind him was Honest Mischief finishing third, and Super Comet managed to come in fourth after missing the break.
Shancelot's Impressive Record
Shancelot was bred in Kentucky by Charles Muth and Patrick Murphy. He was a $50,000 yearling at the Fasig-Tipton Saratoga Select sale. After finishing an eight in 9 4/5 seconds at OBS March, the horse received a final bid of $245,000 as a 2-year-old.
Shancelot has won all three of his career starts, and he won by a neck in his maiden race at Gulfstream in February over Bodexpress, who was the runner-up of the Florida Derby. He also finished 6 1/4 lengths ahead at an allowance optional claiming race at Monmouth in June.
Shancelot's career earnings are now sitting at an impressive $170,000.
The next outing for Shancelot is set to be the G1 Allen Jerkens on the Travers undercard.
"If everything comes out good, that's where we'll end up," said Navarro. "We'll go through everything with him, make sure everything is fine. That's our plan."