Simply Breathless Set For Athenia Stakes At Belmont
Author: Clint Goodman
Published: Friday October 18, 2019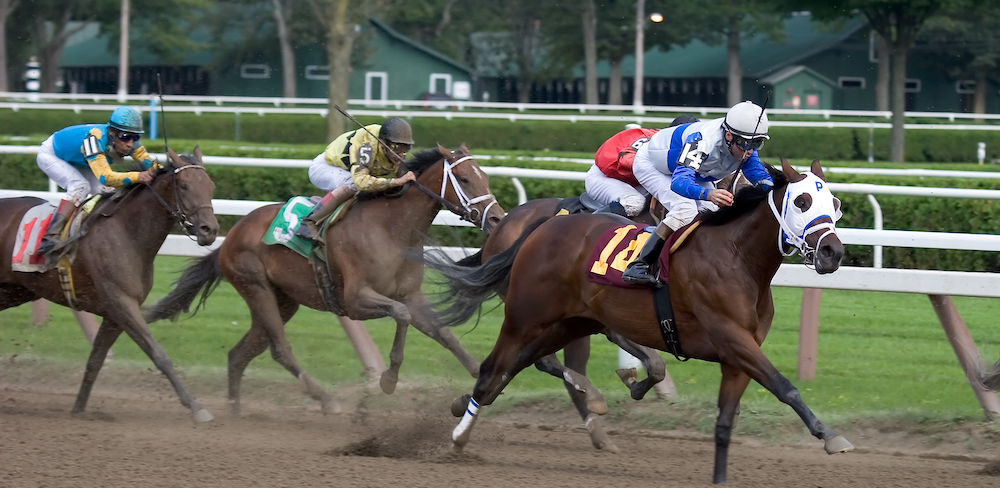 The 4-year-old filly Simply Breathless is set to run in the $200,000 Athenia Stakes (G3T) at Belmont Park on Sunday. This comes after trainer Neil Drysdale passed up the First Lady Stakes (G1T), opting for the Athenia instead.
The daughter of Bated Breath will go against eight other rivals in the race. The others in the field are much closer to Simply Breathless' skill level, compared to the grade 1 winners that she would've faced in the First Lady Stakes at Keeneland.
"The First Lady came up a very tough race," Drysdale said, "and I thought (the Athenia) was a better spot for her."
The field for the First Lady includes names such as Uni, Juliet Foxtrot, Vasilika, and Rushing Fall. Instead, Simply Breathless will be looking at a much more passable field of fillies and mares to score her second graded stakes win. In the Athenia, she will be the only grade stakes winner for 2019.

Career Beginnings In Europe
The career of SImply Breathless started in Europe; she won two of her six starts in 2018. She was eventually moved to the United States after being sold to Matthew Cloros. Once she was with Drysdale, she took the Golden Poppy Stakes on turf at Golden Gate Fields towards the end of April.
On June 22, Simply Breathless took on graded stakes rivals in the Wilshire Stakes (G3T) at Santa Anita Park, where she ran ahead late to win by 1 1/4 lengths.
She was then shipped to Arlington International Racecourse to run in the 1 3/16-mile Modesty Handicap (G3T). In that race, Simply Breathless finished in third behind Juliet Foxtrot. She also ran in the one-mile Three Chimneys Ladies Turf (G3T) at Kentucky Downs on Sept. 7, where she lost by 2 1/4 lengths and finished third.
"She's doing well," Drysdale said. "She's been running well all year, though I don't think she liked the (mile-and-three-sixteenths) in the Modesty."
Simply Breathless is the daughter of the Nayef mare Darling Grace, and she broke from the rail with jockey Joel Rosario on top.

Others in the Field
The other U.S. graded stakes winner in the field is Don Alberto Stable's Andina Del Sur, but that victory was over a year-and-a-half ago in the Florida Oaks (G3T) at Tampa Bay Downs on Mar. 10, 2018.
The Tom Albertrani-trained daughter of Fiant's Causeway has six starts in 2019, with one win from the Violet Stakes at Monmouth Park on Sept. 28.
Joseph Imbesi's Sweet Bye and Bye will also run in the Athenia. Her most recent start was a victory in an optional claiming race at Belmont Park in September.
Trained by Steve Klesaris, Sweet Bye and Bye then went on to finish second in the Dr. Teresa Garofalo Memorial Stakes for state-breds at Parx Racing on Aug. 3.
Edouard de Rothschild's Victorine came to the United States in 2018. She finished fourth in the Sands Point Stakes (G2T) before running third in the $200,000 Pebbles. She has started twice so far in 2019, and her best run resulted in a third-place finish behind Sweet Bye and Bye in a turf race on Sept. 22.
Another horse who arrived from Europe is Augustin Stables' Xenobia. She was a group 3 winner before coming to the U.S. Trained by Jonathan Thomas, the daughter of Falco finished fourth and then second in allowance races at Belmont Park.
Xenobia will break with jockey John Velazquez from the outside post.
Matty's Magnum, from Edward and Mary Jo Lessell, took the Winter Memories Stakes to finish her 2018, but she has been struggling in 2019. She started in five races that resulted in no victories, and she finished her last run in third after being beat by 6 3/4 lengths in a Sept. 22 allowance race.
Lastly, Three Diamonds Farm's Arabella Bella will run in the Athenia. She was claimed by Mike Maker in May for $40,000, and her last race was a victory in a Sept. 8 starter allowance race at Kentucky Downs.