Stormy Liberal Retired To Old Friends
Author: Clint Goodman
Published: Friday December 20, 2019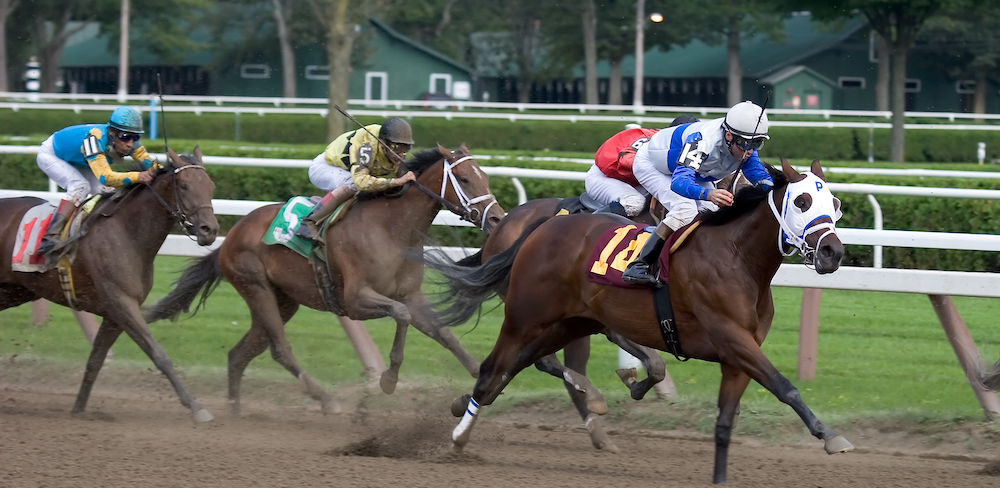 On Wednesday, it was announced that Stormy Liberal was retired to Old Friends in Georgetown, Ky., where he will take up residency.
Bernsen bought out partner Rockingham Ranch's interest in Stormy Liberal, and the two-time Breeders' Cup Turf Sprint winner was sent to David Scanlon in Ocala, Fla. There, he underwent a full medical workup, where it was decided that the best thing for the 7-year-old Stormy Atlantic gelding was to retire.
"After completing an extensive medical evaluation of Stormy Liberal that was overseen by David Scanlon of Ocala, Fla., I am announcing that the two-time Breeders' Cup winner and reigning North American older turf champion has been retired and will be relocated to Old Friends Thoroughbred Retirement facility in Georgetown, Ky.," Bernsen said in a statement Wednesday. "I feel it is important for the industry and the welfare of all racehorses to provide some transparency as to the process involved."

Winless This Season
Stormy Liberal was winless in seven starts this season, and he made his final run in the Nov. 2 Turf Sprint at Santa Anita Park. In that race, he finished off the board.
After the World Championships, Bernsen inquired about getting full ownership of the horse. Bernsen originally bought in after Stormy Liberal took the 2017 Turf Sprint at Del Mar.
According to a Dec. 10 statement, Bernsen said that Stormy Liberal was to be shipped from his base in California to have a "complete and detailed evaluation." Whatever came from that evaluation was to determine what was next for the horse.
"In discussion with Mr. Scanlon, we agreed on a two-stage process," Bernsen said Wednesday. "First, an extensive racing soundness exam that included X-rays, scans, and bloodwork, followed by a more extensive procedure known as a 'nuke scan.'"
After Stormy Liberal's initial evaluation, some irregularities were discovered. Because of that, more extensive measures were taken.

Evaluation and Problems
"After 'Stormy' passed the initial test, we then conducted the 'nuke scan' of his entire body to make sure nothing was missed," Bernsen said. "This was conducted this past Monday, and Mr. Scanlon and the primary veterinarian saw an irregularity that did not show up on X-rays or in the initial exam, and they decided to go one step further with an MRI on both ankles."
The tests found that Stormy Liberal had "full thickness cartilage defects on the palmar (back) aspect of the medial condyles in both front fetlocks." The lesions were a potential threat to the health of the gelding, and experts recommended six to eight months of rest.
"Based on the above results, Stormy Liberal has been immediately retired and will spend the next month in Florida before being transferred to Old Friends on an agreement I had previously reached with Mr. Michael Blowen of Old Friends," Bernsen said.
Stormy Liberal was bred in Kentucky by Dapple Bloodstock and Gryphon Investments, and he is out of the Royal Academy mare Vassar.
He is a full brother to grade 1-placed Coast Guard and a half brother to grade 3 winner Leinster. He was claimed back in October 2016 for $40,000 by trainer Peter Miller and Rockingham Ranch.
Stormy Liberal received the Eclipse Award in 2018 after finishing the year with four straight victories. One of those was a repeat score in the Breeders' Cup Turf Sprint at Churchill Downs. He retired with a 12-10-4 record from 37 starts, and his earnings are at $2,212,580.
"I would like to also personally thank David Scanlon and the medical team involved for uncovering a previously undiagnosed condition and their help through this process," Bernsen said. "Myself and Gary Hartunian of Rockingham Ranch are immensely grateful to have been able to race such a magnificent horse and hope his retirement to Old Friends will benefit all retired horses."