Swiss Skydiver Looking Ahead After Preakness Victory
Author: Clint Goodman
Published: Monday October 05, 2020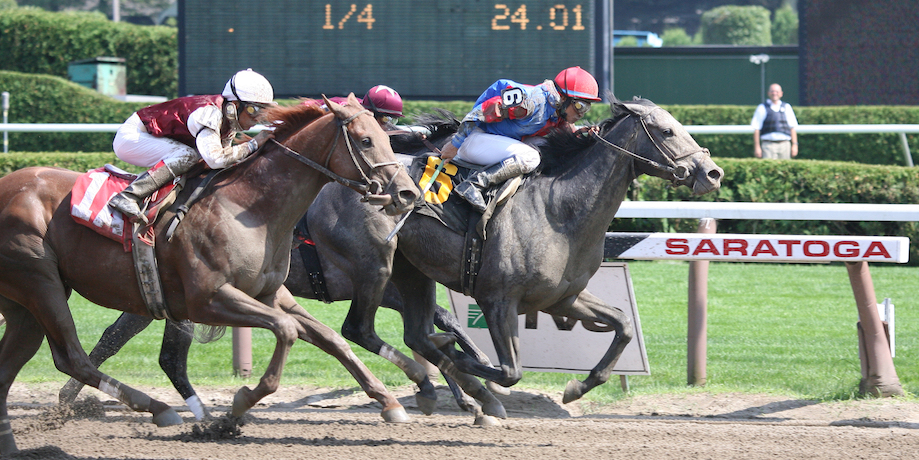 The 3-year-old filly Swiss Skydiver is coming off an impressive victory over Derby winner Authentic in Saturday's Preakness Stakes (G1) at Pimlico Race Course. The runner was joined by jockey Robby Albarado.
Trainer Ken McPeek walked Swiss Skydiver a few turns in the stakes barn at the track on Sunday.
"I should probably retire today," McPeek said, "because I don't think it can get higher than this. I really don't. She's beat so many odds.
"I'm beyond proud of her, proud of Robby, and everyone who's handled her. It's been a real team effort. I have some unbelievable people who work for me that help handle the details."
Owned by Peter Callahan, the Daredevil filly defeated the boys in the race, as well as registered the second-fastest running time in the Triple Crown race's history. She registered 1:53.28 in the 1 3/16 mile run of the Pimlico track, becoming second to 1973 Triple Crown champion Secretariat, who registered a 1:53 stakes-record time.
"It was surreal," McPeek said. "It's still surreal."

Beating Authentic
Swiss Skydiver was able to defeat Kentucky Derby Presented by Woodford Reserve (G1) winner Authentic by a neck, making her the sixth filly to win the Preakness and first since Rachel Alexandra in 2009.
Albarado and the filly saved ground around the first turn and into the backstretch before moving ahead and taking the lead going into the far turn. The pacesetter, Thousand Words, began to tire, and Swiss Skydiver moved to the rail inside Authentic.
The pair went head-to-head around the turn and through the stretch, but the 11-1 Swiss Skydiver was able to fend off the 3-2 favorite Authentic.
With the grade 1 victory, Albarado had his first since 2017 and first graded stakes win of 2020. He is an experienced jockey, having been a rider for more than 5,200 races with earnings of $220 million in purses.
The original rider was supposed to be Tyler Gaffalione, but the jockey opted out.
"The thing about it was that we took a negative and made it into a positive. We didn't have a rider until Saturday night (Sept. 26)," said McPeek. "I called Robby right away, and I said, 'Here's what it is going to take for you to ride her. We're going to offer the mount to Mike Smith and wait for his agent to call me back. If his agent says no, then I'm going to present to the owner that you're going to ride her.' He said, 'OK, let me know, let me know.'
"We waited for Mike Smith's agent to return our offer, but once I got confirmation he couldn't ride her, I called Robby and said, 'You're on.' I said, 'But here's what we're going to do. We're flying up together; we're going to get on her all week.'
"I think it was fortuitous because he got on her every day and got to know her. He spent time with her and, every day, he got more confident in her. You need a rider with confidence because if she takes you there, she'll win. We pulled it off."

What's Next
Swiss Skydiver will now ship to Churchill Downs on Monday to prepare for the Nov. 7 Breeders' Cup program at Keeneland. She received an automatic berth into both the Longines Breeders' Cup Distaff (G1) and the Longines Breeders' Cup Classic (G1).
"I like the mile and a quarter of the Classic, but the Distaff, today, is probably the wiser move. But the farther she goes, the better," McPeek said. "We can sit on it. We won't make a rash decision."