Tom's d'Etat Looks Toward Churchill Downs
Author: Clint Goodman
Published: Wednesday April 15, 2020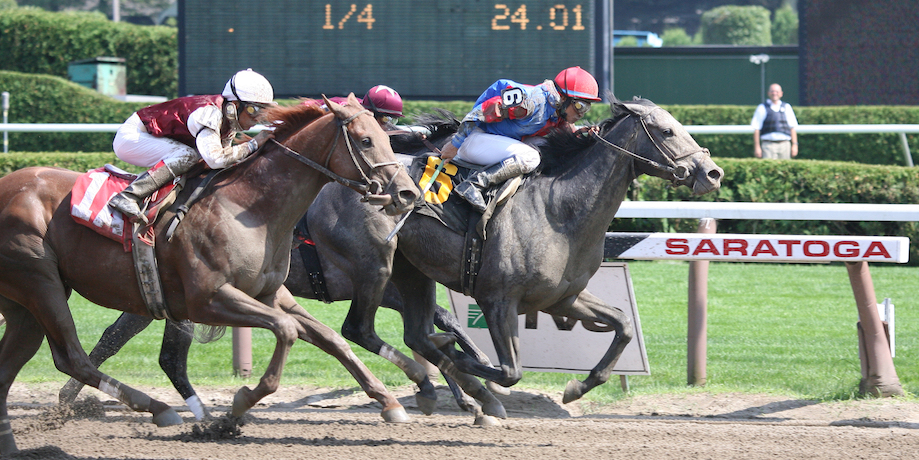 M B Racing's Tom's d'Etat returned after a five-month layoff to a muddy track April 11, where he scored the Oaklawn Mile at Oaklawn Park. It was his third consecutive win, and the son of Smart Strike is looking to increase that streak for trainer Al Stall Jr.
"The narrative of most of the congratulatory calls that I got were all about him finding the bright spot. If he can keep doing that in these times, that is fine with me," said Stall.''
Tom's d'Etat's Career
Tom's d'Etat has earned over $1.3 million, and he has been constantly getting better. He scored his first black-type victory for Stall in December 2018, and the 7-year-old has since run with graded company.
He ended his 2019 season with wins in the Hagyard Fayette Stakes (G2) at Keeneland and the Clark Stakes presented by Norton Healthcare (G1) at Churchill Downs.
"Churchill Downs is hopefully going to let horses come in on the 28th of April, which fit our schedule well as far as shipping," said Stall. "It's hard to map out a schedule right now, but we're hoping for the best as far as race tracks being able to run.
"Whenever they tell us we can go somewhere, we're going to go, but the horse came out of the race in really good shape."
Tom's d'Etat will likely make his next start in the May 30 Blame Stakes at the Louisville track. The hope is for him to then move on to the June 27 Stephen Foster (G2), where he finished third in last year's edition.
That race is a "Win and You're In" event, with the 1 1/8-mile event providing an automatic berth in the Breeders' Cup World Championships.
"We definitely want to try and get into the Stephen Foster, whether they have the Blame or not. We could always send him somewhere else," said Stall. "But in these times, staying right where you are as much as possible might be best for everyone involved, including the horse."

Uncertainty in Racing
With the constant closures and delays hitting tracks all across North America, Stall is dealing with the uncertainty. He is unable to make contingency plans for the horses due to the constant changes.
"It's been stressful, but I'm fortunate that my owners have been really good. We have a few running at Oaklawn, and we're grateful for that," said Stall. "We are hopeful that things will continue to get better in Kentucky and glad that Fair Grounds and Churchill Downs are nice enough to keep the tracks open for training so that horses are getting what they need on a day-to-day basis exercise-wise.
"We're better than most, so we're just waiting to get into Churchill, and hopefully, they will pick an opening day. There are others who are a lot worse off than we are, so we're trying to make the best of it.
"Being from Louisiana, we're like New Orleans after Katrina or New Yorkers after 9/11. This virus has hit everyone in the world, so we're all in this together, and we're going to hang in there and do the best we can."
He is focusing on keeping busy with his staff and horses.
"It's therapeutic to have the horses to keep your mind going," said Stall. "We're more fortunate than others like those that work in restaurants or hotels or airlines where their businesses have been completely shut down. We still keep the ball rolling. We're in this game for the love of the animals, and I think that helps everyone mentally."