A Thread of Blue and Henley's Joy WIll Meet Again In Jockey Club Derby
Author: Don Mckee
Published: Friday September 06, 2019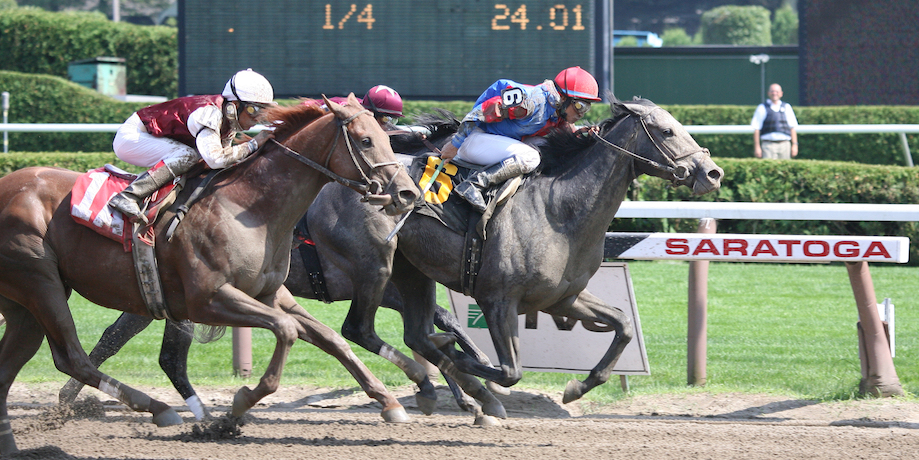 The $1 million Jockey Club Derby Invitational will run on Saturday as the third and final leg of the Turf Trinity at Belmont Park. Leonard C. Green's A Thread of Blue and Bloom Racing Stable's Henley's Joy are set to run against each other once again.

The 37-day Belmont fall meet kicks off on Friday. There will be 45 stakes with $11.525 million in purse money, and the meet will have eight Breeders' Cup "Win and You're In" qualifiers over a period of two weekends.

The Turf Triple Series will wrap up on Saturday with the $750,000 Jockey Club Oaks and Jockey Club Derby. That race is a Breeders' Cup Challenge Series race that will award a berth in the Longines Turf.

There will also be the first running of the $300,000 Grand Prix American Jockey Club Invitational for 3-year-olds and older at 1 1/2 miles on Big Sandy.

Henley's Joy and A Thread of Blue

Henley's Joy started the Turf Trinity in the Grade 1 Belmont Derby Invitational with a 20-1 upset. He was under the lead of trainer Mike Maker.
Digital Age, the only other horse besides Henley's Joy to contest all three legs, will also run in the 1 1/2-mile Jockey Club Derby.
A Thread of Blue will be looking to beat Henley's Joy and the rest of the field on Saturday. The Kiaran McLaughlin-trained horse ran in the second leg of the Turf Trinity, the $1 million Saratoga Derby. In that race, he was winning at every pole.
The Jockey Club Derby will have a field of nine horses, some coming over internationally from France, England, and Canada.

"It would be fabulous to win two legs, but we're just happy to be in it with a big chance," said McLaughlin.

A Thread of Blue, the son of Hard Spun, has started in 10 races and has a record of 5-2-1. His first stakes win was at Gulfstream in February after winning the Dania Beach by 3 1/2 lengths. Before that, he won the Grade 3 Palm Beach at the Hallandale oval.

In the Grade 2 American Turf at Churchill Downs in May, A Thread of Blue was narrowly defeated by Digital Age, and he then finished fourth in the Grade 2 Penn Mile on June 1.

His last race was the Saratoga Derby, where he ran with jockey Luis Saez. There he commanded the race and scored a win.
McLaughlin spoke about the upcoming Jockey Club Derby and the horse.
"We're not too sure about the distance, and a few days ago there was no rain in the forecast, but now we have rain. He prefers it firm, so hopefully it doesn't get too soft," said McLaughlin. "He's trained great coming into it, and he's run very well. We hope it stays firm. It will be a fresh new course."

Henley's Joy, the son of Kitten's Joy, has started 12 times, where he has won four and finished second in three. He won his maiden race last July at Ellis Park, and he finished first in the Kentucky Downs Juvenile last September. Before that, he lost by a nose in the Grade 3 Bourbon at Keeneland in October.

Other races where Henley's Joy finished in second were the Kitten's Joy at Gulfstream Park in January and a half-length loss in the Grade 3 Transylvania at Keeneland in April.

In the Belmont Derby, Henley's Joy had a perfect trip and was able to beat Social Paranoia by three-quarters of a length. In that race, it was Jose Lezcano's first time being aboard the horse.

The Jockey Club Derby will be Race 10 on Saturday's 11-race card, and it is the featured race. First post is at 1 p.m.