Alnilah Upsets in Seaway Stakes
Author: Clint Goodman
Published: Tuesday August 27, 2019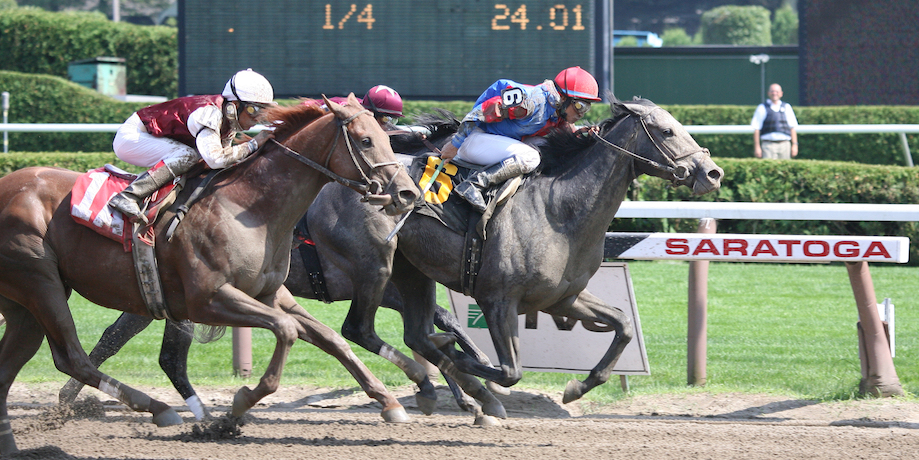 Alnilah upset the multiple graded stakes winner Summer Sunday in the Seaway Stakes on Sunday at Woodbine. Summer Sunday's Woodbine win streak was ended with the loss.

Alnilah missed the break in the beginning and fell back, but jockey Patrick Husbands was able to recover and win the $125,000 7-furlong fillies and mares feature. The 5-year-old Smart Strike mare is trained by Terry Jordan and owned/bred by Canvasback Farms.

Summer Sunday was coming off of a three-race win streak in stakes action. She came into the Seaway Stakes with a perfect record of 7-for-7 at the Toronto oval.
The Race
Summer Sunday entered into the race as the 4/5 favorite, and she
quickly moved out front
as the fillies and mares settled in. The second choice Katie Baby and Devine Mischief set the pace through the opening fractions of :23.79 and :46.96. Summer Sunday was able to break away from those two as they went through the turn.
Husbands was able to steady Alnilah and recover after the problematic break from the post. They were able to move past Summer Sunday in the final furlong, and they won by 4 1/2 lengths ahead in 1:24.39.
Husbands spoke about the race. He performed impressively and showed his skills when recovering from the start. If it weren't for the talented jockey on top, Alnilah would have never been a real contender.
"Throughout the whole race, she was relaxed behind there, and I had so much horse," he said. "I just told myself, I'm not going around – any little hole I can take – and that's what I did."
Alnilah came into the race at 6/1 odds, and this was her first time winning a stakes race. She returned $15.30 to those who wagered on her.
Second place was taken by Summer Sunday, and Katie Baby finished third.
Alnilah's Team
This was the first time that Husbands was aboard Alnilah, but he has been following her career for a while. "I was always following her, I always loved her," he said.
It was a little over a month ago that the mare moved into the care of Jordan with the Canvasback Farms contingent. That is when Husbands decided to pursue the chance to run with her.
"Patrick came to me and said to me, 'Terry, please let me on that horse.' He said, 'I'm dying to ride this horse,'" said Jordan. "I said, 'Ok, you got her.' When somebody comes and says as convincing as he was that he wanted to ride her, you do it."
The multiple graded-stakes winner trainer was excited to be back in
the Woodbine's winner circle
for the first time in seven years.
"I didn't think we could beat the two-horse (Summer Sunday)" admitted Jordan. "I used to train the mother of that one (Dancing Allstar), and the mother of this one (Tribal Belle). They're both Sovereign winners here, I had them both here, so it was nice to get one of the offspring back."
Alnilah was previously trained by Danny O'Callaghan, and he finished third behind Summer Sunday and Katie Baby in the Grade 3 Hendrie on June 9.
Alnilah now has a record of 4-4-2 from 16 starts, and her earnings are over $300,000.
Husbands is sixth in the Woodbine standings with 42 wins and $2.06 million in earnings. He ran with Slam in race nine to win by 3 1/4 lengths in a mile-long event.
The Seaway Stakes was part of a triple on the 10-race card at Woodbine on Sunday.