Bricks and Mortar Looks to Add to His Huge Winnings with Arlington Million
Author: Don Mckee
Published: Thursday August 08, 2019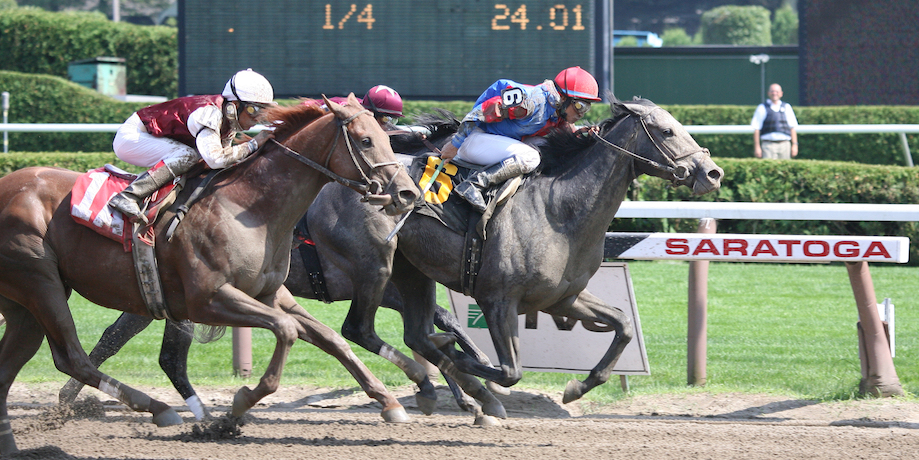 Bricks and Mortar is the heavy favorite for the 37th running of the Arlington Million on Saturday. The first Arlington Million was back in 1981, when it was won by John Henry. He was the first horse on turf, dirt, or any other track, to win a $1 million race.
If Bricks and Mortar crosses the line first on Saturday, it will be his fourth seven-figure purse that he will have won in 2019.
Races for $1 million are becoming increasingly common. Oaklawn Park will have four of them during the 2020 racing season. Horses are getting more and more opportunities to win these large purses. Bricks and Mortar, an older turf horse, has taken advantage of this.
He won the first $7 million Pegasus World Cup Turf Invitational on Jan. 26 at Gulfstream Park, and he won the $1 million Turf Classic at Churchill Downs on May 5. On June 8, Bricks and Mortar finished 1 1/2 lengths ahead in the Manhattan. The Manhattan was one race before the Belmont Stakes, and it has been a $1 million race since 2014.
The fourth win for Bricks and Mortar was the $300,000 Muniz Memorial at Fair Grounds. His 4-for-4 record has brought his yearly earnings to $3,941,650, and his lifetime earnings are currently sitting at $4,303,650.
"He's the highest-earning horse we've ever trained," said trainer Chad Brown.
Trainer Chad Brown
Chad Brown has been a Bricks and Mortar's trainer from the beginning. Bricks and Mortar, who was campaigned by Klaravich Stables and William Lawrence, debuted in February of 2017. As a 3-year-old, he won his first four starts, but in September of that year, he finished third in the Saranac. A month later, he also finished third in the Hill Prince after a bad trip.
Towards the end of 2017, Bricks and Mortar was diagnosed with serious stringhalt, a neuro-muscular condition. Stringhalt causes problems with the leg, and it starts to lock up. Along with stringhalt, Bricks and Mortar dealt with several other minor problems which caused him to delay racing until this past December.
"He's been through a lot. Dr. Larry Bramlage and his team at Rodd and Riddle were amazing. Larry did a complicated surgery on him at the end of his 3-year-old year," Brown said. "Then he was with Ian Brennan at Stonestreet for nearly a year. Ian was training him, not me, and he got the horse ready."
After all of the problems, Brick and Mortar was looking at the Pegasus Turf, but he got much more with the four wins this year. He is now considered one of the best horses of the millennium.
Huge Winnings by Horses
American Pharoah was able to win seven million-dollar races during his 2015 campaign, the highest single-season total in American racing history. Justify was able to win four in 2018.
Most of the horses who end up with a high number of million-dollar races are 3-year-olds. Older American horses have never won more than two million-dollar races in a year. Wise Dan and Little Mike won two of them during a single season.
What's Next
The Arlington Million is the last race of the North American season of this kind for Bricks and Mortar. Once we get to the Breeders' Cup, it will be back up to a mile or 1 1/2-mile turf.
"I honestly don't know yet what we'll do," said Brown. "I'm just going to go with this race first and see how it goes and go from there. I don't want to get too far ahead of myself. My feeling is the cutback would be the lesser of two evils, but I do need to see how this race unfolds."
It will be an exciting day on Saturday at the Arlington Million as Bricks and Mortar looks to add to his huge winnings.