Bricks and Mortar Wins Horse of the Year
Author: Clint Goodman
Published: Saturday January 25, 2020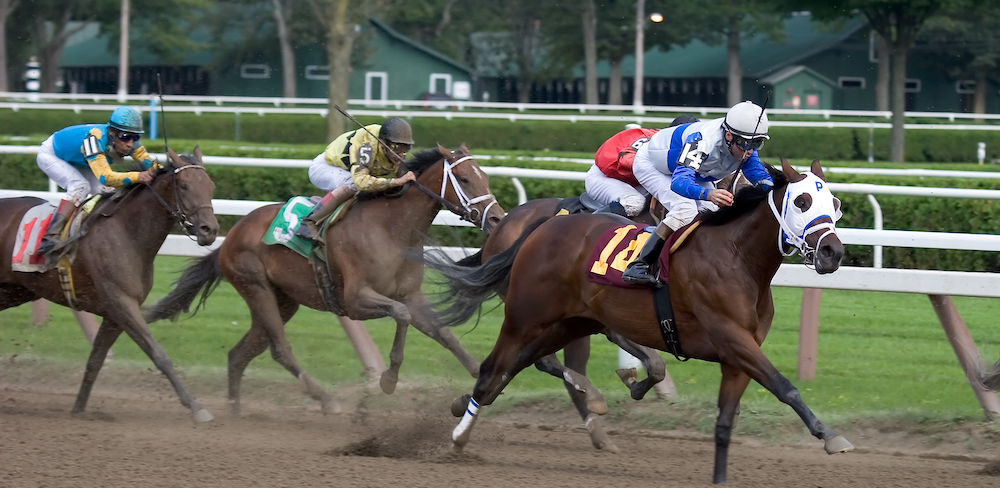 Trainer Chad Brown's Brick and Mortar was named 2019 Horse of the Year at the 49th annual Eclipse Awards dinner at Gulfstream Park.
"Coming back here to Gulfstream on the one-year anniversary of Bricks and Mortar's win in the Pegasus, which started it all in 2019, you look at the stalls, and there's a huge, huge void," Brown said. "Now that he's not here, you really appreciate his heart, determination, consistency, his will to win, and dependability. It's huge shoes to fill.
"You can go through thousands of horses to find one like him. When they are not there, you understand how special they are."

Biggest Eclipse Award
Bricks and Mortar is now in Japan preparing for life as a stallion. On Jan. 23, the son of Giant's Causeway received the biggest award at the Eclipse Award for an undefeated season.
He became the first horse to score the Longines Breeders' Cup Turf (G1T) and receive Horse of the Year honors in the same year since Kotashaan in 1993.
Bricks and Mortar is owned by Seth Klarman's Klaravich Stables and William H. Lawrence. 2019 was his 5-year-old season, where he won all six of his starts.
Five of those races were grade 1 events. His campaign lasted from January through November, with total earnings of $6,723,650.
Bricks and Mortar took the Horse of the Year award over finalists Maximum Security and Mitole, and he was voted champion turf male.
"It's still a little surreal," Lawrence said. "I've been thinking about the last few months, and for both Seth and myself, he's the horse of a lifetime.
"I grew up near Saratoga and dreamed about owning a racehorse. So to have the best horse in the country, it's incredible and extremely gratifying."

Overcoming Many Setbacks
Winning the Horse of the Year awards is especially impressive for Bricks and Mortar since he overcame a serious injury, one that could have potentially ended his career.
Bricks and Mortar was purchased by agent Mile Ryan under the Oaks Bluff Partners pseudonym for $200,000 at the 2015 Keeneland September Yearling Sale from the Stone Farm consignment. He won his first four starts and took a third-place finish in the 2017 Hill Prince Stakes (G3T). Afterward, he suffered a hock ailment.
Bricks and Mortar suffered many setbacks and surgery throughout the next 14 months, and it was not clear if he would race again. He eventually made a return to racing and scored a Dec. 22, 2018, allowance optional claiming race at Gulfstream Park.
He won his next start to begin 2019, the inaugural $6,708,329 Pegasus World Cup Turf Invitational Stakes (G1T) at Gulfstream.
"We just wanted him to be healthy," Lawrence said. "We were fine if he didn't run again. So for him to come back better than ever and have the kind of year he had, it's great for the horse and the industry.
"It needs stories like this. To have a 12-month campaign and run the table, no one does that anymore. Chad did such a great job with him."
Following the Pegasus, Bricks and Mortar took the Muniz Memorial Handicap (G2T), Old Forester Turf Classic Stakes (G1T), Manhattan Stakes (G1T), and Arlington Million XXXVII Stakes (G1T). He then went on to a test on the Turf at Santa Anita Park to secure the award.
"When Bricks and Mortar came back, he was a different horse. He didn't want to get beat," Ortiz said. "He knew where the wire was and overcame everything. There's not too many around like him."
Klarman and Lawrence see the Eclipse ceremonies as the final part of Bricks and Mortar's impressive career.
"You never come into something like this expecting to have the Horse of the Year, and even when it happens, it still doesn't seem real. It's just amazing. Knowing how it ended, maybe we should have decided to wind things down a few years ago," Lawrence said.