Casse Celebrates, Servis Worries, Pender Sidelined
Author: Don Mckee
Published: Monday June 10, 2019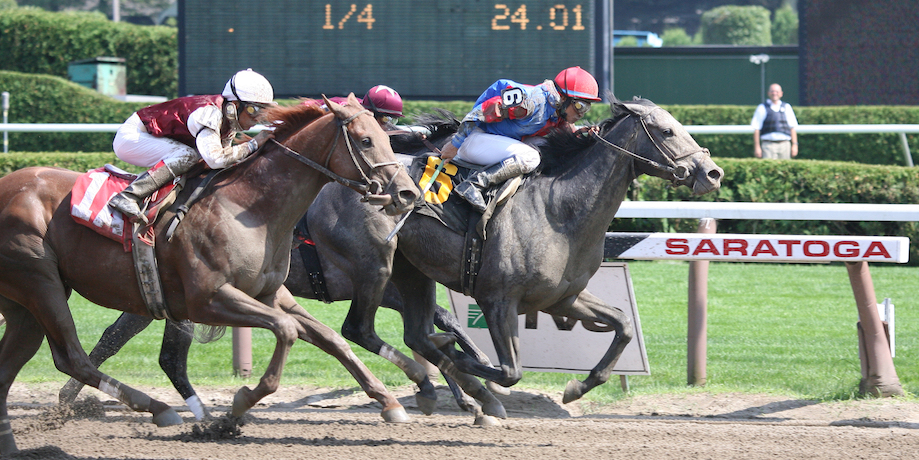 Raising a Glass
Winning the "Test of the Champion," and with a longshot who at the same time earned his first graded stakes victory, is a feat of such enormity that it can drive a man to drink.
"I'm not a drinker. But last night we all went out to dinner and the restaurant where we ate had a specialty drink on the menu called the Sir Winston. So, I had one. It probably helped me sleep because I don't usually have one. I actually slept last night, and I slept good," Casse, who was in good spirits the morning after Sir Winston pulled off the 10-1 upset in the 151st running of the $1.5 million Belmont Stakes Saturday, told drf.com.
Nonetheless, the 10-time Sovereign Award winner, Canadian Thoroughbred Hall of Fame member, and 2019 nominee to the National Museum of Racing and Hall of Fame was still processing his emotions Sunday morning.
"There are lots of things going on right now. It usually takes me a few days, but we're very excited to win the Belmont," said Casse, who also saddled Grade 1 Preakness winner War of Will, the second choice in the wagering, who finished next to last in the field of 10.
Surprisingly, Casse had only watched the Belmont replay one time. It was sufficient. "That was a great ride by Joel (Rosario)," he said.
Plans on Hold
Trainer Jason Servis said that he was not entirely pleased with Maximum Security on Sunday and that he planned to have blood work done on his 3-year-old star. Although Servis wouldn't rule out a start in next Sunday's $150,000 Pegasus at Monmouth Park, rain is in the forecast over the next few days, and Maximum Security would need to have a workout and his blood work come back clean in order to start.
Maximum Security has not raced since the Kentucky Derby, where he finished first but was disqualified to 17th for interference. He has crossed the finish line first in all five of his career starts, including the Florida Derby.
The son of New Year's Day is stabled at Monmouth with Servis. Servis has been contemplating using the Pegasus as a prep race for the Grade 1, $1 million Haskell Invitational on July 20. If Maximum Security does not start in the Pegasus, Servis will likely train him up to the Haskell.
Joevia, the third-place finisher in Saturday's Belmont Stakes, is based at Monmouth with trainer Gregg Sacco. On Sunday, Sacco said the Haskell could very well be Joevia's next race.
Pender Receives Suspension
California Horse Racing Board stewards have suspended trainer Michael Pender 30 days for violations of animal welfare and trainer insurer rules. Pender, who was ordered by Santa Anita management to vacate his stalls last month, was charged with "knowingly" working a horse at Santa Anita on March 24 after a veterinary examination disclosed an injury, and then entering the horse to race at Golden Gate Fields on April 6. New Karma was a veterinary scratch from that race.
New Karma, a 7-year-old gelding with seven wins, 43 lifetime starts, and $213,077 in earnings, was claimed by Pender Racing LLC and partners for $20,000 at Del Mar last Nov. 15. He ran twice for his new connections, finishing seventh on Jan. 12, 2019, in a $22,500 claiming race at Santa Anita, then ran second in an $18,000 waiver claiming race on Feb. 17 at Santa Anita. He was entered for a $12,500 claiming tag at Golden Gate when the CHRB veterinarian ordered the horse scratched.
Pender, who has not started a horse since May 12, has 200 career wins from 1,631 starts and $8.4 million in earnings from 2004-'19. His leading runners were G1 Eddie Read winner Jeranimo and G1 Hollywood Derby winner Ultimate Eagle.