El Tigre Terrible Pulls An Upset In Speakeasy Stakes
Author: Don Mckee
Published: Tuesday October 08, 2019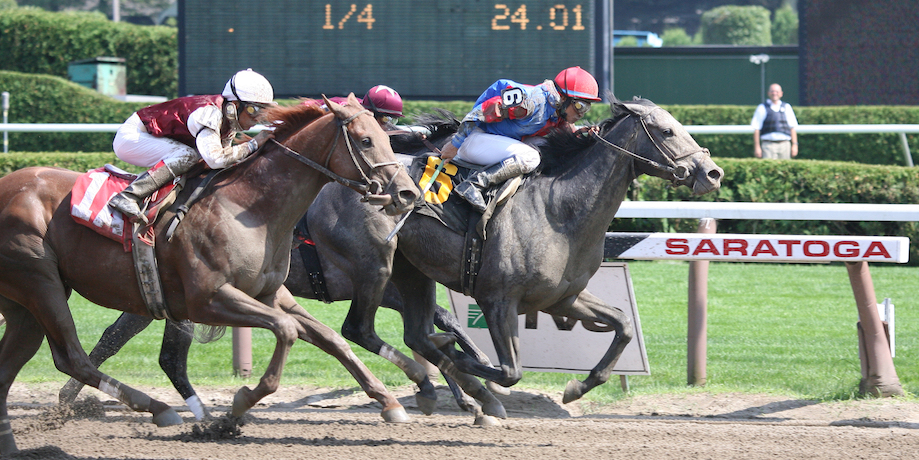 Slam Dunk Racing and Michael Nentwig's El Tigre Terrible pulled off a big upset in the $100,000 Speakeasy Stakes at Santa Anita Park on Sunday. He was able to split other horses in the field of 10 to take the race as the 23/1 horse.
El Tigre Terrible is a California-bred 2-year-old son of Smiling Tiger.
The Speakeasy Stakes is a "Breeders' Cup "Win and You're In" event. With his victory, El Tigre Terrible was awarded an automatic berth in the Juvenile Turf Sprint at Santa Anita Park in November.

Slow Start for El Tigre Terrible
El Tigre Terrible broke from the outside post 11 with jockey Ruben Fuentes. He started the race slowly, and he sat in last. Greg's Diva and Alfie Solomons battled up front along with Biddy Duke through the opening fractions of :20.76 and :43.99.
As the field straightened out for home, El Tigre Terrible continued to run in last. He eventually found an opening along the inside and was able to move past multiple horses. Bulletproof One challenged Greg's Diva up front and was looking like he could take the race, but El Tigre Terrible split the two horses and crossed the line first.
El Tigre Terrible finished the five-furlong sprint over the firm turf course with a final time of :55.78.
Jockey Ruben Fuentes spoke about the horse's performance after the race. He became the jockey since El Tigre Terrible's normal rider, Joe Talamo, was in New York City.
"I had never been on this horse, not even in the morning," said Fuentes. "They were going so quick up front that he settled on his own. I saved ground at the rail, and we had a dream trip. It opened up, and he finished strong. I didn't think we bothered the other horse."
Edwin Maldonado, the rider for Bulletproof One, filed a claim of foul against El Tigre Terrible. He alleged that there was interference in the stretch. His claim was not upheld, and Bulletproof One finished in second.
Both Bulletproof One and El Tigre Terrible are trained by Peter Miller.
Another filly in the race, Greg's Diva, finished in third. Behind her came the 5/2 favorite Ginobili, and Square Deal beat out Commander by a neck to take fifth.
The rest of the order was completed with Raging Whiskey, Absolute Weapon, Alfie Solomons, and Biddy Duke.
Mr. Tip ended up being a late scratch after he broke through the gate while the field was still getting in the posts.

Third Win in Five Starts
The Speakeasy was El Tigre Terrible's third win in five starts. He broke his maiden in a $50,000 tag, and then he went on to win a starter allowance. His record is now at 5-3-0-1, with career earnings of $118,300.
"I felt like one of my horses was going to win," Miller said. "Both of them ran super, and we couldn't be prouder of the horses. It was one of those last-minute entries. It was about 10 in the morning before entries closed, and I called Nick (Cosato of Slam Dunk Racing) and said, 'Hey, I think we should take a shot. If I owned the horse, I would do it.' He said, 'Go ahead,' and lightning struck.
"Ruben is a great young rider and a great young kid. I've been riding him more, and with rides like this, we will be riding him even more."
El Tigre Terrible paid out $49.20 to win, $21.20 to place, and $12.20 to show. Bulletproof One returned $7.60 to place and $5 to show, while Greg's Diva brought back $5.40 to show.