Game Winner and Maximum Security to Miss Travers
Author: Don Mckee
Published: Friday August 16, 2019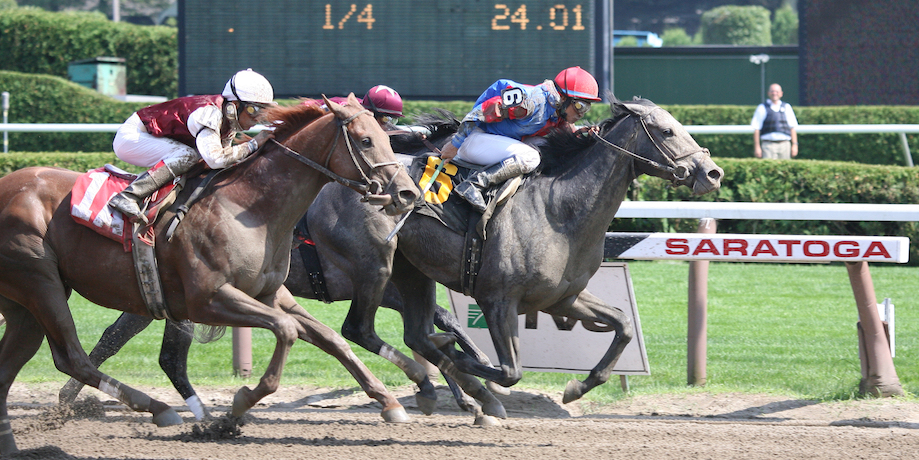 Two of the leading prospects for the 150th Runhappy Travers Stakes Presented by NYRA Bets (G1) have been ruled out. It was announced on Thursday that both of Gary and Mary West's horses, Game Winner and Maximum Security, will not run.
Game Winner
Game Winner, the 2-year-old champion trained by Bob Baffert, will not leave his Southern California Base at Saratoga. He will miss the $1.25 million Travers after he was found to have a fever due to a virus.
Baffert spoke on the disappointing news.
"We're still absorbing the disappointment. He's going to be fine, but it's the timing. It's too bad because he couldn't be doing better right now. I haven't thought about anything now," he said. "He worked great (Aug. 13, six furlongs in 1:12 at Del Mar), but today he had a little temperature. There's been a little virus going through the barn. He was my second one this week; hope it stays away from the others."
Maximum Security
It was being contemplated on whether or not Maximum Security would skip over the Travers, and that was confirmed as well. Jason Serbia, trainer for Maximum Security, announced that the homebred son of New Year's Day will, in fact, miss the Travers because he "still is not 100 percent."
Maximum Security will instead prepare for the $1 million Pennsylvania Derby (G1) Sept. 21 at Parx Racing.
Serbia spoke about the decision for the Haskell Invitational Stakes (G1) Winner to miss the Travers.
"I don't like where he's at. He's not eating the way I want him to eat, and he's not carrying the weight I'd like to see him carry," he said. "I just want to make sure he's 100 percent for his next race, and he's not there right now.
"The best thing is to wait until he is 100 percent and point to the Pennsylvania Derby. With Game Winner out, if Maximum Security was 100 percent, I'd go to the Travers. But he's just not back to where he was. I'll probably give him a week off, and that still gives me more than four weeks until the Pennsylvania Derby. I'm fortunate to have patient owners in the West's, who will allow me to take a step back if I don't feel the horse is 100 percent. It's easy to run. But if I ran him when he wasn't 100 percent, you come out of the race saying to yourself, 'What was I thinking?'"
In the Future
The virus that Game Winner is suffering from is expected to last only a short period of time. It is possible that he will run in the Pennsylvania Derby. That could put two of West's horses in the race.
"Game Winner will miss the Travers, and he will return to racing when he's 100 percent," Gary West said. "I am disappointed that neither horse can run in the Travers, but the well-being of our horses comes first; always has and always will. The decision on the Pennsylvania Derby is too far away to make any intelligent comments at this time. They will run when they are ready and not a minute before."
Game Winner, the son of Candy Ride, has won five of his eight starts, and his last race was a five-length victory in the July 13 Los Alamitos Derby (G3). His total earnings sit at $2,027,500. He was bred in Kentucky by Summer Wind Equine and sold by the Lane's End consignment for $110,000 at the 2017 Keeneland September Yearling Sale.
Baffert will not be running any horses in the Travers weekend at Saratoga.