Halladay Looking for Second Grade 1 Victory in Shadwell Turf Mile
Author: Clint Goodman
Published: Thursday October 01, 2020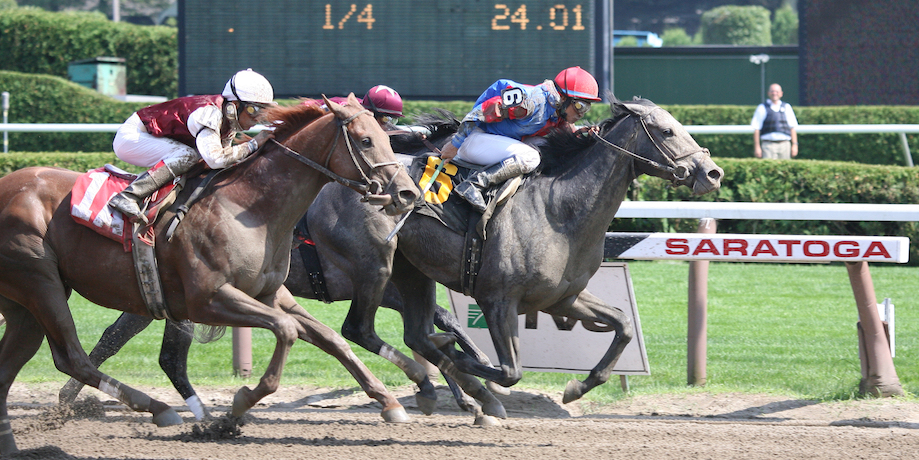 Halladay will be looking to expand his number of grade 1 victories to two with a win in the $750,000 Shadwell Turf Mile (G1T) at Keeneland on Saturday. The top-class turf horse already has a good amount of earnings and took the Fourstardave Handicap (G1T) at Saratoga Race Course this summer.
The 4-year-old will be going up against 10 rivals, including names like Bowies Hero and Raging Bull, who are also grade 1 winners in the U.S. Also among the field is Without Parole and Ivar, who took grade 1 events in Britain and Brazil, respectively.

Halladay's Career Performances
There will be five stakes races at the Lexington track on Saturday, with the Shadwell offering the biggest purse. Besides money, the race also awards the winner an automatic berth into the Breeders' Cup FanDuel Mile Presented by PDJF (G1T) at Keeneland Nov. 7. However, that doesn't mean much to Halladay, who already received entry into the Breeders' Cup by scoring the "Win and You're In" Fourstardave.
With his Fourstardave victory, Harrell Venture's Halladay proved how he could control his speed under rider Luis Saez. Got Stormy began to move up in midstretch but was able to be fended off.
In his 14-race career, the Fourstardave was his first graded stakes win, but he has performed impressively in other outings. The War Front colt took three of his past four races, all of which he was joined by Saez. In each one of his victories, Halladay registered a 102 Bayer Speed Figure or higher.
He also finished fourth during the same period in the Bernard Baruch Handicap (G2T) after he failed to keep up with the pace, but he only lost by 1 1/2-lengths. In that outing, he still managed to register a 98 Beyer.
Halladay is trained by Hall of Famer Todd Pletcher, who took the 2005 Shadwell Turf Mile with Host. According to Pletcher, Halladay is now more mature and controllable.
"He has a lot of natural speed, but early on he wanted to be a little bit headstrong," he said. "So we've been focused on trying to get him to relax and take advantage of his natural speed."
Saez, who won the 2015 edition on Grand Arch, will return on Oct. 3 aboard Halladay.
Saez "has gotten along with him very well. He seems to suit him nicely," Pletcher said. "Luis is a complete rider but is especially effective with horses that have natural speed."

Other Entrants
Halladay drew inside in post 2, so he will be looking to set the pace. The rest of the field is full of speed, with some of the biggest challengers likely being Spectacular Gem, Analyze It, and Ivar, all of whom drew toward the outside.
Ivar will likely be more settled since his blinkers are being removed.
Raging Bull will also run without blinkers following his disappointing fifth-place run in the Fourstardave. The runner has taken grade 1 victories with blinkers both on and off.
In the Fourstardave, Raging Bull carried highweight at 123 pounds, while Halladay had 118. In the Shadwell Turf Mile, all starters will carry 126 pounds.
Trainer Chad Brown has four entries in the forms of Analyze It, Without Parole, Raging Bull, and Flavius. Two of them, Raging Bull and Analyze It, have won at the Keeneland course.
Brown is still looking for his first Shadwell Turf Mile win, which is a major turf race at the track. His best performance out of six total came with Analyze It in 2018, when the runner finished fourth.
The Shadwell Turf Mile will run as Race 10 on the card at Keeneland, with the post time set for 5:57 p.m. ET.