Henley's Joy Upsets at Belmont Derby
Author: Don Mckee
Published: Monday July 08, 2019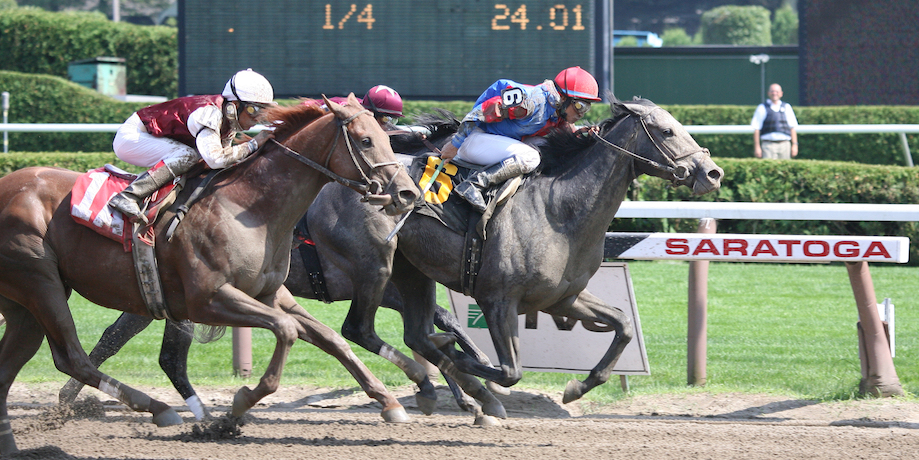 Henley's Joy was not looking promising after his 0-5 record this year, but that changed at the Grade 1 Belmont Derby on July 6. The $1,000,000 Belmont Derby Invitational at Belmont Park saw the 20/1 upset and Henley's Joy's first victory since last December at the $75,000 Pulpit Stakes at Gulfstream Park.
The 3-year-old Henley's Joy now sits at an 11-4-3-0 record with his earnings at $953,160. The returns for Henley's Joy were $43.60 to win; $21.60 to place; and $13.60 to show. The trifecta was $8,901 for a $2 bet.
After breaking from post 6, rider Jose Lezcano and Henley's Joy were sitting in third at the start. Through :23.31 and :47.80, Moon Colony was holding onto first with Blenheim Palace close behind. Henley's Joy was two lengths behind on the rail until Jose Lezcano decided to attempt to take the lead as they hit the far turn, and Henley's Joy moved out front. In the mid-stretch, the new leader was Social Paranoia (16-1) at a length ahead until he was passed by Henley's Joy who continued to victory. He finished at a three-quarter-length victory in 1:58.29.
According to Jose Lezcano, Henley's Joy was relaxed and responding well. "He broke good and was in the right position. When I asked, he took off like the way he broke out of the gate. He was more relaxed today and did everything right."
The rest of the field didn't follow the odds very well. The favorite, Seismic Wave, sitting at 9/2, came in fifth after pulling ahead of Plus Que Parfait, who finished sixth. Social Paranoia was able to finish second after losing the first spot to Henley's Joy, keeping with his record of finishing in the top three during his last nine races. Rockemperor moved up from last and finished at 1/2 length behind at third followed by Digital Age. It was his first U.S. start.
In the seven and eight spots were Standard Deviation and Cape of Good Hope respectively, separated by a 1/2 length. Moon Colony was not able to keep up as he fell back to ninth followed by English Bee in tenth. In the last three spots came Spinoff, Blenheim Palace, and Master Fencer, who finished sixth in the Kentucky Derby.
As for the second favorite, an undefeated Demarcheliar, he is set for surgery after suffering an injury. He sustained a lateral condylar fracture in his right foreleg. Demarcheliar was the Pennine Ridge winner and a big hopeful for this race.
This victory for Henley's Joy follows a bout of races where his owner, Jeffrey Bloom, said nothing went his way. Bloom was finally glad that Henley's Joy was able to show his talents off and secure a big victory. This was Henley's Joy's first graded stakes win.
Henley's Joy was bred in Kentucky before being eventually sold to Wendy Hendricks at the 2017 Fasig-Tipton Midlantic Fall Yearlings Sale for a price tag of $20,000. Owner Jeffrey Bloom purchased the winner for $50,000 at the 2018 Ocala Breeders' Sales Spring Sale of 2-Year-Olds in Training.
The race at Belmont Park makes things a little more difficult to understand, according to renowned trainer Bill Mott. "After today, there's certainly some confusion with this group."
The 3-year-old division is something to keep an eye on.