Horse Racing News and Notes: April 22, 2019
Author: Don Mckee
Published: Tuesday April 23, 2019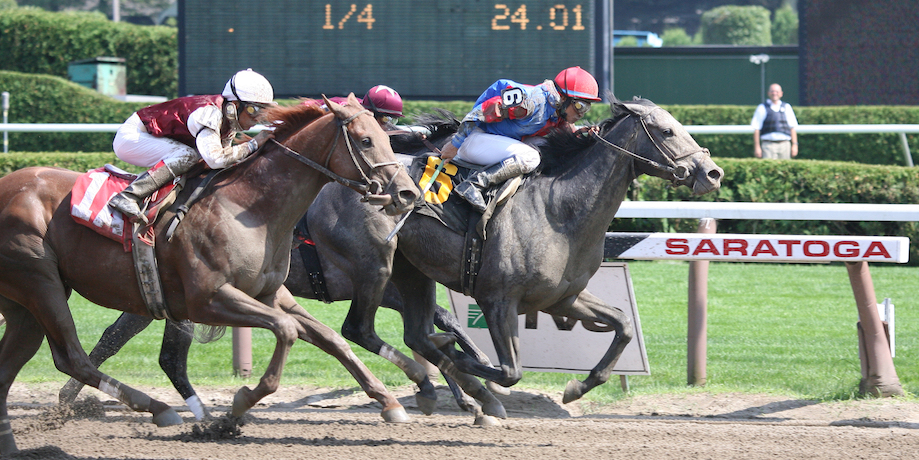 Reason for Concern?
Presumptive Kentucky Derby favorite Omaha Beach attracted attention on the backside of Churchill Downs Sunday as blacksmith Ben Craft repatched a quarter crack in the Arkansas Derby winner's left front inside hoof. A common ailment and akin to a human having his/her nail ripped off at its cuticle, the quarter crack on Omaha Beach developed during its maiden score in February and was patched. Craft flew from his southern California base to Kentucky to perform the work.
After missing a day of training Saturday due to a combination of the crack and a sloppy track, Omaha Beach returned to the track with a mile gallop Sunday on a foggy morning under the Twin Spires. Mandella said the Fox Hill Farms colt will work once before the first Saturday in May.
"It was due to reset it today and put new shoes on," Mandella told the Louisville Courier Journal. "We're ready to go. … At this point, it's an old issue. But it doesn't mean I won't worry. We have plenty to worry about. When they fresh do it, it is painful until you get the patch on. But the patch pulls it together, like having a little cast on it. As long as the patch works, it's no problem."
Dominant Performance
Whatever horse prevails on the first Saturday in May will face a well-rested and ultra-talented colt in Federico Tesio victor Alwaysmining.  He could not have produced a more impressive performance, besting a talented and competitive field by nine lengths. Now with 7 wins in 12 lifetime starts, the Kelly Rubley trainee and son of Stay Thirsty, earned an automatic bid to the Preakness by virtue of the win.
"You just hate to get overconfident, but this is what I had expected to happen, so I'm really glad it came true," Rubley told Bloodhorse.com. "We're all very excited. It's a fabulous day."
Known as a front runner in his previous efforts for Rubley following a private purchase, Alwaysmining showed another dimension Saturday, sitting off of sensible fractions and then exploding for home amidst gentle urging from his regular rider Daniel Centeno.
"The plan was to try to make the lead, but I didn't want to chase them, so I let them go," Centeno—who rides regularly for Rubley at Delaware Park—told Bloodhorse.com. "I decided to take him back and put him behind them. He was comfortable, nice and relaxed. I put him on the outside on the backstretch, and when it was time to go, he took off. The Preakness will be a completely different game. I told Kelly he'll be completely relaxed. We don't need to put him on the lead. We can do whatever we want with him."
Going to the Hall
Legendary jockey Craig Perrett and Bill Mott's turf superstar and three-time Eclipse Award winner Royal Delta headline a class of 14 horses and individuals slated for induction to the National Racing Museum Hall of Fame in early August in Saratoga Springs, NY.
Racehorses My Juliet and Waya and Pillars of the Turf James E. "Ted" Bassett III, Christopher T. Chenery, Richard L. "Dick" Duchossois, William S. Farish, John Hettinger, James R. Keene, Frank E. "Jimmy" Kilroe, Gladys Mills Phipps, Ogden Phipps, Helen Hay Whitney, Marylou Whitney, and Warren Wright Sr. comprise the 2019 class.
Perret and Royal Delta were elected to the Hall via the contemporary voting process; My Juliet and Waya were chosen by the Museum's Historic Review Committee; and the Pillars were selected by the Museum's Pillars of the Turf Committee.