Key Defection Clouds Derby Day
Author: Don Mckee
Published: Friday May 03, 2019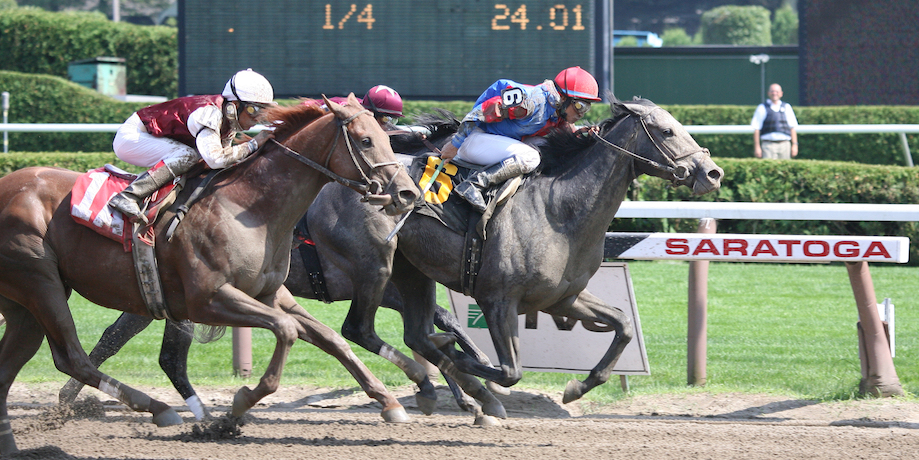 Sidelined for a While
The entire complexion of the 145th Kentucky Derby was altered late Wednesday night as Hall of Fame trainer Richard Mandella, in search of his first Derby win, announced that Omaha Beach, the presumptive favorite would scratch. The Rebel and Arkansas Derby winner was diagnosed with an entrapped epiglottis, which is described as "an upper-airway abnormality that can cause poor performance." The epiglottis is a triangular-shaped tissue that flips up to protect the airway during swallowing.
"After training this morning we noticed him cough a few times," Mandella told the Louisville Courier Journal. "It caused us to scope him, and we found an entrapped epiglottis. We can't fix it this week, so we'll have to have a procedure done in a few days and probably be out of training for three weeks. We'll have to figure out a whole new game plan."
Early Thursday, that gameplan appeared to be coming together as Mandella revealed that Omaha Beach will be off the Triple Crown trail after recovering from surgery but will target summer races the Haskell or Travers. Always a gentleman, Mandella took time Thursday to pose with Omaha Beach in his stall at Churchill Downs, then still brought the Grade 1-winning colt out of the barn for a scheduled appearance with military veterans associated with Homes For Our Troops, which builds and donates specially adapted custom homes for injured vets.
Maybe Another Defection
Haikal, a 30-1 on the morning line, did not train Thursday morning due to a foot abscess that has formed on his left-front, trainer Kiaran McLaughlin said. The Shadwell Stable runner is undergoing treatment — constant soaking in Epsom salts — with hopes he can return to the track Friday and remain in contention for Saturday's race at Churchill Downs.
"It's going to be a quick fix, but I don't know if it's going to be quick enough," McLaughlin told horseracingnation.com. "He has to train for us to be comfortable with it, if he can't train — if he's still sore on the foot — then we'll be out by 8 o'clock tomorrow (Friday) morning."
New Whips to Be Used Prominently
Jockeys are creatures of habit, and many have superstitions. However, with horse safety being at the forefront during the thoroughbred racing industry's biggest weekend, many jockeys will use a whip that is not as hard.
Terry Meyocks, president and CEO of The Jockeys' Guild, said Wednesday that "the majority" of riders in Saturday's 2019 Kentucky Derby are expected to use the new 360GT (gentle touch) whip — formally known as a crop.
Others on the board with Derby mounts are John Velazquez (Code of Honor), Javier Castellano (Vekoma) and Julien Leparoux (Master Fencer). Five more riders are representatives of the regional Jockeys' Guild Senate.
"Jocks have always been proactive and tried to do what's in the best interest of the industry looking to do what's equine-friendly," Meyocks told bloodhorse.com.
Developed by Hall of Fame jockey Ramon Dominguez, the 360GT model has larger and round, spongy padding at the end of the stick designed for less of an impact on horses than the widely used "ProCush" whip introduced about a decade ago as another step toward safety. The same was asked of all riders in Friday's Kentucky Oaks.
The California Horse Racing Board in March unanimously approved a proposal to restrict whip use, moving it to a comment period. In what could amount to a drawn-out process, The Stronach Group, which owns and operates Santa Anita, has called for no use of the whip "except when necessary to control the horse for the safety of the horse or rider." The Jockeys' Guild is in favor of its riders maintaining status quo, but with safer crops.