Lucullan Scores First Career Graded Stakes In Knickerbocker
Author: Clint Goodman
Published: Wednesday October 16, 2019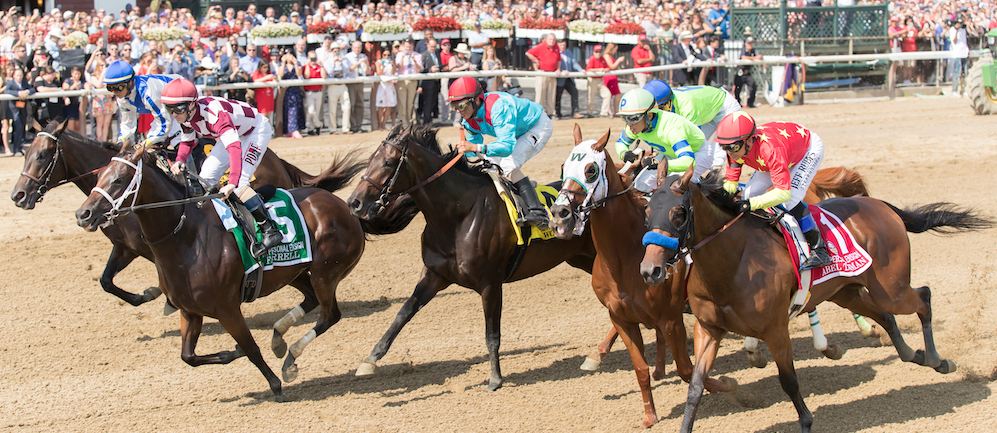 Godolphin Stable's Lucullan scored his first career graded stakes win in the $200,000 Knickerbocker Stakes (G2) at Belmont Park on Monday. He beat out Dr. Edgar in the final furlong and was able to hold off the late-running Olympico to win by a length.

Coming In As The Second Choice
Lucullan has four previous graded stakes runs, with two of them being second- and third-place finishes. On Monday, he broke with jockey Luis Saez as the 3/2 second choice.
Saez kept him on the inside in the fourth position as they ran in the backstretch, with Dr. Edgar taking the lead. Lucullan posted fractions of 24.77 seconds for the 1/4-mile, 48.67 in the 1/2, and 1:12.02 in the 3/4. The 1 1/8-mile race was on the firm inner turf course.
As the six-horse field made its way into the final turn, Saez and Lucullan moved to the outside. They were able to pass up three other horses in the field while holding off the Chad Brown-trained Olympico, who was making a run on the outside. Lucullan crossed the line in 1:46.87.
Saez spoke about Lucullan's performance after the race.
"He was very good today. We broke, and I got the spot I wanted," Saez said. "Last time, he broke a little slow, so the key today was to try to break good and get in a good position early, which he did. I knew we had to have a target in front of us, and everything went perfect. When we hit the stretch, he really took off. Perfect trip."
Lucullan, who is trained by Kiaran McLaughlin, has performed well at Belmont Park before. The Knickerbocker was his second win at the track, and his record at the course is 4-1-1 in seven career starts.

Impressive Field
Lucullan beat out some other impressive horses in the field on Monday, including the even-money favorite Catholic Boy, who is a Grade 1 winner on turf and dirt. The Knickerbocker was Catholic Boy's first start since July 6, and he finished in fourth.
The Knickerbocker was not Lucullan's first graded effort. He finished second in the 2017 Hill Prince (G3) and third in the Fort Marcy (G3) at Belmont Park back in May.
Lucullan came into the Knickerbocker after a bad run in the Woodbine Mile. In that race, he finished third before being disqualified to fourth.
"He really is a top horse. He's been a bit unlucky," McLaughlin said. "We were second in the Hill Prince as a 3-year-old and Bricks and Mortar was third in there. He's 3-for-4 this year. We were unlucky in the Woodbine Mile. He drifted out late under left-handed urging and was disqualified to fourth.
"I'm happy for the team. We were going to point to the Breeders' Cup Mile, but I didn't think that we'd have enough to get in. I'll talk to the team at Godolphin about where we'll go next."
Olympico finished ahead of Dr. Edgar by two lengths to take second place, in what became his best finish since his North American debut in the Fort Marcy.
"We got a good trip. He tried hard," said Olympico jockey Irad Ortiz, Jr. "We were just beaten by a better horse today."
Catholic Boy finished in fourth after coming off a second-place run in the Suburban Stakes (G2) on the main track at Belmont Park on July 6. He also took the Dixie Stakes (G2) at Pimlico on May 18.

Breeders' Cup Classic
Trainer Jonathan Thompson has said that Catholic Boy could run in the $6 million Breeders' Cup Classic (G1) at 1 1/4 miles at Santa Anita Park on Nov. 2.
"This could be one of those instances where we get back in his training, and he's really taken a big step forward," Thomas said. "He was very even, and he looked like a horse that getting a mile and 1/4 wouldn't be an issue. He galloped out well. He was just a little one-paced. Watching that, it would scream (he needs) a little more real estate.
"The (Breeders' Cup) Mile would be a little bit quick for him. (The Classic) would be the most likely scenario, but we'll have to talk to everybody."
The rest of the order in the Knickerbocker was completed by Glorious Empire and Argonne, while Cullum Road and Noble Indy were scratches.