Mr. Money, By My Standards Set To Return
Author: Clint Goodman
Published: Wednesday February 05, 2020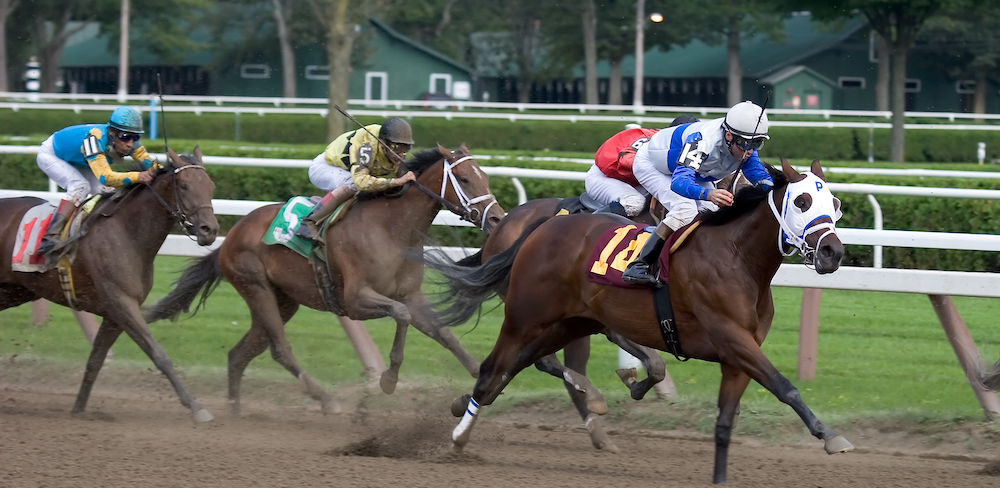 Mr. Money, the millionaire and multiple Grade 3 winner, has returned to the work tab at Fair Grounds Race Course & Slots. His trainer is Bret Calhoun, who also entered stablemate By My Standards. The 4-year-old scored last year's Twinspires.com Louisiana Derby (G2).
Mr. Money is owned by Allied Racing Stable and Spendthrift Farm. He worked three furlongs in :37 3/5 on Feb. 3, which was his first work back since he took seventh in the Big Ass Dans Breeders' Cup Dirt Mile (G1).
"Everything went great. He's been here for a little while," Calhoun said. "He's put several short two-minute licks in, just building up to his first breeze. Obviously, we tried to work him a little slower than the :37 and change he went, but that's about as slow as you're going to get him to go.
"That's like a gallop to him pretty much. He worked very, very well, very easily, and came out of it very good."
According to Calhoun, there is no set next race for Mr. Money. Connections are looking to have him back on the track in early April. After his Breeders' Cup run, the 4-year-old Goldencents colt took 60 days off before coming back to Fair Grounds.
"He'll get ready when he gets ready, hopefully, everything goes smooth, and he'll be ready in 60 days or so, something like that," Calhoun said.
Mr. Money scored four consecutive Grade 3 events while running his sophomore campaign. He won the Pat Day Mile Stakes Presented by LG & E and KU, Matt Winn Stakes, Indiana Derby, and West Virginia Derby. He also finished second in the Pennsylvania Derby.

By My Standards
By My Standards is also a 4-year-old Goldencents colt campaigned by Chester Thomas' Allied Racing Stable. He is looking to return on Feb. 9 at Fair Grounds, and he has been working there since late November.
By My Standards was entered into a $47,000 two-other-than allowance optional claiming event by Calhoun, running at 1 1/16 miles. That will be his first start since finishing 11th in the 2019 Kentucky Derby Presented by Woodford Reserve (G1). Gabriel Saez is set to be the jockey.
"The good and the bad of that is, the bad is he's still eligible for a two-other-than, and the good is he's still eligible for a two-other-than. It's a great place to come off the bench, come off a long layoff," Calhoun said.
"Most of the time, these horses like that they have to come back in graded stakes. It makes it twice as hard on them. You have to train on them a lot harder, and the races are that much tougher. We're really happy to find this spot and that it went.
"We think he's ready, he's training really, really well. We're pretty excited to run him, and hopefully, he performs well on Sunday, and he'll move back into a stakes schedule after that."

Mailman Money
Mailman Money, a 3-year-old colt, is also trained by Calhoun for Allied Racing Stable. He has finished first in two starts, and he is set to make his stakes debut in the Feb. 15 Risen Star Stakes Presented by Lamarque Ford-Lincoln (G2) at Fair Grounds. The Risen Star, at 1 1/8 miles, awards points on a 50-20-10-5 scale to the first four finishers for the May 2 Kentucky Derby.
In his career debut on Nov. 30, Mailman Money won a six-furlong maiden special weight at Churchill Downs at 24-1. Upon his return on Jan. 12 at Fair Grounds, he won by 5 3/4 lengths in an allowance optional claiming race at one mile and 70 yards.
"Mailman Money's kind of the one that reminds you a little bit more of By My Standards physically, developing slower. He's coming around every day, he's making improvements," Calhoun said. "There's times where you see a lot of physical change, and then right now it's slow, gradual progression.
"He's a horse that's been a pleasant surprise in the fact that he's been able to win both of his starts. Mentally, he's still a big kid, too. I don't think he's completely figured things out yet. He goes out there on race day, he puts his head down and runs.
"In the mornings, you can tell; he's solid in the mornings, but he's not completely dialed in yet. He hasn't completely figured everything out."
"I think there's a possibility of a lot of improvement with him physically and mentally as time goes on. I think that's what gives us a lot of hope with him. He's been pretty good so far, and we think he can get a lot better."